Billie Jean King and the Battle of the Sexes
Hang on for a minute...we're trying to find some more stories you might like.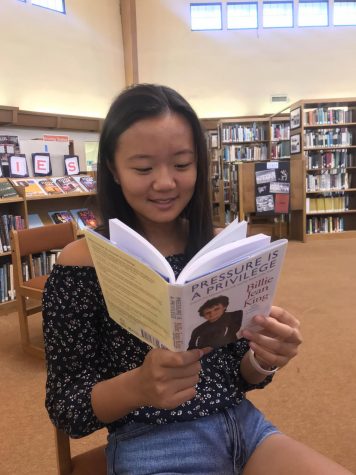 The movie "Battle of the Sexes" reminds the public of an epic tennis match in 1973, in which Billie Jean King beat Bobby Riggs and publicized the fight for women to have equal opportunities in sports. The movie is based on King's memoir, Pressure is a Privilege. Although the critically-acclaimed film provides a strong female figure who fights for women's rights, there is a stronger focus on King's romantic relationships in the movie than in the book.
   The movie follows King's story, beginning with a United States Lawn Tennis Association tournament in which the men's prize money was eight times more than the women's. Consequently, King boycotted the tournament along with several other top women's tennis players and together they formed the Women's Tennis Association.
   Enter Bobby Riggs, a self-proclaimed chauvinist pig and once a notable figure in the tennis world. The film makes Riggs into a pitiable character; he's a gambler, his wife kicks him out, he has to sleep on his son's couch. Riggs is looking for a way to gain more publicity and, after making crude remarks about women's tennis, he challenges Margaret Court, the #1 women's tennis player, to a match. Court ends up losing badly, and the match is called the Mother's Day Massacre. After defeating Court, Riggs leaves his challenge open, claiming that he could beat any woman at tennis, and King takes the dare.
   The movie begins to break off from the message of empowerment to explore King's love life. Although she is married, King begins to question her sexuality and has an affair with her hairdresser. While the movie focuses on King's personal relationships, Pressure is a Privilege focuses mainly on the game. King is more reclusive, however, as the movie goes on; she prefers to be without the company of her lover or husband.
   The movie could have been stronger if it had gone deeper into the relationships between King and the other women on the tour. Although the other women appeared to be interesting characters, they did not get much screentime. All the audience knew about them were their names and that they were top women's tennis players.
   The final match culminates in the last act of the movie. After extensive romantic struggles and training montages, we finally get to see King beat Riggs, the final scores being 6-4, 6-3, 6-3. In the movie, King mentions that the match will teach people to respect women. However, in Pressure is a Privilege, she described how her victory would gains support for Title IX, the law passed in 1972 banning sex discrimination in schools.
   If you want to learn more about Billie Jean King and the Battle of the Sexes, you can read her book, Pressure is a Privilege, or watch the the recent movie, "Battle of the Sexes."