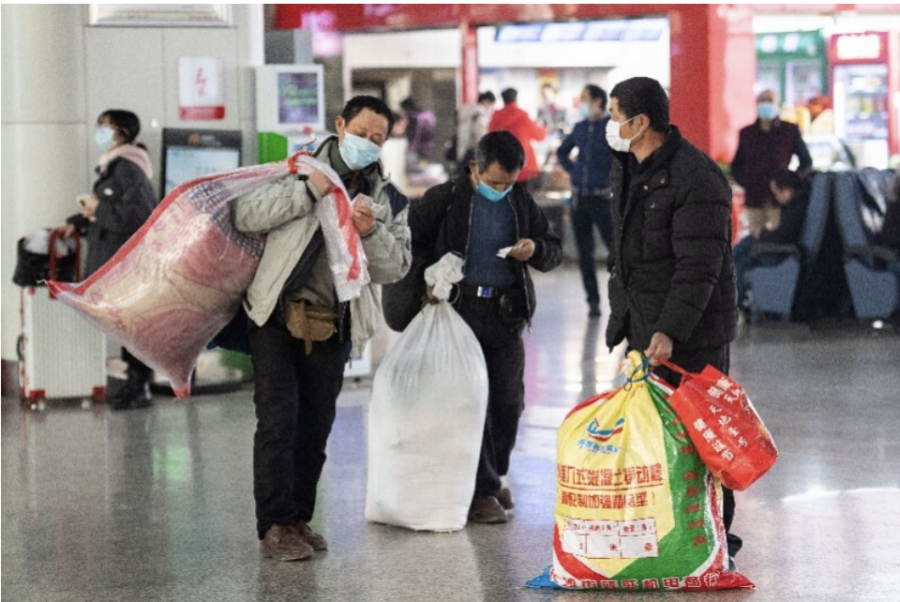 Southern Metropolis Daily
Spending one holiday away from home may sound trivial, but the reality is that for most Chinese workers, the Chinese Lunar New Year is their only chance to see their families for the entire year. Besides, spending Lunar New Year with family is among the most important traditions in Chinese culture. 
Every year, the arrival of the Chinese New Year marks the initiation of the largest human migration on the planet, the Spring Festival Rush, also known as "Chun Yun," where workers across the country travel home to celebrate with their families. In 2020, the overall travel rush period recorded 440 million passenger trips with 11 million daily passenger trips.  
However, with the COVID-19 pandemic still looming, this annual migration poses alarming uncertainties and potential health risks this year. While the number of confirmed cases has been low in China for months, some cities have observed slight resurgences, leading to a tightening of social distancing policies and travel restrictions. To cope with the pandemic, the Chinese Center for Disease Control and Prevention has issued personal hygiene and public health guidelines outlining preventive measures against spreading COVID-19, travel advice, mandatory mask-wearing on public transport, and social distancing requirements. 
While the government has not issued a complete travel ban, most companies strongly encourage workers to avoid traveling, and indicate that if they need to quarantine after traveling, they would do so at their own expense, meaning money deducted from their paychecks. Quarantine requirements have deterred many workers from returning home. 
 Robin is one of the millions of workers who cannot travel this Lunar New Year. 12 years ago, Robin left his hometown, a small village in Hebei, to move into a cramped 200-square-foot apartment that he shared with four other people in Shanghai. After years of restless grinding and hustling, he now lives in a slightly bigger apartment with his wife and a five-year-old daughter and owns a high-end hair salon located on the fourth floor of the Intercontinental Hotel in Shanghai.   
"The New Year is the only time of the year when I get off work and go home," Robin said. "I miss my parents and my relatives. They are all waiting for me to go home, but it's just too big a risk." 
Similar stories are seen everywhere, even with Webbies.  
"My ayi (a family caregiver common in Chinese families) was planning to go back to Shao Xing but the recent outbreak of COVID-19 in Shanghai has restricted travel," Karen Chen ('23) said. "She and her husband have decided to stay in Shanghai for the New Year, but she is very disappointed that she cannot return home. She misses her grandchildren very much." 
For most Chinese workers who migrated to the cities to pursue a better life, the concept of home has always been a rare commodity. The pandemic has created endless barriers for their journey back. "I am celebrating this Lunar New Year here in Shanghai with my wife and my daughter," Robin said. "It is very different. There is no loud fireworks, no little children asking me for Hong Bao, and there is no food prepared by my mom, who is 82 years old but still a great cook. Without all my family with me, it just doesn't feel festive at all."