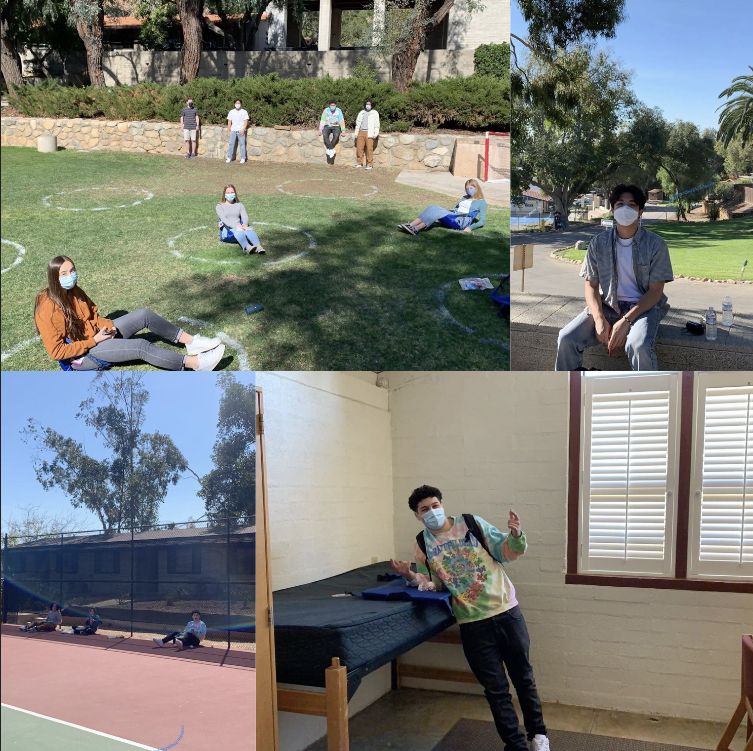 Graphics courtesy of Richard Alrachid ('22).
On February 12th, 2021, Webb announced their plans to implement an in-person study program for domestic students, which would have social distancing measures, while still offering students a slight return to normal life. Students would be able to come to school and attend online classes in designated dorm rooms before spending time outside socializing. 
This new program began on March 1st, and students shared their first impressions of the long–awaited change in their lives. 
On Mondays and Tuesdays, freshmen and sophomores attend in–person study groups. Nicole Rabadi ('24), as a freshman student, has never had the opportunity to attend Webb in person, therefore this experience was exciting. 
"The most memorable part of the day was getting to see my classmates for the first time, and finally getting to socialize with my classmates in person and not on Zoom." Nicole said. "I wouldn't change anything. I am just so happy to be on campus." 
Nicole observed the increase of efficiency and focus in the distraction free, quiet dorm space. During lunch, she recalls being provided with games such as soccer and connect four. Masks and six feet of distance were required at all times, except when alone in dorms. The students did their best to adhere to the rules during the day at Webb, even though they were occasionally forgetful. 
Webb's campus dining service would be providing meal orders for everyone, and students would have to come prepared with the Passport health app filled out, clean face masks, and needed academic resources for the day. All students will have to complete an extensive health protocol to ensure the safety of every participating member. This protocol includes measures such as a daily health assessment, monitoring of students, a Community Pledge, and physical distancing requirements.  
The Community Pledge is an acknowledgement of responsibility and the risks involved and promotes cooperation and community. Students are also expected to thoroughly read through the student handbook and Health and Safety Protocols. 
A day in the life of a Webb student starts with checking in and waiting on the field below Hooper Student Center, then at 8:30 a.m. being gathered by cohort to transfer to the assigned dorm area. They then have an individual dorm room to attend classes in. At lunch, the dining hall staff delivers meals to their doors, at which the student has the option of eating in outdoors communal spaces, a time for socializing. At 3:00 p.m., all students not participating in sports activities will be escorted to the field below Hooper Student Center, waiting to go home around 3:15 p.m. 
Etienne Griffon ('23) also attended in–person learning on Monday and Tuesday. He participated in a dodgeball game and chatted with friends during his free time. Etienne remembers all aspects of the strict health routine, such as scanning a bar code at school and walking to lower Jameson with his cohort group. 
"I would suggest opening up Chandler field and the track," Etienne said. "This would spread out the population more and decrease the concentration of students." 
Richard Alrachid ('22) was a member of the Thursday and Friday groups that experienced in–person learning. The change of environment in upper Jameson allowed Richard to appropriately balance socializing and studying times. According to his observations, everybody adhered to the health instructions by wearing masks except when eating and sanitizing their hands after playing with a ball together.  
Richard listed the soccer games as memorable, as he was able to reconnect with his peers through a fun sport. He wondered if allowing interactions between cohorts would eventually become acceptable, as they could stay distanced, but still communicate. He does understand how this would not be possible, recognizing the risks it could have. 
"Another great thing was playing hand tennis, as we had no rackets," Richard said. "I had missed out on this time for a while, and it was great being back." 
Webb's in–person learning was adored greatly by most students. Hopefully, the local student body will make adjustments and find comfort in in-person learning. Webb students had longed for the pandemic to end and for life to return back to normal, and this opportunity gives them some insight into what fun that would be. 
Although students have suggestions for how study groups could be improved, they have been proven to be extremely beneficial, especially in terms of mental health and school engagement.