Volta Charging creates an affordable and convenient charger
On September 23rd, 2020, Governor Newsom announced California's new way of combating climate change. By 2035, California will have stopped the selling of gasoline-powered cars and trucks. 
California is home to 12 of the most used freeways in the country. On average, over 358,000 vehicles drive on the I-210 every day. 
When this new law goes into effect, people's daily lives, the economy, and the air quality will change for the better. 
"This is the most impactful step our state can take to fight climate change," said Governor Newsom. "For too many decades, we have allowed cars to pollute the air that our children and families breathe," said Governor Newsom." 
In California, transportation accounts for more than 40% of the state's carbon pollution. California's gas-powered cars would explain why cities in the Los Angeles Basin and Central Valley report to have some of the worst pollution levels in the country.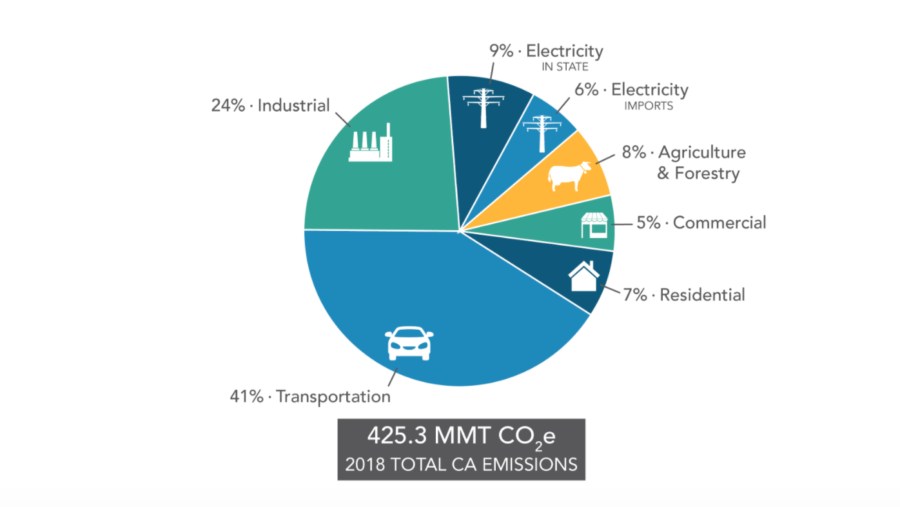 Companies such as Volta are stepping up on the front line to help combat climate change and be a leader in the shift from gas-powered to electric-powered cars. 
Volta is differentiating itself from other EV charging stations by creating affordable stations in convenient locations throughout the country. 
The company currently has two distinct types of chargers out on the market. Soon, whenever you go to a shopping mall, a grocery store, or a retail store, Volta's advertisement chargers will be there. The chargers are used for an average of 148 minutes (about two and a half hours) per vehicle, which ultimately gives drivers plenty of time to shop or eat at their destination. 
"I feel like Volta is going to be a big competitor because it's not directly competing with the cars, which is their main seller," Emily Huang ('23) said. "However, it's going to be difficult for Volta to emerge in this market because Tesla Chargers are so widespread and have a loyal fanbase." 
Volta's fast chargers are usually placed in locations where there is no retail; EV cars can come and leave quickly conveniently.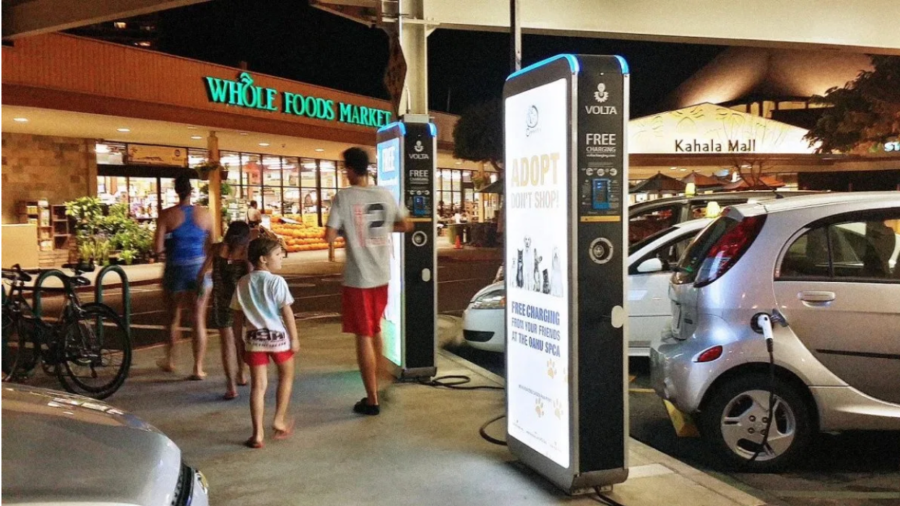 When asked if Volta plans to expand soon, Rebecca Sagadevan, a Volta Executive, said, "Yes, we do after we set up our base in the United States. We plan to go over to Europe. Countries like Germany have been leading the trend in converting over to Electric Energy." 
Countries such as France and Slovenia are already rolling out end dates to halt the sale of new fossil-fuel powered cars.  
Similarly, Europe's low-emission vehicle sales are growing at a fast rate, with EV sales jumping over 137%. This increase in low-emission vehicle sales surprised the car industry due to the overall car sales of vehicles in the pandemic being extremely low.  
According to S&P Global, Europe managed to surpass China to take on the role of leading the globe in the sale of EV vehicles.  
This is no surprise, as the European Union aims to have at least 30 million zero-emission viceless driving on the roads by 2030.  
"There's really no telling [how the company will measure success over the next five years], the market is so fast-paced and is constantly changing," Rebecca said. 
Webb also plans to be involved in the transition from gas–powered to EV–powered. Webb plans to add chargers into the parking lots on campus along with offset Webb's electrical needs. 
"We do have several projects planned, although no timeline has been set for implementation," said Janet Peddy, Director of Finance, Planning, and Operations. "One includes plugins for electric vehicles at both the DSPL and the TAR. Another, larger scale, is installation of an on-campus solar array to offset Webb's electrical needs." 
By 2035, companies such as Volta and Tesla will be leading the transition from gas-powered to EV– powered viceless throughout the world. 
Leave a Comment
About the Contributor
Bryan Oglesby, Editor of Sports
The new varsity football captain Bryan Oglesby ('23) is making his return to the Webb Canyon Chronicle as the Editor of Sports. At Webb, his...