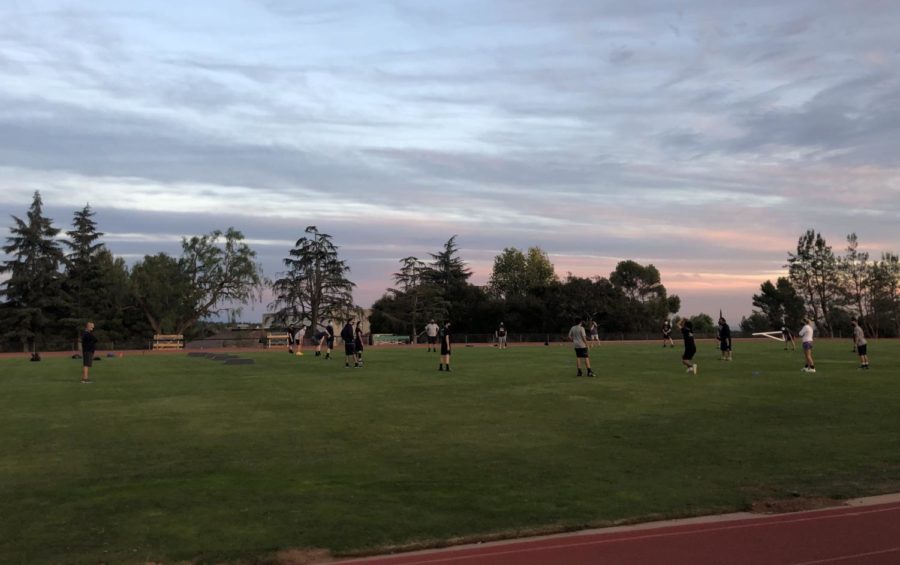 Laura Haushalter
Since the start of the COVID-19 pandemic, high school sports throughout the country were put on hold.  
Nearly a year later, California Governor Newson allowed outdoor high school sports to resume all throughout California, but with many restrictions. 
High contact sports, such as water polo and football, require athletes to be tested for COVID-19 at least once a week.  
On the other hand, sports with moderate to no contact at all are not required to be tested in order to play. 
Webb has implemented and followed strict protocols during the pandemic. 
All student athletes, coaches, and faculty members are required to fill out a daily questionnaire, which asks if they have traveled or have had symptoms. Along with that, Webb has been testing those who are on campus twice a week, which ensures that everyone is protected and safe. 
For high contact sports such as football, students must present a negative COVID-19 test to be ruled eligible to play. Although this is a great idea to keep students safe, many people have been worried if this would cease the opponent's opportunity to play.  
"Well, I think that's it's really unfortunate that they will not get even a shortened season. I know for a fact that all these student athletes have been training hard for when the opportunity presented itself and for it to not happen is disappointing," Daniel Serna ('23) said. 
Unlike Webb, opposing schools may not have the funding and accessibility to test their students on a weekly basis. So, if the opposing athlete's school is unable to provide COVID-19 tests to them, they are ineligible to play. 
On top of that, Webb has decided that if a student athlete is playing a sport outside of Webb, they are ruled ineligible to play. 
Typically, when a student athlete is playing on a club team outside of Webb, they tend to travel to different states and counties to play. The travelling distance often contradicts the CDC's recommendations.  
Also, masks are always required while the students are playing their sports, unless it is a high contact sport. For example, if a student plays football, when they are on the sideline, their mask must be worn; they are on the field, the student can take it off. 
Students must also practice social distancing, maintaining a six-foot difference from one another. 
Schools in counties with case rates at or below 14 per 100,000 are eligible to play, even if the county is in the red or purple tier. 
Students and parents have voiced their concerns if it is safe to play high school sports at this time, but many argue it is safe. 
"In all matters concerning science (i.e., viruses, vaccines, and vacations), I rely on scientists!" Coach Thomas said. "If the governor of California, LA County and CIF all agree, based on the recommendations of the CDC that it is safe to play sports, I have to trust in them just as I did when they said it was not safe to do so." 
Although the sports seasons will be extremely abbreviated this year, many students and coaches are excited to play not just for the fun of it, but also for mental health reasons. 
"I am excited for the return of high school sports," Maksym Graham ('23) said. "I think they're a core part of the high school experience and I found a lot of enjoyment in forming relationships with all my teammates."  
Since the beginning of the Pandemic, lockdowns and restrictions have caused gatherings with friends to become impossible. 
This isolation raised concerns for many parents and students, as mental health has been on a decline to the restrictions and lockdowns. 
By allowing sports to resume, many argue that mental health issues, such as depression, will decrease significantly. 
According to a 2020 study by Dr. Ramaya Dwivedi: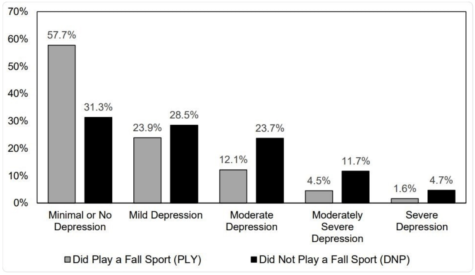 "I am ecstatic to not only see the players that I coach daily, but also be a part of them getting better every day on and off the field physically, mentally and emotionally," Coach Thomas said. 
By allowing student athletes to play and bond with friends safely, their mental health improves significantly.