Tillerson cozies up to India and emphasizes necessary cooperation, while berating China and Pakistan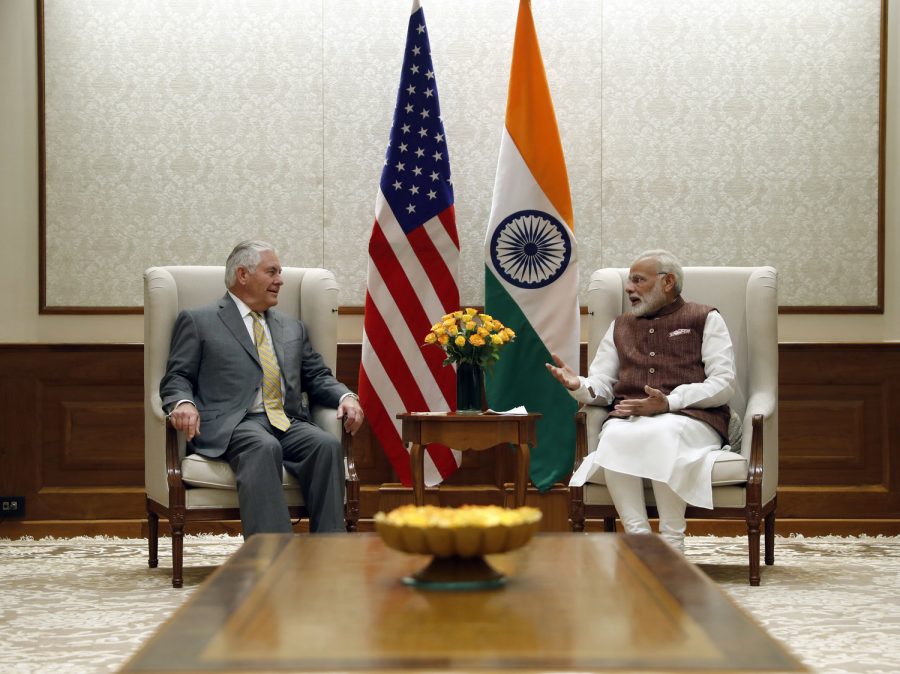 On October 20th, the United States Secretary of State Rex Tillerson landed in Riyadh, Saudi Arabia, kickstarting a tour of the Middle East and South Asia. Tillerson visited Saudi Arabia, Qatar, Afghanistan, Pakistan, and India.  While in India, Tillerson clearly laid out the Trump Administration's stance on foreign policy issues in Asia.  
Speaking of India, Tillerson said, "The driving force of our close relationship rests on the ties between our peoples — our citizens, business leaders, and our scientists. … We'll never have the same relationship with China, a nondemocratic society, that we have with a major democracy, like India."  Later in his speech, Tillerson emphasized the major role India plays in joint naval exercises with the United States and Japan to counter China's influence in the South China Sea.  
Tillerson's comments, saying that Pakistan serves as a ""safe haven" to terrorists, were also reflective of the Trump administration's stance, as outlined in President Trump's speech in August, when he called Pakistan a "safe haven to agents of chaos, violence, and terror."  Akira Hori '20, says, "I think that Tillerson is completely justified in saying this about Pakistan.  After all, it is true, because they harbor terrorists, and their government funds radical Islamic terrorism.  I respect President Trump cracking down on Pakistan, and I think that Secretary Tillerson is very justified."  Tillerson's trip serves as a clear precursor to President Trump's visit to Asia, where Trump is visiting Japan, China, South Korea, Vietnam, and the Philippines. When in India, Tillerson expressed his happiness with the relationship that Japan, India, and the United States are developing by performing military exercises in the South China Sea.  He also expressed happiness that India is taking a role as a hedge to China in Asia.  
Another topic of conversation between Tillerson and Swaraj, India's foreign minister, was North Korea.  Tillerson and Swaraj both agreed that having an Indian embassy in North Korea is beneficial, considering the importance of having some channel, albeit small, of communication.   Additionally, Tillerson expressed his agreement with India's sanctions on North Korea following their nuclear tests.  
All in all, Tillerson's trip to South Asia serves as a clear antecedent to President Trump's visit to East Asia, and an outline for Trump's Asia strategy.