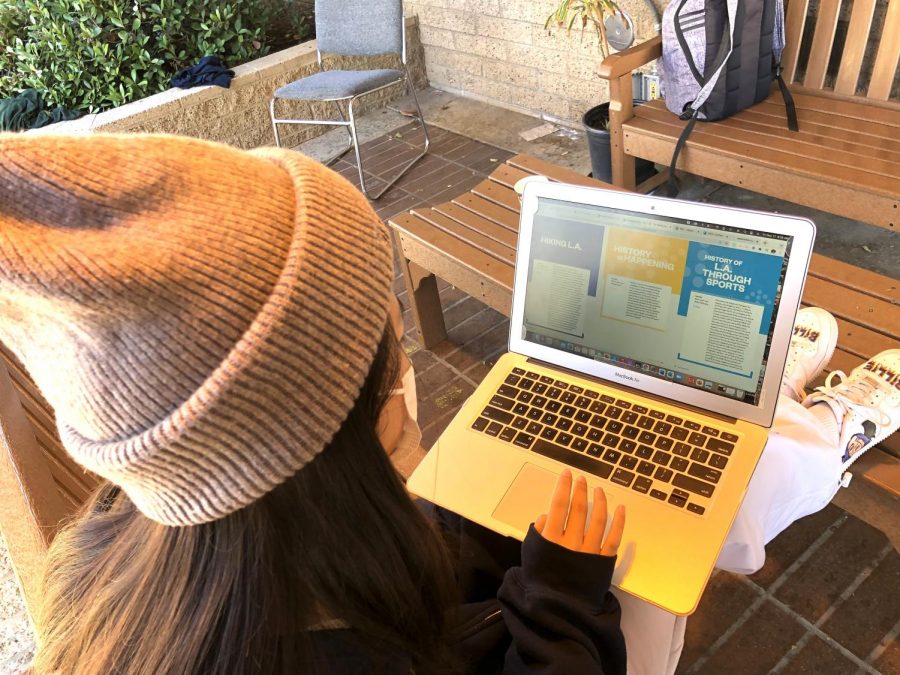 Bianca Arteaga
You are sitting on the ferry on your way to the Channel Islands with your friends when suddenly, you hear a huge splash of water in the Pacific Ocean. The cool wind strikes your face as you curiously glance overboard and see a large pod of dolphins jumping out of the water. With 10 new Unbounded courses this year, Webb students can take advantage of several opportunities to learn something new and experience these types of wild occurrences. 
1. Desert Solitaire: Yoga and Photography Retreat in Joshua Tree
If you seek to immerse yourself in the wilderness or try yoga and photography for the first time, "Desert Solitaire: Yoga and Photography Retreat in Joshua Tree" is the perfect unbounded course for you. 
Throughout this three-day course, students will go on many different hikes and practice taking pictures. Students will hike at the Fortynine Palms Oasis Trail, Ryan Mountain, and Jumbo Rocks. Then, during the evening, students will do yoga and meditate under the stars, as well as practice taking more photos. Students will also explore various landmarks including the Hall of Horrors, Skull Rock, and Cactus Garden.  
Yoga will be led by Ms. Cardalliaguet while Mr. Chen will instruct students on photography and how to take visually appealing landscapes of nature. Both Ms. Cardalliaguet and Mr. Chen are most excited about doing yoga and taking photos under the stars, and hope to provide an enriching and fun experience for students. 
"I'm most excited for doing yoga, learning some photography skills, and watching the stars. The reason why I chose this was because I'm really interested in photography, and I also want to do something outdoors because it's my senior year and I didn't do something like this sophomore year." – Jessica Huang ('22). 
2. Exploring Home With New Eyes: Architecture Design in Southern California
If you have ever dreamed of being a star in "Selling Sunset," an American reality television show highlighting real estate agents and stunning million-dollar homes, then this unbounded day is the perfect opportunity for you to become the main character.  
In the three-day course, "Exploring Home with New Eyes: Architecture Design in Southern California," you will take part in home tours, scavenger hunts, conversations with architecture and design experts, and other hands-on experiences. Students will have the opportunity to traverse through multiple cities in Southern California including Los Angeles, Palm Springs, and other places around the Inland Empire.  
However, to be a successful realtor, you must understand the characteristics and history behind the main styles of architecture. Throughout this course, you will have the opportunity to practice these skills, which can ultimately help you identify different kinds of buildings and help you become one step closer to being a multi-millionaire.  
If becoming a famous realtor agent is not your aspiration, you will still have other once-in-a-lifetime opportunities to remember. Joseph Vincent, world languages department faculty, is most excited to visit the Frey II House in Palm Springs, which was built onto the face of a cliff. It is also extremely difficult to make a reservation to go inside the house. 
Whether you aspire to be a world-famous realtor or just want to have the opportunity to learn about the beauty of architecture in Southern California, this new unbounded course will provide a fun, exclusive experience for everyone to enjoy.  
"I am most excited to go to Los Angeles because I get to see and learn about cool architecture ranging from skyscrapers to libraries." – Gabby Diaz ('23)  
3. For the Birds: A Study in Observation, Inspiration, and Creation  
If you have a busy schedule and want to wind down, the "For the Birds" unbounded course is ideal for you. This unbounded course is three days and is designed for you to get away from the craziness of Webb life and enter the leisurely world of bird watching.  
Students will have the opportunity to immerse themselves to various habitats — the foothills, where we are; the wetlands; and a desert oasis—and learn more about how to identify each habitat's bird species. Another way you can slow life down is by using art to process and reflect on the experience of the outdoors.  
Dr. Hartle and Dr. Cantwell are excited to unplug from email, texting, and assessments and hope that other students will do the same and reconnect with the environment around us.  
Students will get to visit the Bolsa Chica Conservancy, which is a surreal location to see birds. Dr. Cantwell advocates that almost half of the birds seen in the United States have been spotted in Huntington Beach!  
"I think I'm most excited to be able to take a break from academics and learn something weird but fun. We were also told that we would get to showcase artwork that we made on the last day and that sounds interesting as well. I think the main reason for choosing this course was because it wasn't academic and seemed like a nice random thing to be able to do and have experience in." – Kate Alvarez ('25)  
4. History is Happening
If you are fascinated with the intersection of history and theatre arts or desire a creative outlet, "History is Happening" is the perfect unbounded course for you. This three-day course will encourage students to look at the ways in which they can create a story that is historically authentic, cultivating and maintaining a creative energy that everyone once had in kindergarten.  
Many of the activities that students will do are focused on improvisation, studio, and character reflection. Students will learn and practice the basics of improvisational comedy, watch filmed musicals that exemplify historical storytelling like Hamilton, and rehearse scripts. They will also watch live performances like Lehman Brothers, which will have its opening night during Unbounded Days.  
Dr. Smith and Ms. Plumley love history but notice that many people think the opposite—that history is boring and full of outdated information. Through this unbounded course, they are excited to motivate students to think about how they can use creative storytelling techniques of theatre to bring history to life in a way that is exciting. 
Everyone has a story to tell—whether it be a personal story or a historical tale in which they want to figure out a creative way to tell. Ultimately, the course will guide students in telling that story by culminating in a self-created and self-performed show where each student or pair of students will put on a performance that they will stage themselves. 
"I look forward to performing because it's a theatre program…I haven't done it in over a year or two. Additionally, I've never watched Hamilton, but people say I would love it and this program is doing something similar to Hamilton, so I look forward to seeing what it is all about and watching it." – Hanson Hu ('23).  
5. #FreeBritney
"…Oops! I Did it Again." Well, you chose "#FreeBritney" as your unbounded course, which is one of the most unique, interesting experiences offered. In this 3-day course, you will do a mix of on campus and off campus activities focusing on the intersection of pop-culture, social media, and social justice.  
Off campus, you will visit Los Angeles to chat with some folks who are figures in the #FreeBritney movement, as well as indulge in some Hollywood highlights (touring famous places and eating exotic food).  
Besides participating in thrilling activities, many people are also interested in the legal and mental health aspect of the movement, so there will be some workshops and hands-on exploration of these areas. Dr. Salibian has an impressive background in this topic and completed extensive graduate work in this area, so there is passion and interest in sharing her knowledge and expertise.  
Both Mr. Szanyi and Dr. Salibian love Britney and have followed her music and journey for a long time, so both thought that this course would be great to spark dialogue among students. Both unbounded leaders are excited to see how students apply the unbounded experience to their own interests. For example, there are people who are interested in doing a podcast, creating social media accounts, and doing activist work based on what they learn from the course.  
After these three days, students will be left saying "…Baby One More Time!" because they will want to continue exploring the course's themes. Mr. Szanyi also encourages everyone to go listen to Britney's music! 
"I chose #FreeBritney because I was really appealed towards the legality of the entire conservatorship." – Kevin Wang ('24) 
6. Galapagos in the Pacific: A Voyage to the Channel Islands
If you are hoping to get outside of Webb's small bubble and deep dive into the topics of marine life, Chumash inhabitants, the geological formation of the area, and conservation efforts on the island, then "Galapagos in the Pacific" is an ideal course for you. 
Early on Wednesday morning, students will drive to Ventura to take a ferry to Santa Cruz Island. Along the way, you will most likely see gray whales, dolphins, and the famous Painted Cave.  After arrival and setting up the campsite, the group will kick off the course by going for a group hike, in which you will see dramatic ocean views while finding evidence of the island's ranching history in the landscape. Additionally, you will likely see the endemic, four-pound Santa Cruz Island fox. 
The next day, you will embark on a guided kayak tour to explore the marine life and sea caves of the island. Following that, you will also visit the small island museum to learn more about the history of the island. After a long day of learning and thinking, you will get the opportunity to practice your campsite cooking skills and hopefully enjoy a film and a visit from a park ranger. You will also be able to relax on the island on the last day before returning home. 
Not only will students learn more about the history of the Channel Islands and spend time with Ms. Brookshire and Ms. DeRanek, but they will also make new memories of learning other skills visiting an island away from Webb.  
"I'm excited to see new things and experience the outdoors with my friends and study in a non-academic setting. This unbounded appealed to me because I've been wanting to go to the Channel Islands for a really long time, and I think it's hard to get there by yourself, so this is the perfect opportunity to experience the Channel Islands." – Isabella Saeedy ('23)
7. Go-Kart 101
If you are intrigued by go-karts and the mechanics behind them or want to further your knowledge on the basics of engineering, then "Go-Kart 101" is the best unbounded course for you.  
Inspired by Victor Zhang ('22)'s homemade go-kart which he built on-campus, this course will teach and empower students to understand the basics of car repair and design through various hands-on experiences. 
Students will first go out to a professional track and race sport karts. Here, they will be trained on how to handle sport karts that max out at 50 mph. Then, students will begin building their own go-kart, in two teams with two vintage go-karts. Moreover, students will spend an evening watching Ford vs. Ferrari before finishing and finalizing their builds. During the final day, students will pack up the carts and take them out for testing. 
Dr. Farke and Mr. Kays will help instruct and guide students on building their go-karts and are most thrilled to see the teamwork develop. They are also excited to see how the final products will look like at the end of the unbounded course. 
"I am most excited for driving an actual race-car because I haven't done it before. I'm also excited to build another go-kart." – Victor Zhang ('22)  
8. Hiking LA
If you are hoping to explore various spots around L.A. county, enjoy scenic views, and stroll around the busy city, then "Hiking L.A." is the unbounded day for you. This course explores L.A. on foot through hikes at Potato Mountain, Claremont Village, Hollywood sign, LA River, Venice Beach, and Santa Monica Pier. 
Beyond hiking several miles, students will learn about the rich cultural history of L.A. and the stories behind the breathtaking landscapes and iconic trails that they will hike.   
Both Dr. Lofgren and Dr. Windmon are thrilled to host this new unbounded course, as they really enjoy hiking and exploring their surroundings by walking through the city. They look forward to bringing this excitement to students at Webb, as some of the hikes they are doing in this unbounded course are new to them as well. 
"I am most excited for hiking in general. We are going to a lot of cool places like Venice beach, which should be very fun. I also think this is a good opportunity for me to exercise." – Justin Pan ('24) 
9. Just Plane Fun
If you are looking to have a soaring experience, then "Just Plane Fun" is the perfect unbounded day for you. From participating in flight simulation to speaking with real-life pilots to learning what constitutes flight, students will have the opportunity to explore many ways they can get involved in aviation.  
Mrs. Nicolosi had the high-flying idea to develop and plan this activity, along with support from Dr. Beikmann and her husband Mr. Nicolosi, a commercial pilot for over 30 years. Mrs. Nicolosi, along with several other students, were fascinated by Mr. Nicolosi's career and they thought that the best way to plug into the community was to share their aviation family lifestyle with Webb.  
After completing this three-day course, you will have a better understanding of how flight is developed (past, present, and future), what constitutes flight, and even have some exposure to flying a plane. This course is an exceptional opportunity to spread your wings and try something new that will allow you to learn something new while having a unique experience.   
"I am most excited about the flight simulation that we are supposed to do. When I was reading through the unbounded choices, I saw one that involved planes, and I thought that was super cool [and something] that you can't do anywhere else." – Alfonso Alvarez-Seara ('23)