Peer Advisors help students "stick" to the plan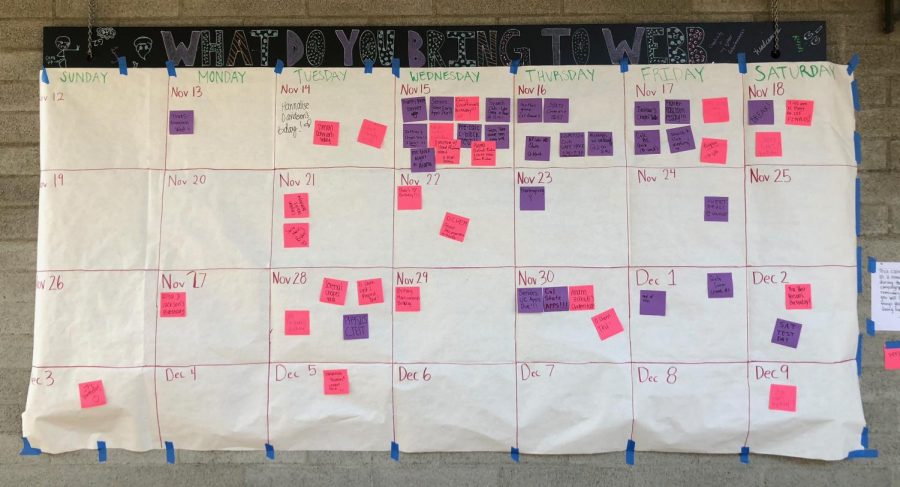 As we hit the homestretch right before Thanksgiving Break, it is easy for Webb students to feel over-bombarded with their schoolwork. The Peer Advisors have observed the campus vibe by choosing to focus on time management for their weekly health campaign. Within the past few months, the PAs have advocated for ways to promote healthy sleep and nutrition lifestyles. For example, in October, they organized a pajama day to celebrate when the student-body reached their goal of attaining ten-thousand hours of sleep in one week.
In order to encourage healthy study habits, the PAs recently created a giant poster outside the dining hall as an outlet for students to write down important dates and share them with the community. Caitlin Ossa ('19), a VWS Peer Advisor, explained, "The poster reminds students as they pass by the dining hall of any upcoming events and tasks. We color-coded the poster to distinguish personal from community-based events, so not only do we promote individual time management, but more importantly, the time management of the collective student-body."
Gavin Lee ('19), a WSC student, added "A Block Free" to the giant calendar. He elaborated, "I added this because I am grateful I can sleep in on Friday morning because this week has been very stressful. The week before a long break is always when teachers pile on the most difficult assignments, so I am glad to be home in two days to celebrate Thanksgiving with my family and see my old friends again."
When asked for her best advice on study habits based on her freshman experience at Webb, Lydia Toy ('20), said, "I personally get things done to my highest standard when I do it the night it's assigned. My best advice for students would be to not procrastinate."
Dr. Atterholt, an Evolutionary Biology and AP Environmental Science teacher, works with multiple grade levels of VWS and WSC students. High schoolers she teaches range from shy freshmen to confident seniors. When asked how she manages stress and large tasks, Dr. Atterholt responded, "The more you dread a task, the sooner you should start it. Even doing a tiny bit will make it mentally easier to return to and chip away at. This year, I started bullet journaling, which has been a creative tool that helps me become much more productive and organized."
The giant calendar is displayed outside the dining hall to be seen by all who pass by. On your next trip to grab a snack, be sure to stop by the calendar and add your to-do's!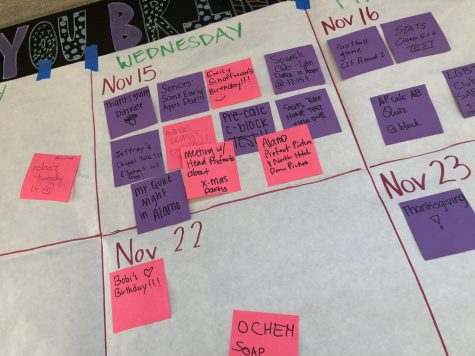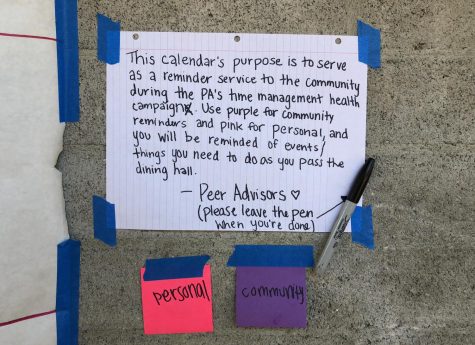 About the Contributor
Sydney Wuu, Editor-in-Chief
Imagine being Editor-in-Chief for the Webb Canyon Chronicle, VWS all-school president, co-captain of the varsity tennis and water polo teams, and a big-time...