Australia legalizes same-sex marriage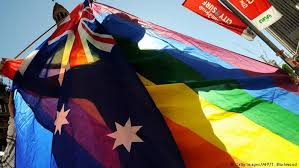 Hang on for a minute...we're trying to find some more stories you might like.
On December 7, 2017,  joyous cries of "We are Australian" broke out as the Australian Parliament ticked the box in favor of legalizing marriage equality. Only four members were in opposition. In doing so, Australia's Parliament has overcome years of conservative repression that the public had been speaking out against for many years.
The new law changes the definition of marriage from "the union of a man and a woman," to "a union of two people." Since 2004 there had been unsuccessful attempts to legalize gay marriage, so December 7 marked a historic day for the LGBTQ+ community.
According to CNN, "The move follows a two-month national postal survey that showed 61% of more than 12 million respondents were in favor of marriage equality, and the country is now the 24th in the world to allow same-sex couples to marry." However, this was  Australia's 23rd and final attempt at legalizing marriage.  
Australia's first same-sex weddings will not take place until at least January next year, however, because Australian couples are required to provide a full month's notice of their intention to get married.
Rachel Kho ('17), President of Webb's LGBTQ+ and Allies Club, shared her views on the historic moment. She said, "It's incredibly gratifying to hear news of progress and equality making its way around the world. The majority of Australians have been pro-LGBTQ+ rights and same-sex marriage for a long while. Our endeavors toward a more peaceful, equal, and diverse society are still ongoing, but I look forward to the day when future generations can look back in their history books and think, how could love ever be illegal? We'd never allow for that now."
Celebrities, politicians, and everyday people have taken to social media to express their joy. Celebrations kicked off as even Members of Parliament shared their equality love stories. MP Tim Wilson surprised his colleagues by proposing to longtime partner Ryan Bolger. Soon after, MP Andrew Wallace shared how his gay daughter helped change his views on same-sex marriage.
The vote comes just weeks after the majority of the Australian public voted in support of gay marriage. This overwhelming support shows the power of the people, and hopefully, more countries will begin to follow suit.
About the Writer
Anjali Reddy, Editor-in-Chief
Anjali Reddy ('18) is currently the  Editor-in-Chief of the Webb Canyon Chronicle and has written for the paper since her freshman year. She started writing to find her voice in today's busy world and has expanded out to question the patterns and norms she is faced with. Outside of the WCC, she enjoys preaching about...