Should you really go and smile because of Amazon Go & Smile?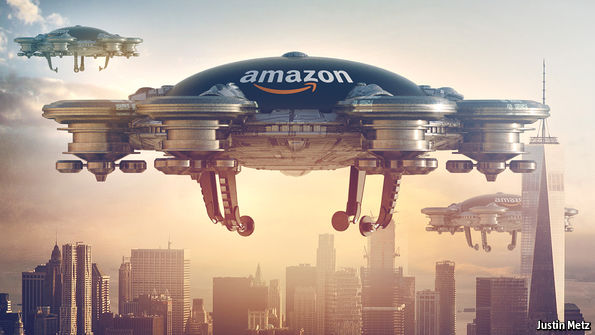 Besides the occasional Target run, it's a well-known fact that there aren't as many opportunities for boarders to leave campus as there are for day students. Many boarders use Amazon.com to order packages, then pick them up from the Front Desk once they receive an email notification. But do boarders know about the approaching possibility of an Amazon Go opening nearby, or about the hidden perks of Amazon Smile?
Amazon.com, the world's largest online retailer originally founded in 1994, generated nearly 136 billion US dollars in 2016, up from 107.01 billion US dollars in 2015. According to Business Insider, Amazon accounts for more than half of every dollar spent online in America. It is getting even more challenging for department and grocery stores to compete with the retail giant Amazon.com considering its recent addition of Amazon Go, the first convenience store to operate cashier-free.
Amazon Go is no ordinary supermarket. The first test store that opened in downtown Seattle uses technology to detect what food you've removed from the shelf, then automatically charges you when you walk out of the store. Shoppers must fulfill only three requirements: have an active Amazon account, be carrying a smartphone, and have downloaded the Amazon Go app.
Despite the added convenience, Amazon Go raises thought-provoking questions about privacy. Shoppers are tracked by hundreds of cameras and sensors from the first swipe of their phone to their last step out the door. As Amazon seeks to expand its business to shoppers craving ease and speed, this futuristic grab-and-go market could soon spread like wildfire nationwide.
Ms. Fisher, Debate Coach and Chair of the Humanities Department, had never heard of a concept like Amazon Go before. When informed about the system, she responded, "I use Prime all the time, but does Amazon really need to monitor every aspect of our lives? I don't like the idea of being monitored. Surrendering my privacy little by little adds up."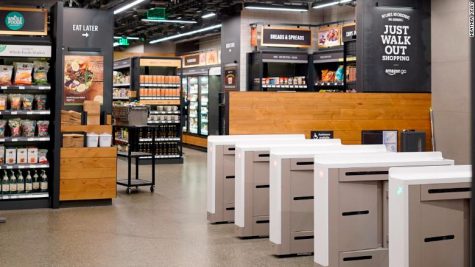 CNN Tech
For those people who can't make it to Amazon Go and are strictly online shoppers, one expert tip is to bookmark AmazonSmile instead of Amazon.com on your laptop. Launched in 2013, AmazonSmile will donate 0.5% of the purchase price of eligible products to the charitable organization of your choice, including American Cancer Society, Code.org, and Boys & Girls Clubs of America.
Why must shoppers bookmark Amazon Smile for the money to go to charity? A mobile app does not yet exist for the Smile version, so people often forget to switch their browser before confirming their order on their smartphone. For every one-hundred dollars of merchandise purchased on Amazon Smile, only fifty cents is donated to organizations. Two quarters is not even enough to do half a load of Webb laundry, much less make the entire world smile. In 2011, studies that examine brain activity show that giving creates similar pleasure circuit patterns to eating chocolate. Amazon Smile may be just a tactic to get consumers to wire their brain cells to connect consumption to the "feel-good" sensations that come with charitable giving.
Peter Graf ('21) elaborated on how large corporations like Amazon are wrapping commerce, philanthropy, and technology into one giant package. He said, "Amazon Smile reminds me of Ecosia, which plants trees for every search using their browser. They both have the same overarching concept because if you use their sites, a certain percentage will go to charity."
Annie Wu ('19) mostly orders birthday gifts and small presents for her friends off of Amazon. She said, "As a Prime member, I think Amazon makes it worth it to purchase things often because I get free shipping and it doesn't take too long for the package to arrive." When asked if she knew about the benefits of Amazon Smile, she said, "Oh, really! I never knew that. I remember before I got Prime I kept seeing a bunch of ads for it, but it's strange how I've never seen a single ad for AmazonSmile."
Amon Ashenmiller ('21) had never heard of Amazon Smile before. He said, "Recently I went to Panda Express, and a cashier looked at me straight in the eyes and asked if wanted to donate to a children's hospital. I think having a person stare deep into my soul made it harder for me to say no than if an online browser had asked me to donate like Wikipedia. If I'm gonna buy something online from Amazon anyway, donating to charity through Smile is an added bonus."

Daemen College
So should you go and smile because of Amazon Go and Smile? It's really up to you. For prospective Go shoppers, you would have to choose between sacrificing your convenience or sacrificing your privacy. For potential Smile users, you would have to ask yourself the question: Why did Amazon create a separate browser to separate philanthropy from regular e-commerce?
While it is impossible for us to step into the mind of Amazon CEO Jeff Bezos (at least for now!), one thing is certain: Amazon's fundamental flaws lie in its consumer privacy and company motives.
About the Contributor
Sydney Wuu, Editor-in-Chief
Imagine being Editor-in-Chief for the Webb Canyon Chronicle, VWS all-school president, co-captain of the varsity tennis and water polo teams, and a big-time...