Course selection season peaks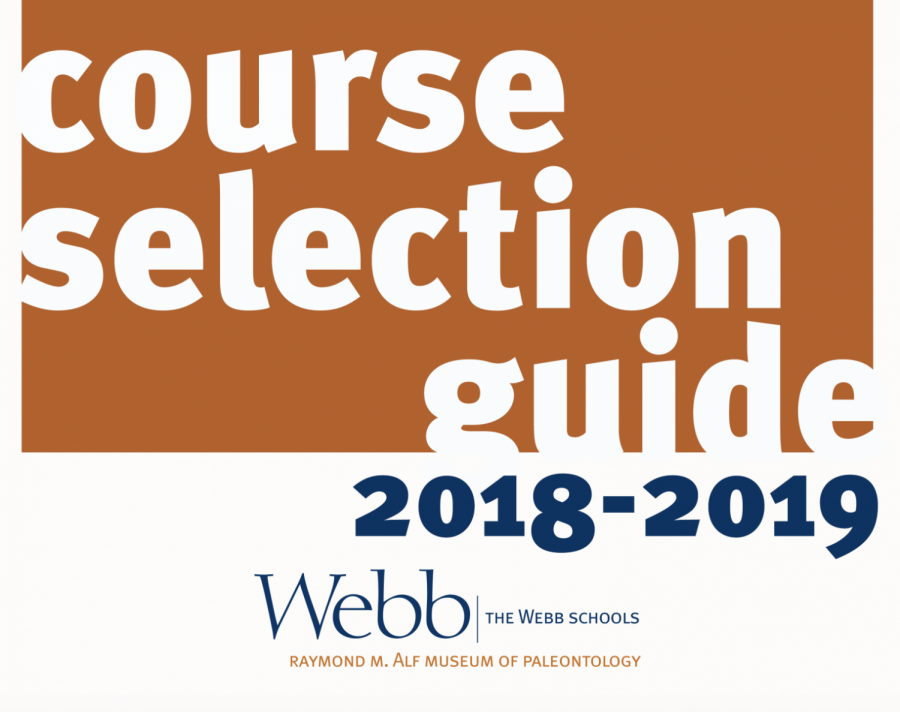 Given opportunities to choose from humanities electives like Literature & Leadership in the Wilderness to science electives like AP Physics C, rising juniors and seniors face difficult decisions in determining their course loads for the 2018-2019 school year.
A thirty-four page packet may seem daunting to teenage students who are already feeling overwhelmed with their current schoolwork. Thankfully, one-on-one meetings with advisors help guide students in the right direction to craft a balanced – yet challenging – schedule that they are passionate about in the upcoming school year.
Jacob Borello ('19), who wishes to become a robotics engineer, said, "My favorite class this year was definitely Computer Science because we were presented with the tools that could allow us to create virtually any type of program that we want. This course really challenged my problem solving abilities. Next year, I am very excited about taking both Computer Science 5 and 35 outside of Webb at Harvey Mudd College."
Isabelle Saad ('20), an aspiring doctor, commented, "Some courses that appeal to me include Anatomy and Physiology, Organic Chemistry, and Biotechnology, which are three of the many components in the MCAT. For that reason, it would be a great opportunity for me to take these Advanced Studies classes before college so that I can form a basis now and further develop my understanding throughout my university and medical school careers. I wish that for sophomore career night, there were more opportunities for me to meet figures in the medical field."
There are four types of courses offered at Webb: regular, honors, Advanced Placement (AP), and Advanced Studies (AdvSt). Teachers based their recommendations on each students' individual level of achievement and growth throughout their underclassmen years.
Webb has created two new regular-level science courses to fulfill students' academic needs: Neuroscience and Science & Engineering. Dr. Brendan Beikmann, who will be teaching Neuroscience in the upcoming school year, elaborated, "I am super excited to have the opportunity to teach students about the applications of both the anatomy and physiology of the brain in the field of medicine. This course will be very hands-on and project-based. We will cover everything from the different tracks that neurons take to how new medicine is helping to alleviate depression, anxiety, and other brain disorders. It's gonna be awesome!"
On the flip side, Webb will offer two completely new humanities courses in the upcoming school year: Honors Global Indigenous Voices and AdvSt Gothic & Horror Literature and Culture. Dr. Cantwell, who will be teaching the Gothic & Horror Literature and Culture course in the spring of 2019, said, "I've always loved horror films. When I was a grad student at USC, I got to take a course from the film studies department called The Monster and the Detective. This class was super fascinating because it made me view my interest in horror films and novels not just as entertainment, but also as a genre containing many deep themes that can be found in a lot of literature and art. I am really excited to put my own spin on gothic horror through my course!"
As for the language department, Mrs. Hong Yao will teach a new AP Chinese Language course, the first advanced level Chinese class offered in Webb's history. She commented, "Over this past summer, Mr. Kozden and Dr. Smith sent me some information about an AP seminar course at Stanford that they thought I might be interested in attending, so I decided to give it a shot. Since the instructor at Stanford was very experienced and good at explaining, she made me feel much more reassured about starting to teach Advanced Placement courses for the very first time."
When asked to give her best advice for rising upperclassmen struggling with the course selection process, Doris Wang ('18) remarked, "I think it's very important to read through the course descriptions to choose those that sound most interesting to you, not base your selection primarily on which teacher is the "easiest grader." Personally, I think that Honors Global Society and Sustainability with Mrs. Gerken was my favorite course at Webb not only because I am interested in the subject, but also because Mrs. Gerken is an excellent and passionate teacher."
"
"I think that one of the most exciting things about being a student at Webb is how much agency you have over your academic program. We invite – and really force – students to be deliberate about the course selection progress. We are fortunate to have incredibly talented faculty who offer an amazing array of courses to students. Our courses are really connected through an emphasis upon student voice and experiential learning.""
— Dr. Tracy Miller
Over Spring Break, returning students will discuss their options for course selections with their parents and by April 18th, students will have to enter their final course selections in SIS for their advisor to submit those selections.
Regardless of what type of courses students choose, Webb has developed a series of excellent classes to push each and every individual out of their comfort zone. All students are bound to have a blast pursuing new academic challenges in their respective fields of interest.
About the Contributor
Sydney Wuu, Editor-in-Chief
Imagine being Editor-in-Chief for the Webb Canyon Chronicle, VWS all-school president, co-captain of the varsity tennis and water polo teams, and a big-time...