Student leaders at Webb: Direct, delegate, distract!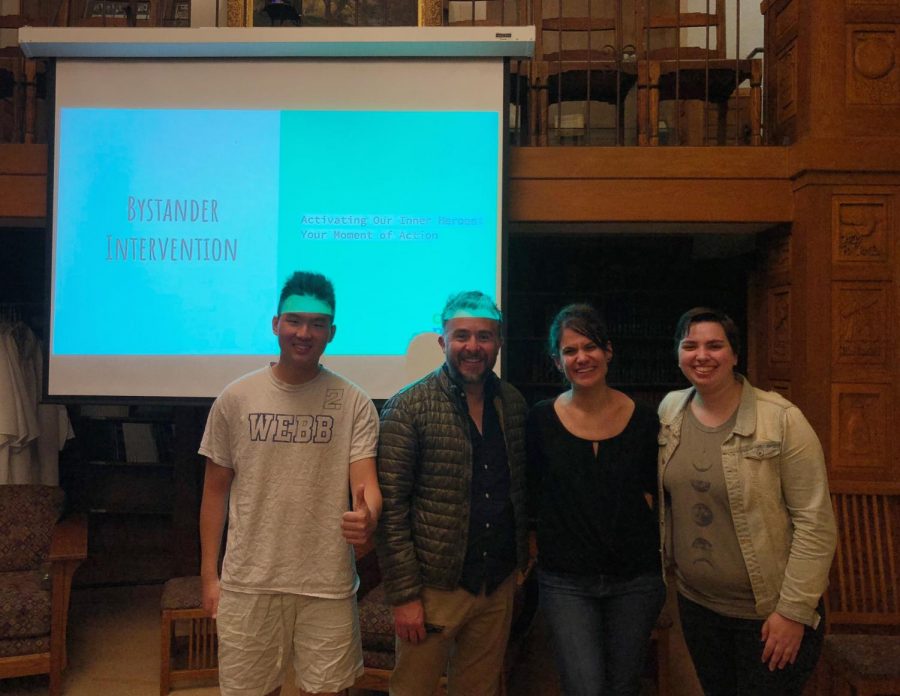 Have you seen the viral YouTube video of Chip Subway Guy disarming a fight on the subway by eating potato chips? This one-minute clip highlights the power of bystander intervention.
Distract:

The tall Chip Subway Guy ignored the bystander effect by distracting the two involved in the conflict and acting as a physical barrier.

Direct

: This first step allowed the second woman to directly approach the stalker without risking her physical safety.

Delegate

: Finally, they delegated the man recording the video to share he had been filming the whole time to scare off the stalker.
The Three D's of Bystander Intervention tailor to every leadership style. If a student is more timid, they may choose to "delegate" by calling a friend for help. If a student is more assertive, they may choose to "direct" by physically or verbally confronting the person to waste no time intervening with the situation. For the more creative student, they may choose to "distract" their friend from the situation by drawing their attention away from the problem.
While this toolbox of information can be applied in many scenarios, it was specifically taught to protect students from becoming victims of sexual assault. During the most recent Health and Living session on April 18th, students met with one of two different speakers who lectured on their personal experiences sexual assault.
The 9th and 10th grade speaker, David Row ('86), gave a personal testament to his experience with predatory behavior and assault as a student at Webb. His powerful words reminded students to dwell on how the Honor Code impacts their everyday actions at Webb, whether it be by making the isolated feel welcome or by being first to take action against suspicious behavior.
The 11th and 12th grade Health and Living speaker, Becky Fein, shared how her journey of recovery from sexual assault led her to become regional Program Manager for Active Minds, a non-profit mental health advocacy group focused on helping young adults.
Later that night, rising seniors, juniors, and sophomore student leaders from Student Government, Honor Cabinet, Dorm Council, International Student Program, and Day Student Prefects headed into Jackson Library to attend a ninety-minute interactive crash course on bystander intervention.
Becky Fein commented, "Sexual assault is an issue with so much gray area. For me, bystander intervention is so important to stop these types of situations because it actually works and has been proven effective. Bystander intervention gives us the power to respond. We can change the way that we choose to act in the face of this kind of situation to prevent moments of harm."
Students learned to recognize signs of potentially harmful situations. They were presented with three realistic scenarios they may encounter both on and off campus during their time at Webb. They first broke up into partners to brainstorm solutions, then shared them with the large group.
Kara Sun ('20), who will be a VWS dorm councillor in the 2018-2019 school year, commented, "It's super useful that we got to hear this presentation on sexual assault because this subject definitely should not be taken lightly. For my role as a DC, I think learning about how to respond to cases of sexual assault will be especially useful to apply in the dorms setting. I'm looking forward and feeling more confident to become a mentor to my peers and underclassmen."
Jeffrey Zhong ('20), who will be WSC all-school vice president in the upcoming school year, remarked, "I learnt helpful skills and tactics on intervening against, not only sexual harassment, but other problems as well, by directing, distracting, or delegating a problem. This meeting has opened my eyes on how being an inactive bystander may cause much harm to my friends and those around me, and as a Webb student and student leader, this meeting gave me the necessary tools to be a more decisive and analytical person when dealing with future problems."
When presented with a challenging situation, remember your three D's! Direct, delegate, and when all else fails–distract! Who knows? Maybe you'll become the next Chip Subway Guy.
About the Contributor
Sydney Wuu, Editor-in-Chief
Imagine being Editor-in-Chief for the Webb Canyon Chronicle, VWS all-school president, co-captain of the varsity tennis and water polo teams, and a big-time...