Swim League Finals Recap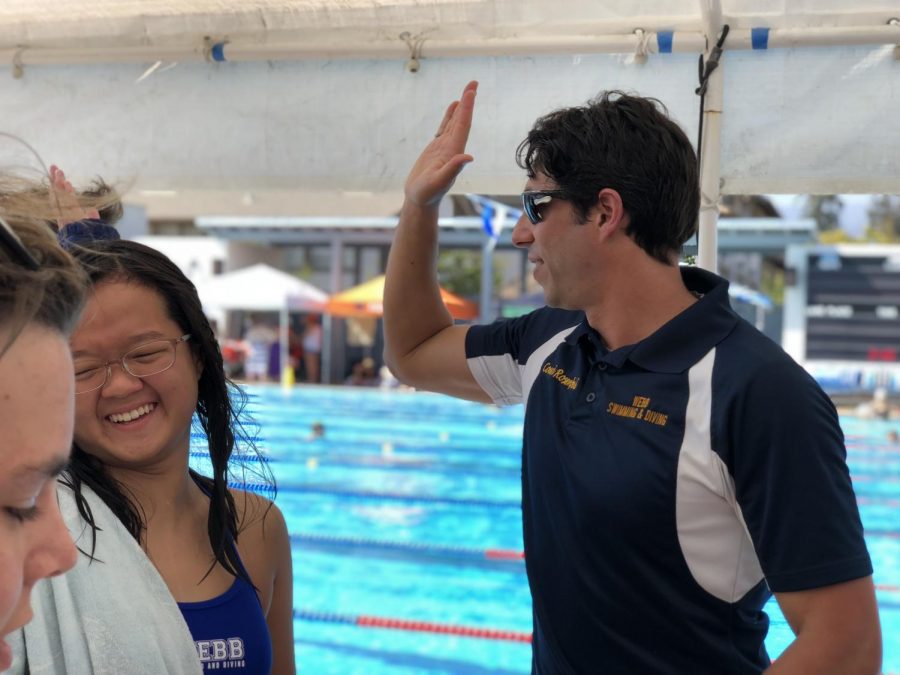 On April 28th, the Webb swim team voyaged to Pasadena Poly for League Finals. Webb athletes battled against Pasadena Poly, Flintridge Prep, Chadwick, Westridge, and Mayfield for the title of Prep League Champion Team.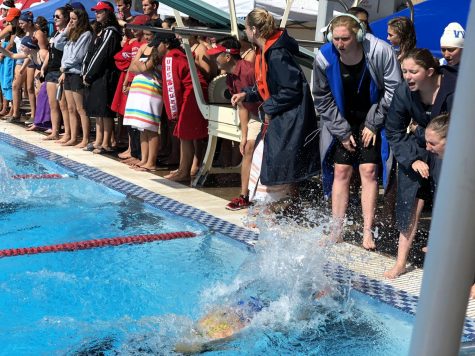 The roaring team atmosphere immediately invigorated the packed crowd. At the end of every lane, swimmers cheered and hollered for their friends and teammates as they swam into their flipturns. Varsity swimmer Ian Igleheart ('20) remarked, "Amanda and I were both swimming the 100-fly, and during her race, her goggles broke and caused her to disqualify. After initially being disappointed, she got back up and cheered for me with a smile on her face as I raced. I think that says a lot about our team dynamic: we're all really supportive of one another and genuinely want to see each other succeed."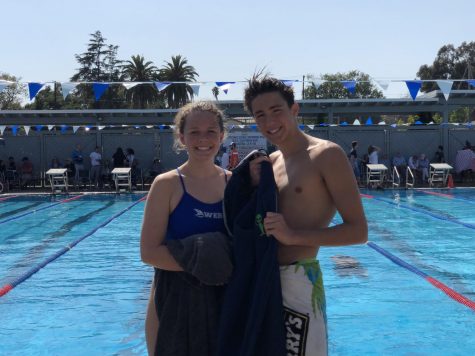 JV swimmer Emma Lin ('20) shared similar thoughts as Ian about being part of the squad. She commented, "My favorite part of swim is just being on the team. Everyone cheers everyone regardless of whether they know each other or not! I've made some great friends this season because of it!"
In between the 50-free and 100-butterfly, meet officials called for a ten minute break to allow to coaches to publicly congratulate seniors on a culmination of their swimming career. Varsity swim co-captain and 100-breastroke league champion Euson Hui ('18) said, "The results I got from League Finals were certainly surprising! They were all thanks to the everlasting support from my coach, my friends and my family."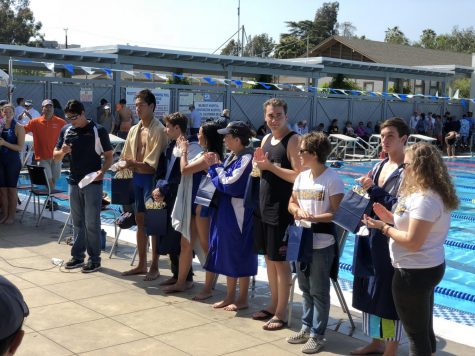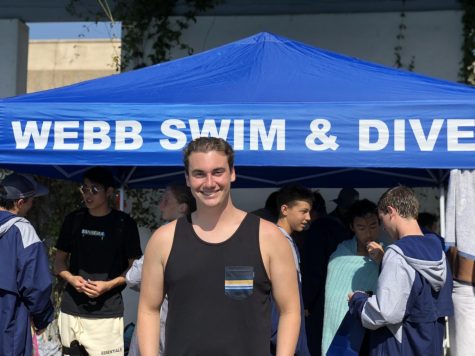 Final Team Standings:
VWS JV: 2nd place
WSC JV: 1st place
VWS Varsity: 3rd place
WSC Varsity: 3rd place
Although varsity fell short once again to Pasadena Poly and Flintridge Prep, the VWS varsity swimmers crushed five school records (two individuals and three relays):
100-freestyle, set by Kennedy Becher ('21) in 55.21

100-butterfly, set by Kennedy Becher ('21) in 1:02.80

500-freestyle, set by Lindsay Jung ('19) in 5:34.01

200-freestyle relay, set by Kennedy Becher ('21), Allison Lilley ('19), Rylie Brick ('19), and Lindsay Jung ('19) in 1:43.75

400-freestyle relay, set by Kennedy Becher ('21), Mary Davis ('19), Lindsay Jung ('19), and Rylie Brick ('19) in 3:47.02
Rylie Brick ('19), co-MVP of the Prep League, was just one-tenth of a second short of tying with her school record and personal best of 1:05:50 in the 100-breaststroke. Her time of 1:05:60 not only was a Division 3 CIF auto cut, but also set the bar high for a new pool and meet record.
Select varsity swimmers will continue onwards with post-season to train for both individual and relay events in the Division 3 CIF Southern Section Swimming & Diving Ford Championships. CIF Prelims will commence at 4 p.m. on May 9th at the Riverside Aquatics Complex.
Push hard, dig deep, Webb swim, Webb win!
About the Contributor
Sydney Wuu, Editor-in-Chief
Imagine being Editor-in-Chief for the Webb Canyon Chronicle, VWS all-school president, co-captain of the varsity tennis and water polo teams, and a big-time...