Day two of retreats: Junior class summits Crystal Cove hiking trails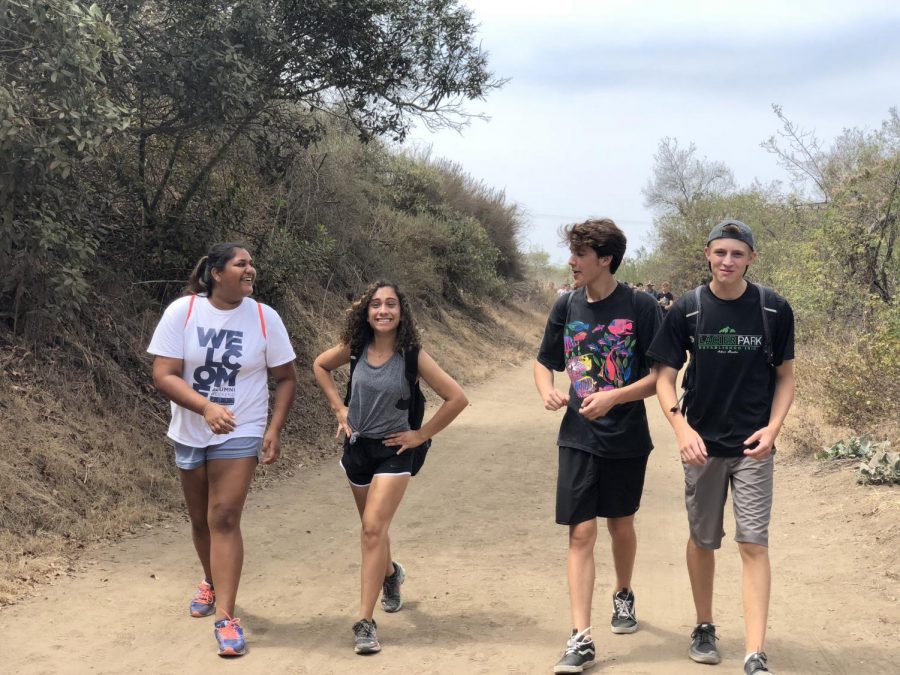 Have you ever met a sixteen-year-old high school student who doesn't love their fair share of scenic morning hiking? On Tuesday, August 21, the 103 resilient members of The Webb Schools batch of 2020 and their advisors conquered Crystal Cove Loop in under three hours.
This five-mile hike presented many physical and mental challenges. While students had plenty of opportunities for rest breaks along the way, there was limited shade because the sun came out of its hiding spot just as the majority of the juniors reached the challenging uphill slopes. Along the journey, juniors encountered many friendly wildlife and plants native to Southern California such as birds, cacti, and lizards, but also crossed paths with a hidden snake cleverly camouflaged into the yellow-brown shrubbery.
After conquering the picturesque yet grueling trails, students and their advisors got the opportunity to spend a few hours of freedom exploring Laguna Beach. Popular activities included hanging out with friends, taking Instagram-worthy photos, sunbathing, shopping, playing beach volleyball, and splashing around in the sapphire-blue waves of the Pacific Ocean. Students across the boys' and girls' schools bonded as a junior class and began to interact more in relaxed settings with both genders. This co-ed retreat ties into one of the new changes juniors will soon face in the academic setting: learning to adapt to sitting in humanities classes and participating in Harkness discussions with members of the opposite sex.
VWS student Rebeca Castro ('20) remarked, "I really enjoyed our fun-filled day at the beach! Getting into the water was the highlight of my day because it was extremely refreshing after the long and strenuous hike. Laguna Beach is a very nice area that I would love to visit again with my friends."
While Rebeca spent her day visiting the beach, VWS student Cecilia Li ('20) ventured into the town. "I was really hungry after all that hiking, so I went with eight of my friends to a small boba shop, Starbucks, and BJ's. Even though Laguna Beach is quite big, I kept running into Webb students at every corner. One of the highlights of my day was watching a group of people play beach volleyball in the sand because they were very talented."
Students and faculty members boarded the buses bound for Webb at 6:45 p.m. boasting their newly acquired bright pink sunburns and golden brown suntans. Tomorrow morning, juniors will conclude their two and a half days of retreat by attending a ninety-minute applying to college information session hosted by Mr. Anthony Shin and Mr. Hector Martinez in Liu-Chueng theater.
About the Contributor
Sydney Wuu, Editor-in-Chief
Imagine being Editor-in-Chief for the Webb Canyon Chronicle, VWS all-school president, co-captain of the varsity tennis and water polo teams, and a big-time...