How to have the best freshman year 101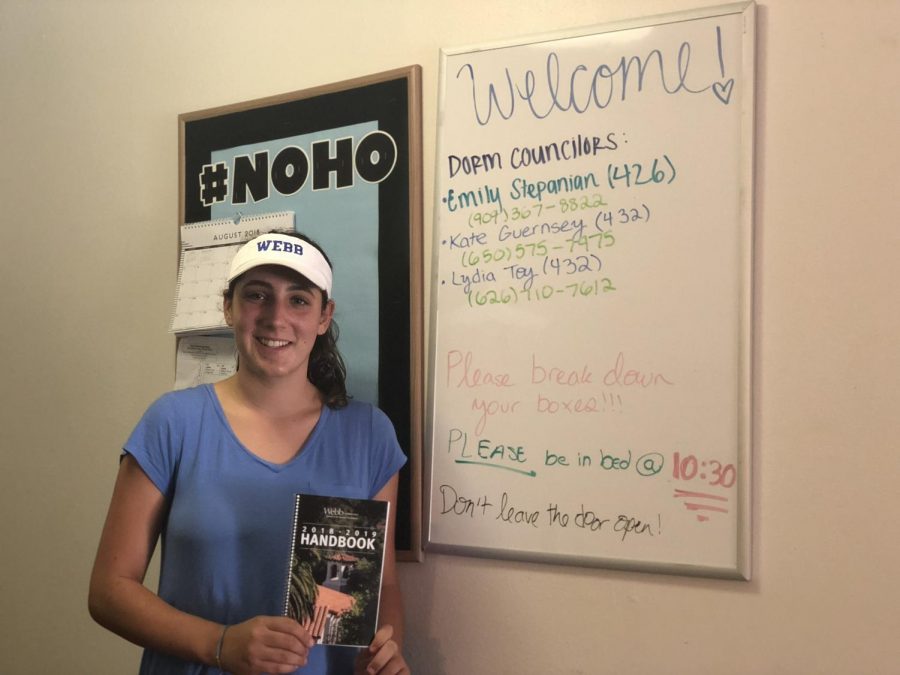 Dear Centennial Class of 2022,
Congratulations! You are just about ready to embark on what may be the best–and most stressful!–four years of your life. Whether you come from an international school halfway across the world or from a public school based within the Claremont area, you must all currently feel a similar blend of emotions as you unite in the common position of beginning a new chapter of your lives.
Transitioning from the top of the middle school food chain into a brand new high school is both a terrifying and exhilarating experience. For your convenience, I have compiled a list of ten pieces of advice I wish I would have known as an incoming Webbie freshman back in 2016.
First and foremost, here is some boarder/day student specific advice:
Boarders:
Be sure to purchase a powerful stand-up fan like Dyson. Besides the common areas and lounges, none of the dorm rooms are equipped with air conditioning. The months of August and September can reach record scorching temperatures here in SoCal, especially for those of you with upstairs rooms facing south.

Go to breakfast check-in on the weekdays. Not only will you accumulate points to boost your room selection ranking, but you will also feel more energized in your classes and afternoon activities throughout the day.

Stock your fridge with snacks and drinks. It may be tempting to visit the vending machine every night, but I recommend buying organic snacks and drinks from places like Trader Joes, Whole Foods, and Sprouts just to name a few.

Bring a lot of quarters to do laundry. Here's a bit of math: each load costs $1.75 (washing & drying), so if you do laundry 18 times (once per week) during semester one, it would cost you a total of $31.50 or 126 quarters.
Day students:
You are more than welcome to arrive on campus early to have breakfast or stay past afternoon activities to have dinner in the dining hall before evening labs.

Come to weekend events on campus! Many student life events like Sadie's, Zombie Apocalypse, and Webb Day are held on Friday evenings and Saturdays. It is definitely worth the short drive to come bond with your peers in a fun environment.

Don't forget to spend quality time at home with your family. Balancing an at-home lifestyle with going to a school filled with boarding students can prove challenging.

You don't need to limit yourself to the Hooper Student Center (which is known primarily as a day student hangout multipurpose room); come to the boarding students' dorm rooms to hang out in between classes and during lunchtime!
Advice for all new students:
The dining hall staff bake some of the most scrumptious chocolate chip cookies I've ever tasted. Also, if you download and screenshot the PDF version of the weekly menu on Outlook, you will have easy access to a preview of the available options in the dining hall.

Utilize the two independent study rooms in the back of Fawcett to get work done more efficiently. If you are prepping for a test next block, I guarantee that these rooms will help you focus more effectively than doing your last minute cramming in the collaborative study areas.

Participate in student-run events like

Theme Nights

,

Webb Idol

,

Homecoming

, and many more. While Webb is known to be an academically rigorous institution, the four fleeting years of high school are some you will never get back. I promise you that the happiest memories I have accumulated at Webb so far include those spent with my friends at these on-campus events.

Take advantage of Fawcett Library's state-of-the-art paper and digital resources. They will definitely help you research for projects and papers assigned in your humanities courses. In addition, the tech office offers free Adobe software installations and you can always approach Dr. Dzula or any of your friendly librarians to gain access to your own New York Times student subscription.

Upperclassmen are your friends; you can think of us as your big brothers or sisters. We have survived the core classes: Civ, Comp, EvoBio, Society, Idea, and even IPC. I can guarantee that if you take the first step, most–if not all–of us are willing to take a few minutes out of our day to help with social, personal, or issues academic issues.

Attend office hours and evening labs. It is difficult adjusting to Webb's curriculum, whether it be the problem-based learning math department or learning how to write an exemplary thesis statement. Regardless of what you are struggling with, Webb offers extra time in between and after classes to seek help from upperclassmen tutors or directly from your teacher. Not only will you notice an immediate boost in your grades, but you will also feel more confident in your abilities to think critically and solve problems.

Embrace a growth mindset because failure is inevitable. If you study the wrong chapter and get a 2 on a bio quiz, it is not the end of the world because you can always prepare two times harder for the next one. If you double fault match point of your first varsity tennis game, you can make it up by cheering on your teammates who are still playing. If you turn in your math homework two minutes late on Dropbox, you can always email your teacher explaining that your Genius Scan app was not working. All three of these scenarios have happened to me, but I learned through experience that it is important to rebound from my mistakes–not feel sorry for myself.

Keep a planner to stay on top of assignments and commitments. More than one time during the school year you may find yourself overwhelmed with balancing your six classes, sports practices and games, social life, and family time. Having a clear method of organization will help you predict times of stress so you know to when start homework sooner and how to plan time with your friends around commitments.

Go on Webb weekend trips with your friends! It may be tempting to count the days, but you should challenge yourself to make the days count. Back in April of 2018, I went with two of my close friends on a weekend day trip called "Explore LA." Together we visited the Griffith Observatory, Downtown Los Angeles, Grand Central Market, and Old Town Pasadena. It has honestly been one of the most memorable days of my Webb career so far, and I look forward to taking more weekend LA-exploration trips in my upperclassmen years.

The most important piece of advice I can give you is that high school goes by in the blink of an eye. Treasure every day because you can never turn back the clock. The strong, deep relationships you will soon create with other students and faculty members will be ones you carry throughout college and beyond.
If you are worried about starting Webb or have any further questions, feel free to reach out to me in person on campus.
Go Webb, Go Gauls!
Sydney Wuu (a VWS junior)
About the Contributor
Sydney Wuu, Editor-in-Chief
Imagine being Editor-in-Chief for the Webb Canyon Chronicle, VWS all-school president, co-captain of the varsity tennis and water polo teams, and a big-time...