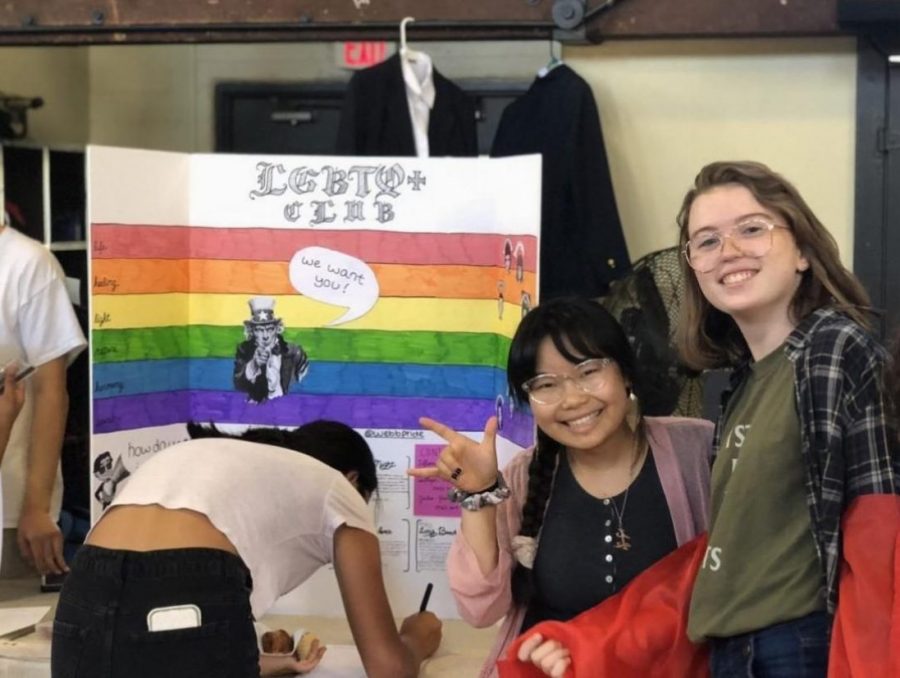 From Harry Potter enthusiasts to rising stock market investors, Webbies flocked to Club Fair on September 17th to check out the 54 student-led initiatives. This school-wide event was open to students of all grade levels and interests.
During long lunch on Monday the 17th, club leaders set up tables in Hooper Student Center and Fawcett Library with colorful posters, cultural music, thorough flyers, donuts, and candy to lure peers to their sign-up sheets.
Catherine Li ('22), a Club Fair attendee, said, "Besides the free food, I also loved seeing the diversity of clubs available and how excited everyone was about starting their own clubs. I joined the Chess Club, the Popcorn Society Club, and the #MOTG Music of the Generation Club. I was surprised that Webb offered everything from religious and cultural organizations to charities and pop culture clubs. Club Fair inspired me to start thinking about founding a new club in the future with my friends."
Mia Wang ('20), president of Power the Future, said, "When I was ten, I went to Africa and it was quite a culture shock because I noticed that people there didn't have electricity. This summer, I found this charity organization that can provide solar lights for kids so they can study at night. The year-long plan for Power the Future is to raise $2,500 dollars for solar lights, and possibly collaborate with a course like Sustainability or Foundations of Virtue or another club to build the solar lights because they come in parts we must build ourselves."
Pokémon Go Club Co-president Aaron Phung ('19) said, "I formed this club with my friend [Nathan Paik ('19)] because we both like playing Pokémon Go. At first, we thought we were the only two who still played the game, but then one day we went to the dining hall and introduced to ourselves to two freshmen who we noticed were also playing the game. This sparked the idea to create a club that unifies Webb Pokémon hunters through going on weekend runs to places around SoCal and having an all-around fun time."
Caroline Metyas ('20), president of the Middle Eastern Cultural Club, said, "What inspired me to form this club is that Webb has a sizable population of Middle Easterners, but no dedicated place for people to discuss our culture and eat food that takes us back to our roots. I wanted to form a place where Middle Easterners and any other Webb student interested in learning more about our culture to all gather together and talk. I'm trying to gradually foster a different image of the Middle East than what is misrepresented on the media."
Club Fair is a highly anticipated event that gives students the opportunity to connect with new friends over similar passions.
In order to create a club at Webb, all prospective leaders must identify a club faculty advisor, fill out a written application form, and come to Club Fair with a bright smile, sincere passion, and positive attitude. Below is the complete list of the 54 clubs approved for the 2018-19 school year:
Anime Club
Art Club
Bike Club
Biology Club
Black Student Union
Branch Out
Card Games Club
Chess Club
Computer Research & Investigation (CRI)
Current Affairs
Dumbledore's Army Club
Environmental Club
Fair Trade Club
For A Reason (FAR) Club
Fellowship of Christian Athletes
Feminist Club
For Dolphins & Whales Club
Gauls 4 Kids
Golf Club
Hand Crafts Club
Hear Me Out
Heart Club
Indian Culture Club
Investment Club
Isaiah's Rock Club
Japanese Culture Exploration Club
Jewish Club
Live Japan
LGBTQ+ and Allies Club
Marketing Club
Math Club
Middle Eastern Culture Club
Mobile Photo Club
Multicultural Awareness & Pluralism Club
Music Club
#MOTG Music of the Generation Club
Philosophy Club
Piano Club
Pokémon Go Club
Popcorn Society Club
Power the Future
Powered by Plants
Science Club
Shoe Customization Club
Ski and Snowboard Club
Soccer Culture Club
Social Entrepreneurship
Spanish and Latin Club
Stress Less
Surf Riders Club
Think
Webb Maker's Collective
Webb Platoon
Women Debate