Houston Rockets projection for the 2019 season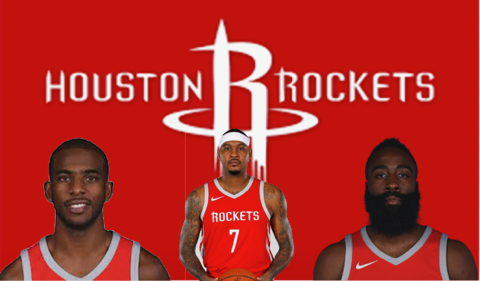 Last year's Houston Rockets team was awarded the first seed to go along with their impressive 65-win season despite the speculation of Chris Paul's ability to coexist with another ball handler, James Harden. Despite their predicted struggles, the Rockets took the Warriors to seven games in the conference finals without Chris Paul, in an eventual loss. In an eventful offseason, James Harden was awarded with MVP honors, while general manager Daryl Morey brought back Clint Capela, unloaded Chris Anderson's contract, and acquired Carmelo Anthony in free agency–all while losing key "3 and D" players Trevor Ariza and Luc Mbah a Moute.
Again, there is a growing consensus that sharing the ball will be an issue this season; there seems to be too much star power in Houston. With Anderson, Ariza, and Mbah a Moute gone, the team is now missing out on about fifteen three-point attempts a game, which is problematic considering that Houston led the league in three point attempts last year with 3470 and the second place Nets only put up 2924. Those shots are going to be made up by notoriously inefficient Carmelo Anthony all while increasing James Harden's usage rate.
In the absence of Tucker and Mbah a Moute, the team will also suffer defensively. Trevor Ariza was the closest thing to an answer the Rockets had for the star first options in the league like Durant, Butler, Irving, George, and LeBron. Ariza's switchability is something they will miss in both himself and in Mbah a Moute. This Responsibility will fall on the shoulders of defensively incapable Carmelo, undersized PJ Tucker, and aging Chris Paul.
Despite the downgrade in their roster, a lesson learned from last season watching the Rockets play is that basketball IQ will always prevail. I believe in coach Mike D'Antoni and I also think that Chris Paul will get more out of Carmelo than Russell Westbrook ever could, due to his poised and calculated play.
The slander on Carmelo's name needs to stop. Last season he averaged the same amount of points in the same amount of minutes that James Harden did in his last year in Oklahoma City playing alongside Westbrook and Durant. James Harden was traded because he was too valuable to keep as a third option and have on the teams payroll. Carmelo was in a similar situation last year; although he did not have Kevin Durant on the team, he played with more aggressive Westbrook, Paul George, and under Billy Donovan. Carmelo is a solid third option; however, because the NBA community see him as a first option talent we put that label on him and ridicule him when he does not play like it.
Due to their star powered offense and deep roster, the Rockets certainly stand as a contender in the NBA.
About the Contributor
Sam Annunziato, Editor of Sports
If you can't find Sam Annunziato ('19) up at the Webb gym playing basketball, you might find him out on the ice playing hockey in Ontario. Sam has been...