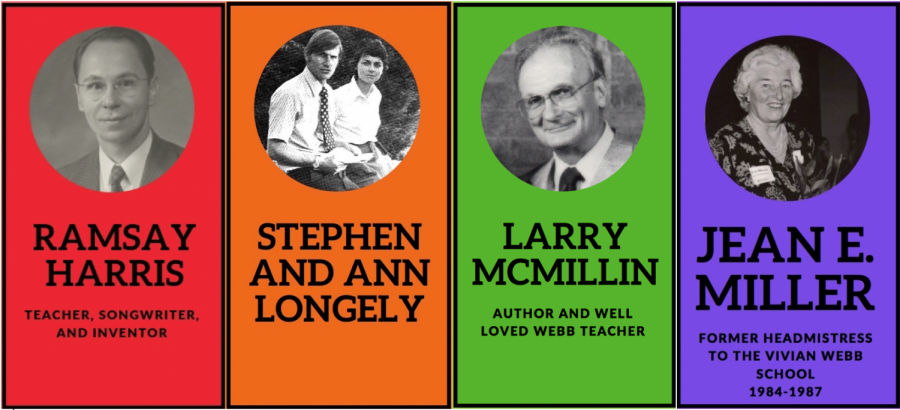 Cathy Yan ('19)
This school year, the heads of each leadership group at Webb are introducing a Hogwarts-style house system to the students. The student body has been sorted into the four different houses named after influential Webb faculty: Harris, Longley, McMillin, and Miller.
Willy Martinez ('19), head of lower dorms, said, "The goal of the house system is to increase collaboration between grades, get students' minds off of work, and to bond with new people. Honestly, at the end of the day, we want everyone to have just have fun."
Unlike Hogwarts, Webbies are sorted randomly into four groups, each with their own house color. Since the houses include freshmen, sophomores, juniors, and seniors, they will allow students to meet peers from other grades and with diverse interests.
To obtain points for your house, you can attend house events organized by house leaders during lunchtimes at the quad and attend Webb events for spirit points. At the end of the year, the points will be tallied and the winning house will receive the house cup.
Below is as slideshow containing the information for each house.
Miller
Rachel Hong
Elizabeth Moffat
Sharon Xu
Mira Allis
Scout Zischke
Brandy Zhang
Celine Lau
JJ Johnson
Madeline Lilley
Allison Paik
Isabella Llorens
Yvonne Kan
Carol Kang
Maya Gutierrez
Nicole Chen
Iris Chiu
Aliza Tyndale
Elizabeth Wang
Allie Guerrini
Julia Patronite
Faith Ferry
Claire Diepenbrock
Livia Hughson
Ashley Cox
Kennedy Becher
Laura Caldwell
Mia Wang
Nancy Li (Junior)
Sydney Wu
Alice Hou
Ava Sinha
Alia Al-Turki
Cecilia Li
Chloe Stewart
Eleanor Corbin
Emily Arias
Janitza Luna
Deanna Oei
Isabelle Saad
Ally Casillas
Annie Wu
Winona Dodds
Crystal Zhu
Emily Stepanian
Rachel Kho
Catherine Tanidjaja
Olivia Vasquez
Juliana Base
Eunice Yip
Jordan Granda
Joachim Miesner
Arshia Sazi
Nicholas Lee
Nikhil Jindal
Nicolas Theobald
Dylan Lange
Chris Chung
Roy Zhang
Stuart Lin
Charlie Stewart
Victor Zhang
Anthony Breaux III
Aidan Boyle
Roger Yen
Winston Li
Amir Afzall
Mason Lettaeu Stallings
Stephen Li
Dean Woelfle
Matthew Gaw
Indiana Viramontes
Shane Albert
Tyler Crebs
Marshall Olmos
Garret Revelli
Jacob Weigand
Liam Gerken
Alex Cardenas
Ryan Bridges
Linh Nguyen
Maximilian Urias
Akira Hori
William Deng
Artem Borisov
Albert Xu
Thomas Campana
Eric Evans
Jacob Passalaqua
Nick Johnson
Eddie Moreira
Andrew Shen
Raian Ohtaka
Connor Walker
Gavin Lee
Drew Hersch
Tony Xiong
McMillan
Leslie Morales
Sasha Theder
Nichola Monroe
Marie Blake
Joanna Yap
Fiona Jiang
Gabriela T-W
Cathy Wang
Janina Akporavbare
Sophia Bachoura
Bianca Arteaga
Emma Holliday
Paige West
Alivia Du
Angeline Zhang
Jenny Han
Catherine Lou
Josyln Lo
Dahlia Chiu
Keigan McCullagh
Elena Tiedens
Laura Haushalter
Kaitlyn De Armas
Ashley Munguia
Cheyaan Jamal
Riya Patel
Sara Hagiwara
Doris Yuan
Maddy Payne
Renny Jiang
Emily Li
Malika Neogi
Ashley Fu
Candy Gao
Maya Jaffe
Hannalise Davidson
Molly Mitchell
Caroline Metyas
Andrea Phung
Emma Qin
Sophia Li
Gracie Reda
Christine Zhang
Victoria Mirzayants
Lindsay Jung
Izzy Martinez
Erika Sampson
Bella Biane
Cole Seanoa
Dillon Anabi
Blake Suttner
Jay Akpengbe
Xander Kong
Daniel Song
Chris Donahue
Pierre Liang
Haotong Liu
Tony Lin
Caleb Novak
Qiushi Yu
Hank Sun
Steve Park
Anh Le
Leo Cheng
Bill Zheng
Christopher Nance
Eric He
Jin Song
Andrew Yu
Joey Silva
Gabe Bustamante
Chris Arzate
Brandon Martin
Andy Zhang
Justice Thomas
Kush Arya
Kyle Burt
Jeffrey Zhong
London Tyck
Teja Reddy
Elias Kim
J.D. O'Donnell
Eric Liu
Ian Igleheart
Harrison Lee
Roy Jiang
Gabriel Hong
Kasra Nikooforsat
Ben Chai
Jacob Borello
Matthew Martinez
Noah Martinez
Cody Murray-Bruce
Woosuk Kang
Jeffrey Tang
Jun Kim
Bill King
Longley
Mariia Lykhtar
Jessica Huang
Nancy Li (Freshman)
Emily Wang
Catherine Li
Tina Rong
Rachel Bai
Yuri Jiang
Eva Paniagua
Taren Duffy
Megan Mitchell
Elizabeth Bowman
Sofia Centeno
Victoria Gu
Vivien Xi
Isabella Shi
Rebecca Hoffing
Paige Woodard
Nnenna Ochuru
Lily Chiu
Megan Huang
Jenna Hawkes
Lily Miller
Sneha Jindal
Jacqueline Cordes
Isabel Flores
Carly Granda
Angie Chen
Sabrina Lapree-Chav.
Elaine Liu
Emma Lin
Helina Zhao
Summer Chen
Alina Hu
Michelle Munguia
Tina Kabbouche
Victoria Romero
Shelby Mokricky
Jasmine Garcia
Jenna Zhao
Lexie Freeland
Catherine Wu
Maria Shevchuk
Vanessa Casillas
Hannah Botnick
Caitlyn Ossa
Nicole Huh
Rylie Brick
Nathan Choi
Matthew Gooch
Mikey Chai
Bradyn Wishek
Joseph Ferrari
Jasper Bagley
Loki Mashita
Jonathan Lou
Gerry Song
Jacob Lockwood
Howard Chandler
Andy Bi
Charlie Sun
Jackson Malicay
Jimmy Feng
Logan Zhang
Alex Huemn
Jonathan Zhang
Michael Su
Wyatt Andrews
Kevin Wang
Patrick Donez
Jake Sharifi
Ryan Stacy
Ryan Lin
Jacob Shigenaka
Cristian Rosales-Cardenas
Christopher Conte
Chris Haliburton
Colin Kidwell
Cayden Lazier
Vince Pizano
Leo Liu
Jayden Chiu
Gil Dominguez-Letelier
Togrul Savalan
Jay Gupta
Louis Luo
Justin Martin
Garrett Goodrich
Kourosh Ariane
Ben Martinez
Aman Ahmed
Alex Yeung
Jordan Fang
Brian Yang
Artem Vardanyan
Kevin Kang
Wing Chow
Harris
Nina Luo
Haley Colorado
Kristina Danilova
Joyce Jiang
Sarah Balanza
Laura Li
Garbo Chung
Sunny Yu
Leslie Huh
Josephine Burdekin
Savanna Cespedes
Mia Baldwin
Caroline Metz
Elaine Shao
Helen Lin
Angela Xie
Kaele Cassel
Liz O'Grady
Sophia Scudder
Alice Phung
Shannon Uppal
Manek Khedia
Chiara Filart
Anjali Desai
Abbie Arroyo
Alicia Jaqua
Amy Zhong
Kate Guernsey
Aspen Helgeson
Enya Chi
Kara Sun
Lydia Toy
Jill Ji
Rebecca Castro
Caitlin Pender
Giselle Alrachid
Bridgette Lee
Ariel Benjamin
Amelie Cook
Amanda Wang
Claire Wagner
Ivy Liu
Izzy Gerard
Emily Schoffman
Tiffany Chang
Tara Helou
Allison Lilley
Breckelle Zheng
Jillian Holliday
Kevin Ren
Anthony Villalobos
Nathan Lara
Richard Alrachid
Hunter Lange
Eugene Guo
William Ma
Logan Causley
Fran Torres
William Li
Simon Kang
Brian Yeung
Kalman Dong
Yiyi Ouyang
Max Fargo
Calvin Xu
Tony Gao
Peter Graf
Charles Wu
Massi Rabida
Alex Xiao
Michael Martinez
Santiago Noblin
Ethan Sego
Johnathon Maschler
Jake Baiz
Gregory Tolmochow
Luke Raus
Kellen Willmore
Jonathan Becker
Mo Igbra
Robbie Reimer II
Malachi Cassel
Orion Lavin-Marz
Frank Hu
Sydney Wang
Chris Ma
Denis Khonenev
Ping Fong
Chris Ndiritu
Lawrence Mao
Edison Adler
Michael Carrasco
Sam Annunziato
Tony Li
Adrian Leong
Marty Hild
Hoyin Tsoi
Jaden Dumont