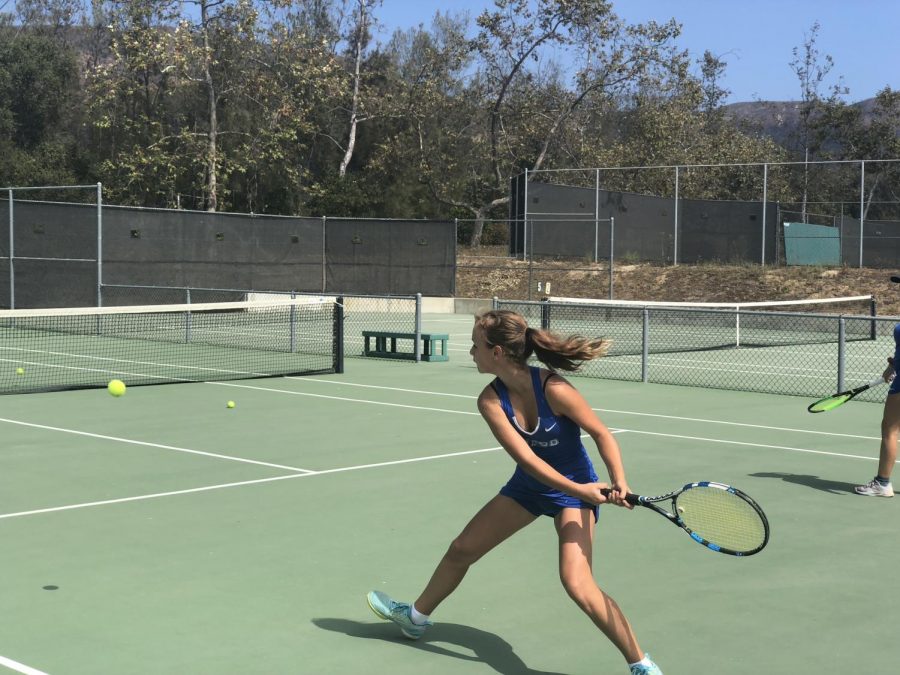 The VWS JV and varsity tennis squads commendably persevered through a fall season packed with team bonding, opportunities for growth, and impressive victories.
The varsity team faced an unprecedented challenge this year transitioning into more competitive league dynamics with Division 1 powerhouses like Sage Hill School. Despite this change, the team's 8-5 league record was enough for the twelve varsity Gauls to clinch an opportunity for a wild card slot in the CIF draw and continue their tennis practices into the winter season.
In addition, this season introduced an all-day Saturday tournament against higher levels of talent with other West Coast boarding schools. Back in September, the varsity and JV teams ventured to Carpinteria, CA for a packed tournament with The Cate School and Stevenson School. Although VWS headed back east to Claremont defeated, the players gained valuable experience and got to connect with other boarding school players.
Vivien Xi ('21), VWS JV tennis MVP and number two singles player, said, "Although it was very time consuming, the boarding school Saturday tournament was cool because I got to play against people who know my brother in Stevenson! One girl even gave me a gift and letter that he sent all the way from Pebble Beach."
As for next school year, losing six seniors (half the varsity team!) will not only take a substantial toll on next season's varsity lineup, but it will also introduce new doubles team dynamics and partnerships.
Mariia Lyktar ('22), a new singles player for the VWS varsity tennis team, said, "The tennis lessons at Webb are more relaxed and enjoyable than the ones in Spain which were all really intense and extremely tiring. Moving [forward], I think our team needs to work on being more focused on the game and not letting our personal lives interfere with how we play."
On the upper courts, the 2018 VWS JV tennis team consisted of 16 players, three captains, two managers, and one head coach.
Isabelle Saad ('20) said, "Due to my tennis injuries, I was unable to play on varsity this year, but I was able to manage the JV tennis team. This was a great experience as I was able to connect with the players through helping them before, during, and after games. It was very refreshing to interact with new people and create new relationships."
Andrea Phung ('20), a three-year VWS JV doubles player, said, "The season was great because the returners were all really supportive of the new JV players and we really bonded as a team. I think I really improved on my consistency and confidence. The highlight of our season was definitely walking/jogging to Sprouts and buying organic groceries."
Please congratulate the 28 varsity and JV tennis players for a hard-fought fall season. On Tuesday, October 30th, the varsity girls will commence their home playoff game for the CIF wild card position against Chino High School at 3 p.m.. Go Webb, go Gauls!