On the topic of Saturday the 28th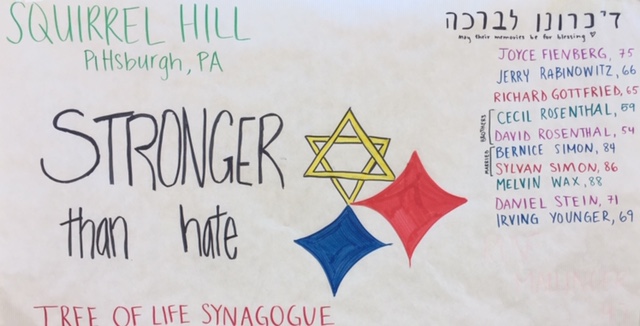 On October 28, 2018, 46-year-old Robert Bowers intruded the Tree of Life synagogue in Pittsburgh, Pennsylvania, and yelled, "All Jews must die!" Bowers then proceeded to open fire on the congregation with a semi-automatic rifle. Bowers shot a total of 17 people, killing 11 and wounding six. A police force was able to subdue Bowers after he had barricaded himself in the synagogue. The whole ordeal, from Bowers' entrance to his surrender, lasted 20 minutes.
Bowers had a history of making anti-Semitic comments and posts on the social media service Gab, a far-right leaning social media service. Just hours before his attack, he posted, "HIAS (Hebrew Immigrant Aid Society) likes to bring invaders in that kill our people. I can't sit by and watch my people get slaughtered. Screw your optics, I'm going in." He was armed with one AR-15 style semi-automatic rifle and three handguns.
On October 29th, 2018, Bowers stood (or rather sat, he is currently using a wheelchair due to an injury sustained in the firefight) in court, facing state charges and hate crimes, and was ordered to be held without bail. Many are hoping he receives the death penalty, including our president, Donald Trump. "When people do this they should get the death penalty," he said, "and they shouldn't have to wait years and years."
On November 1st, 2018, Bowers was charged with a total of 44 charges, but pleaded not guilty. The ages of those killed ranged from 54 to 97. The youngest victim, David Rosenthal, was attending the service with his older brother, Cecil Rosenthal aged 59, who was also killed in the incident. Richard Gottfried, who was 65 years old, was an avid member of the Tree of Life synagogue and even served as President of the congregation. Dr. Jerry Rabinowitz aged 66 was a retired HIV specialist, and attempted to save lives as he heard gunshots, but sadly fell as a victim himself. 69-year-old Irving Younger was known to be a devoted volunteer at the synagogue, who enjoyed working as a volunteer and helping new members. Just seven months prior, Daniel Stein, 71, was there for the arrival of his new grandson, who will sadly never get to meet his late grandfather. Joyce Feinberg, 75, was an early childhood development specialist, and after retirement was able to still help people through the synagogue. Bernice Simon, 84, and Sylvan Simon, 86, were a married couple who had their wedding in the Tree of Life Synagogue 63 years ago. Melvin Wax, 87, was a devout member the temple and was remembered as being one of the friendliest people who attended the temple. The eldest victim, Rose Mallinger aged 97, was another important member of the congregation. Her daughter, Andrea Wender aged 61, was shot, but survived. Also wounded was Daniel Leger, who survived a shot to the torso.
This anti-Semitic attack opens up a conversation about the limitations of the freedom of speech. Clearly, Bowers was allowed to post his hate-filled comments online, only further poisoning his mindset and fueling misplaced anger. While freedom of speech and expression is important, it brings up a paradox introduced by philosopher Karl Popper which argues that some ideologies should be protected while others should be discouraged. To defend tolerance, you must not tolerate intolerance.
Many nationalists and white supremacists will often point to the First Amendment and state their ideas and actions are protected under the freedom of expression, though I believe this must come to a stop. One cannot and should not justify their hatred by stating their thoughts are protected. It is almost as if there is a cycle of blame that always lands on immigrants and minorities. This blame must stop since this country was built on the idea that everyone should have a country to call their own.
Many point to immigration as a source for all of our country's problems. Some point to those following Jewish faith, Latinos, Middle Easterners, and just about anybody whom they are not familiar with. If one compares these ideas to those of Germans towards Jews in the 1930's, it becomes worrying. The ways in which we use certain ethnic or religious groups as our scapegoat in this country has become unacceptable.
Our problems do not stem from the people migrating to our country, but rather from the ignorance of US citizens who do not know how to properly identify an issue.
About the Contributor
Connor Walker, Co-Editor of Culture and Lifestyle
Connor Walker ('19) is a man of many talents; he can safely handle knives and can even walk to Westfield Santa Anita from his home in Arcadia. While...