Girls varsity basketball beats boys frosh basketball in a tight match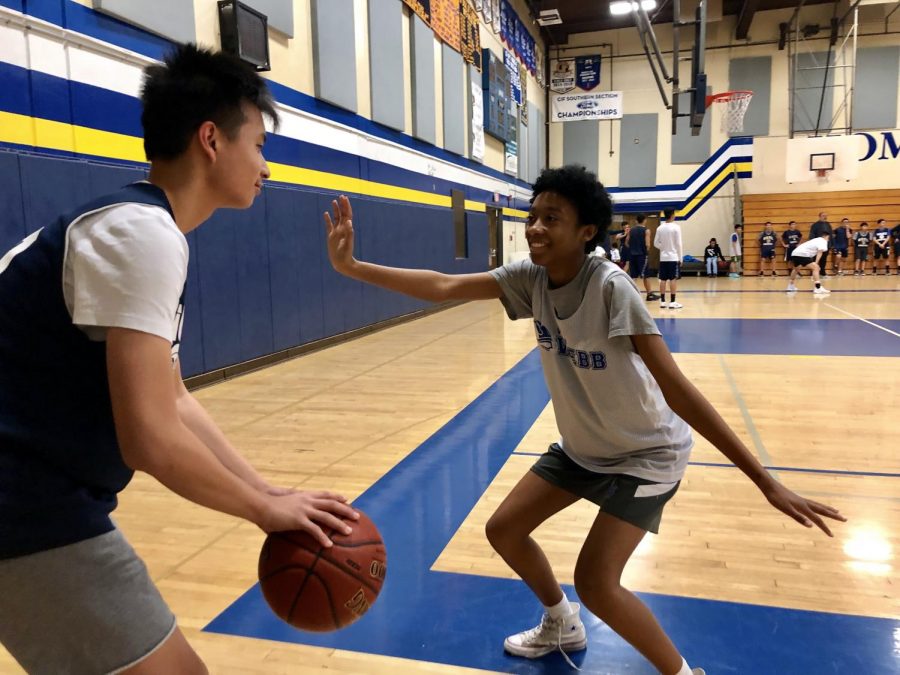 On December 19th, 2018, the Vivian Webb School (VWS) girls' varsity basketball team and the Webb School of California (WSC) boys' frosh team faced off in a scrimmage.
The boys' team was rested whereas the girls' were fresh off a tight loss to Mayfield Senior School. In many ways, the boys' team was similar to Mayfield — they were quick, athletic, and played solid defence throughout the scrimmage.
Nonetheless, the girls' team exploited their speed and shooting skills to outscore the boys' team, winning 55-44. VWS' ability to adapt to new forms of gameplay won them this game, proving that the team learns from experiences like the game with Mayfield.
VWS forward, Giselle Alrachid ('20), said "The boys did block us a lot more than we are used to because they are faster and jump higher than any other teams we have played before."
WSC point guard, Charlie Stewart ('22), said, "VWS had great ball movement, but failed to beat our press at times. My team and I failed in our shot selection and ability to make the easy layups."
Both teams fought hard, highlighting their desire to win games this season. And with strong records ( 2-1 and 6-7 for WSC and VWS, respectively), that's viable for both, especially if Eugene Guo ('22) and Chloe Stewart ('20) continue their strong performances. Eugene's strong rebounding and ball movement kept WSC in the game; Chloe's quick, accurate shooting, both at the basket and from the three-point line kept her team in the lead throughout the game.
However, the scrimmage also revealed areas for improvement. Tempers flared among WSC players as the VWS team pulled ahead. Learning to keep cool and have faith in the team will be vital to improving team dynamics and coordinating comebacks.
The scrimmage emphasized what makes basketball delightful to watch. As the competitive nature of the teams heated up, even a non-league game showcased how hard-working the players on both teams are, and how badly they both want to win. VWS' victory over last year's league champion, Samueli Academy, is a strong indication that they can.
The success of the scrimmage has excited conversation about more and regular matches between Webb teams.
About the Contributor
Jay Gupta, Editor of Technology
Jay Gupta ('20), hailing from New Delhi, India and Newport Beach, CA, is the tech expert of the Webb Canyon Chronicle. He currently serves as the Editor...