VWS water polo clinches second in Diamond Bar tournament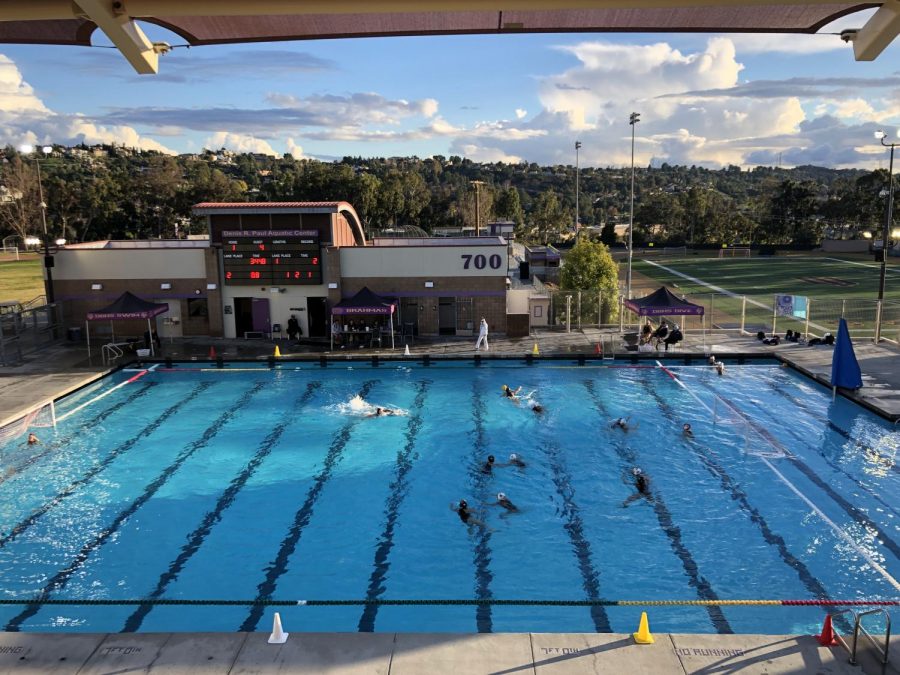 From January 11th to 12th, VWS varsity water polo athletes spent a wet n' wild weekend competing in the final non-league tournament of their season. The team's 3-1 record earned them the title of Silver Division Runner-Up in the 5th annual Lady Brahmas Winter Classic.
The girls kicked off the tournament on Friday afternoon playing against CIF Division 6 seventh-ranked Wilson at Walnut High School. Following a 6-5 victory, the team advanced to the 7 p.m. game against Mark Keppel and continued their winning streak with 4-2 victory.
The next day, the girls headed down to Diamond Bar High School to compete in an 11 a.m. game against D6 ninth-ranked JSerra Catholic. Although the weather in the morning was especially chilly, the girls took the plunge into the icy pool and grinded through the rain, emerging triumphant with a nail biting score of 4-3.
After the weather cleared up, the Gauls dove back into the pool for the 3 p.m. championship game against the D6 top-ranked seed, Buena Park. The team fell short with a score of 2-4, but made a name for themselves as a team to watch as the water polo season transitions to league play.
Mary Davis ('19), three-year co-captain, said, "The last few years we've played in the Diamond Bar tournament, the team has played awfully usually because we're out of shape and sick and what not. However, this year we played extremely well, with confidence, unity, and passion. I think if we keep this up and continue to improve, we have a shot at doing very, very well in league and beyond."
Michelle Munguia ('20), who recently became a permanent addition to the varsity squad, echoed Mary's predictions for the season. She said, "Despite the rain and cold, the varsity girls persisted and played hard this weekend, giving it their all for the team. As a relatively new team, I can't wait to see how the team bonds and how each individual improves throughout the league season. I'm super proud of how far everyone has come, especially considering many of us have never played water polo until this season."
After the tournament, the Gauls rose from being unranked and virtually unknown to clinching the #4 seed in D6 as they look to dominate league play. The first league game of the season will commence at Walnut High School on Tuesday, January 15th at 3:15 p.m. You can stay up to date on the Gauls' performance on MaxPreps.
About the Contributor
Sydney Wuu, Editor-in-Chief
Imagine being Editor-in-Chief for the Webb Canyon Chronicle, VWS all-school president, co-captain of the varsity tennis and water polo teams, and a big-time...