Fawcett Library announces the 19 for '19 Book Challenge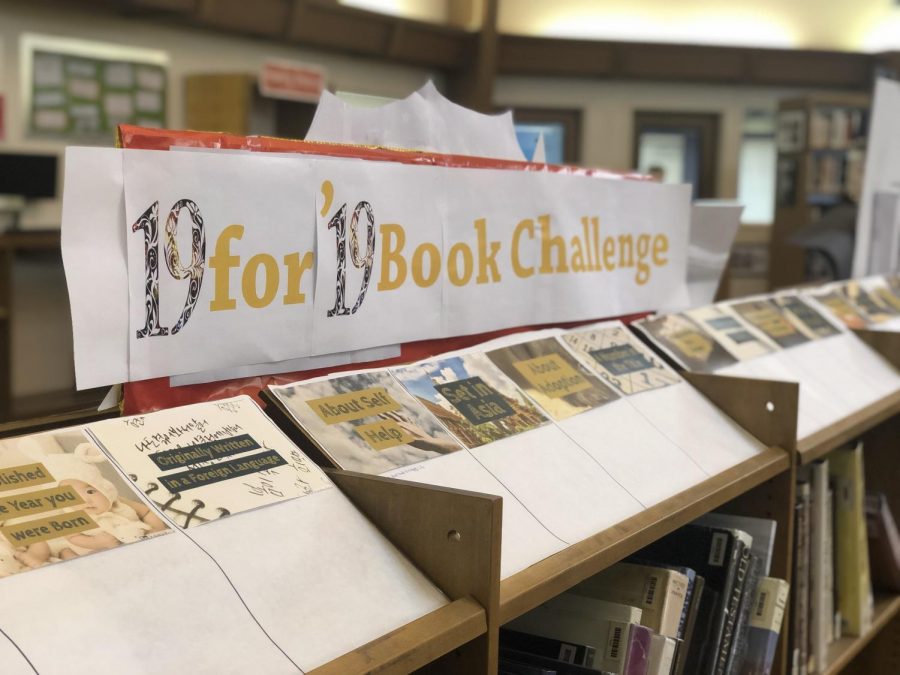 Home to everything from John Scalzi ('87)'s Old Man's War to the newest edition of Crazy Rich Asians, the walls of Fawcett Library encompass a giant collection of more than 17,000 books. There is no better time to devour these print resources than the brand new year.
The 19 for '19 Book Challenge encourages students to read 19 books over the course of 2019. Two years ago, Dr. Theresa Smith, Assistant Head of Schools, collaborated with Dr. Mark Dzula, Director of Teaching and Learning Resources, to develop this fairly new challenge. Aluma Kate Bowman ('18) suggested 18 books for 2018 after she successfully completed the first annual challenge in 2017. Each year, completing the challenge becomes more ambitious as one more book is added to the total number of requirements to keep in sync with the current year.
Melissa Mani, a library assistant, said, "The goal of the 19 for '19 Book Challenge is for students to really have fun with it and pick books that they are interested in. This challenge may seem daunting, but it definitely is doable. This year I hope that more friends can do it together not only because it can be a friendly competition, but also to spread the word among students to give books a chance."
Juggling this challenge with six academic classes along with out-of-class commitments is undoubtedly a tremendous task, but two VWS students found the time to conquer this list in 2018. Tina Kabbouche ('20) and Janina Akporavbare ('22) both submitted their completed sheets of eighteen books by the end of the year.
Tina said, "I heard that someone else had done the challenge and it took them the entire year, so I made it a goal for myself to do it the fastest. I know I am a fast reader, but I wanted to see how fast I could go. I think it took me around three months to complete the challenge. My advice is if you genuinely enjoy reading, I think you should give it a go even if you can't complete the full challenge."
Janina said, "The 18 for '18 challenge was cool because it introduced me to books I wouldn't have read without it. Out of all the books I read in the challenge, I especially liked reading The Guernsey Literary and Potato Peel Pie Society for the 'a book becoming a movie in 2018' category. I usually find the time to read in car rides or while I'm eating."
Whether you are already an avid reader or just looking to read to destress, the 19 for '19 Book Challenge is a great opportunity to help you kick off the new year strong. Ask any of the friendly librarians behind the counter in Fawcett Library for more information.
Note: The adviser of the Webb Canyon Chronicle is also the Director of Teaching and Learning Resources and manages Fawcett Library.
List of books for the 19 for '19 challenge
A book:
With a number in the title

Recommended by a friend that you wouldn't otherwise read

Originally written in a foreign language

About self help

About a sports figure

Written by a Newbery Award winner

Recommended by a librarian (school or community)

Set in Asia

Set in Europe

A book of poems

Set in Africa

Set in South America

About adoption

With a blue spine/cover

Recommended by a stranger

With a one-word title

Fantasy about a Greek god

Published the year you were born

About a biography or true story featuring a female main character
About the Contributor
Sydney Wuu, Editor-in-Chief
Imagine being Editor-in-Chief for the Webb Canyon Chronicle, VWS all-school president, co-captain of the varsity tennis and water polo teams, and a big-time...