Egg cracks Instagram record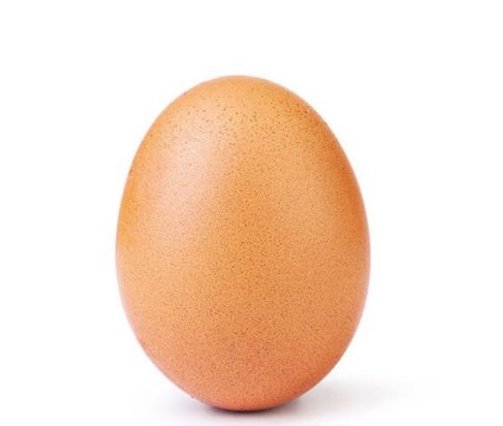 A picture of an ordinary egg shook the internet when it became the most liked post on Instagram, when, on January 4, 2019, it was posted on Instagram with the intention of becoming the most liked picture on the social media platform. The account, @world_record_egg, planned to dethrone Kylie Jenner from holding the most liked Instagram picture by getting over 18 million likes.
The egg shared its goals in the caption of the photo that says, "Let's set a world record together and get the most liked post on Instagram. Beating the current world record held by Kylie Jenner (18 million)! We got this."
Just 10 days after it was posted, the egg beat Kylie on January 14, 2019. As more people got to know the new "most liked post on Instagram," the egg gained more popularity and likes at an extremely rapid rate, growing millions of likes an hour. Currently, this picture of an egg has about 50 million likes.
Ashley Cox ('21), "I liked the egg because it was a funny trend. It's so crazy that so many people can hear about it in such a short amount of time."
The egg account is using its sudden fame for profit, as it has just released new merch for fans of the account. The merchandise was only up for a limited amount of time. It offered either a black or white t-shirt that reads, "I liked the egg" for its fans, who are now being called the Egg Gang.
Other accounts have tried to jump on to the fame of the egg, with similar accounts being created who are trying to beat its record or to start a new record for the most comments on a post. These accounts are posting anything from sandwiches to tomatoes, all in an attempt to take a new record.
Kylie held the record of most liked Instagram post for 341 days before the egg took over. This former record-holding photo was the first picture Kylie shared of her daughter, Stormi Webster. Along with the posts of the egg and Kylie's daughter; XXXTentacion, Justin Bieber, and Kylie Jenner hold the next most liked posts.
The late rapper, XXXTentacion, has 13.4 million likes on the last post before his death. Justin Bieber's engagement announcement holds the next spot with about 13.4 million likes, as well. Lastly, Kylie Jenner holds the fifth spot in the top liked Instagram posts with the second post of her daughter with 13.1 million likes.
Considering that this post has over twice as many likes as the previous record holder, it may be difficult for any other post to top it. The egg shook the internet and created an incredible new record. If an egg can get 50 million likes in a little over a week, there is no saying what could happen next.
Hang on for a minute...we're trying to find some more stories you might like.
About the Contributors
Kaitlyn De Armas, Editor of Features
Finally an upperclassman, Kaitlyn De Armas ('21) is Editor of Features and an Admission Ambassador. Kaitlyn is a day student from La Verne. She loves...