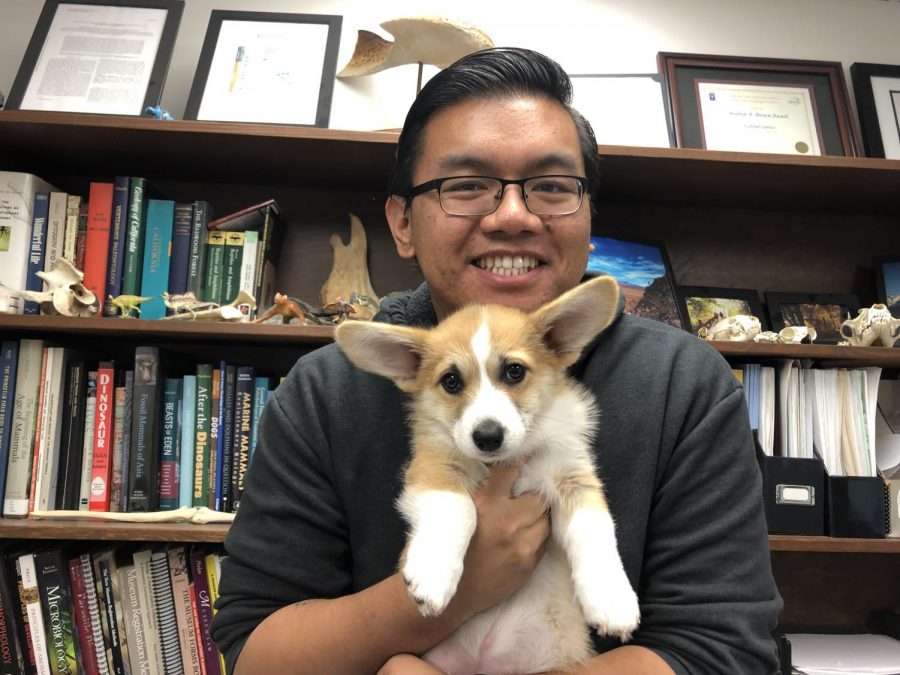 Isa Flores ('21)
You are walking down to the Price Dining Hall for a quick snack and you see a flash of fur. Terror and adrenaline run through your body. What could it be? Perhaps a very small bear or an abnormally large rat? As you get closer to investigate, you are afraid it will jump and attack. You turn the corner and, to your surprise, it is the fluffiest and the sweetest baby corgi you have ever seen, Roxas.
Gabriel Santos, a staff member in the Alf Museum, is Roxas' owner. He is a long-time dog owner and has wanted a corgi ever since he was a child. With the recent passing of his husky, Mr. Santos decided he wanted a new furry friend.
Mr. Santos knows the benefits of having dogs.
Roxas is preparing to be an official therapy dog. Once he is old enough to attend lessons, he will train to help people with different kinds of illnesses. Mr. Santos will soon take Roxas to different hospitals and institutes to interact with patients.
Taking care of Roxas is different from taking care of a regular puppy. Since he is training to comfort people with illnesses, he must be careful with how he reacts to meeting people. Although he is still a puppy and not yet in training, he must be disciplined at a young age to not bark around strangers. He must learn to be comfortable around anybody he meets. By the end of this month, he should be ready to start training.
Roxas has been quite popular with the students on campus. On Mid-Term Writing Day, there  was a group of sophomores that were casually complimenting him. Manek Khedia ('21) said, "Literally the most adorable thing ever… It makes me feel warm and fuzzy inside."
Liz O' Grady ('21) jumped in and said, "He's so cute and his ears are so big so when he runs, they kind of just flop around; they're definitely too big for him, but it's so adorable. He does this adorable thing when he wants to get down he just barks… He would be a good therapy dog."
Roxas is an adorable and loving puppy who is just waiting to give snuggles to anyone who may need it. You can find him and Mr. Santos in the offices below the museum. Go follow his instagram at @thecosplaycorgi.