Student in Focus: Kara Sun, Artist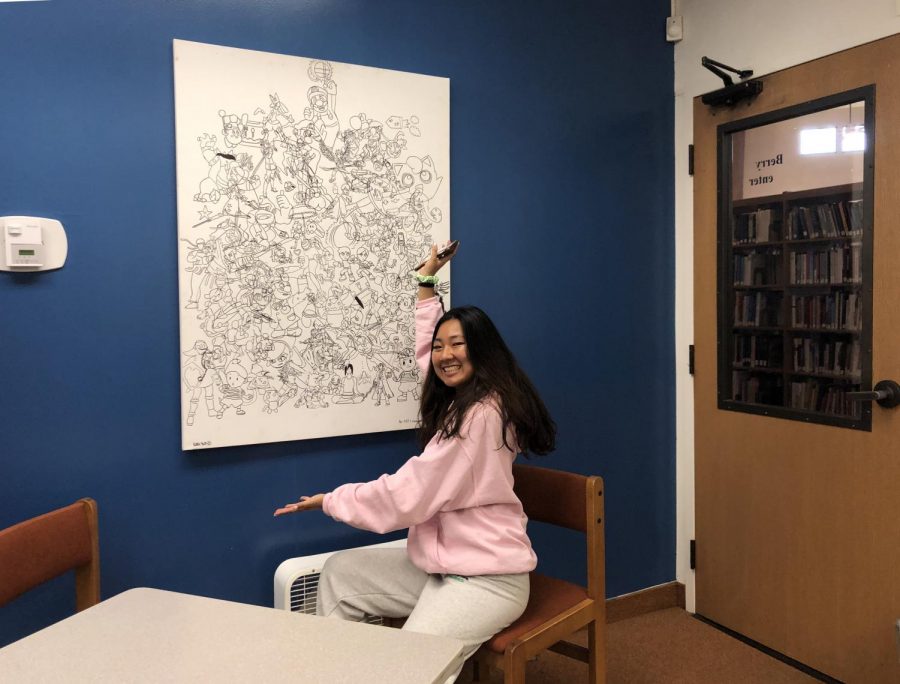 Kara Sun ('20) is a talented artist whose recent creation, "Smash," is now featured in Berry Center of the Fawcett Library. At Webb, she is enrolled in Honors Studio Art and is an active contributor to on-campus Art Cafés.
An interview with Kara Sun ('20) about her artwork: "Smash"
S = Sydney
K = Kara
S: Why are you interested in art?
K: From a young age, I have always been interested in art as both a hobby and as a platform for self-expression. I guess you could say that I gained my early interest through my background, because of family members and growing up immersed in a very creative and artistic environment. Art been a constant influence in my life, shaping the ways I perceive media and appreciate other people's works. Also, I took acrylic painting lessons for four years and especially enjoy painting Claude Monet-inspired pieces of work.
S: How has Webb been a platform for you to express your artistic talents?
K: Webb is a really unique boarding school because the art department offers a wide variety of activities and tools for the community. You could experiment with ceramics, acrylic, watercolor, sculpture, paper mache, charcoal, digital media, film, and so much more during your four years here. My teacher, Mrs. Horejsi, has really encouraged all my friends and me to foster our own individual creative thoughts and develop them into pieces of art. I love how each quarter we work on our own independent creative project. When I told Mrs. Horejsi about my idea for "Smash" this past February, she was all up for it!
S: Can you elaborate more on the process of creating "Smash"?
K: I wanted to create a piece that really represents who I am as a person and my identity, so I created a Super Smash Bros. video game piece that included 72 different characters to represent each of their individuality. Each day, I outlined the character on transfer paper and redrew everything using black Sharpie. This entire process took about a month and a half.
S: Why did you dedicate "Smash" to "GSJ and Video Game Lovers?""
K: First of all, I dedicated it to my siblings, Gordon, Sarah, and Jordan, because this piece brings back so many nostalgic memories of times spent at a regular day school hanging out after school playing Super Smash with them. I also dedicated "Smash"  to video game lovers of all kinds because I hope other people can appreciate my art and connect with all the characters I included in my piece.
S: Why did you choose Berry Center to hang your artwork?
K: I chose Berry Center because that's where all of the guys play Smash every day during lunch and I thought my artwork would be the perfect blend of nostalgia and fun for the room.
S: If you can summarize your artistic style in five words, what would they be?
K: Funny, free-spirited, passionate, uniquely me
S: What art projects are you interested in pursuing in the future?
K:  I plan to use watercolor dilutions over the summer to make the colors less saturated and reestablish "Smash" in the library. My senior year, I will be joining the Journalism program as my elective, but still want to work independently to develop my art and further experiment with charcoal and drawing.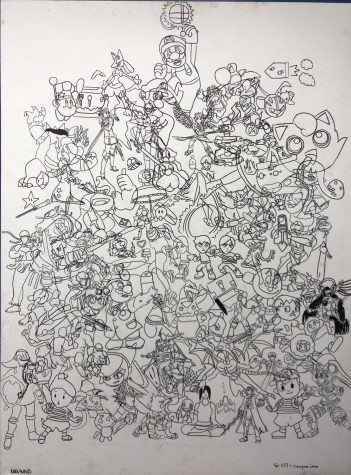 About the Contributor
Sydney Wuu, Editor-in-Chief
Imagine being Editor-in-Chief for the Webb Canyon Chronicle, VWS all-school president, co-captain of the varsity tennis and water polo teams, and a big-time...