Student in Focus: Kevin Ren, Swimmer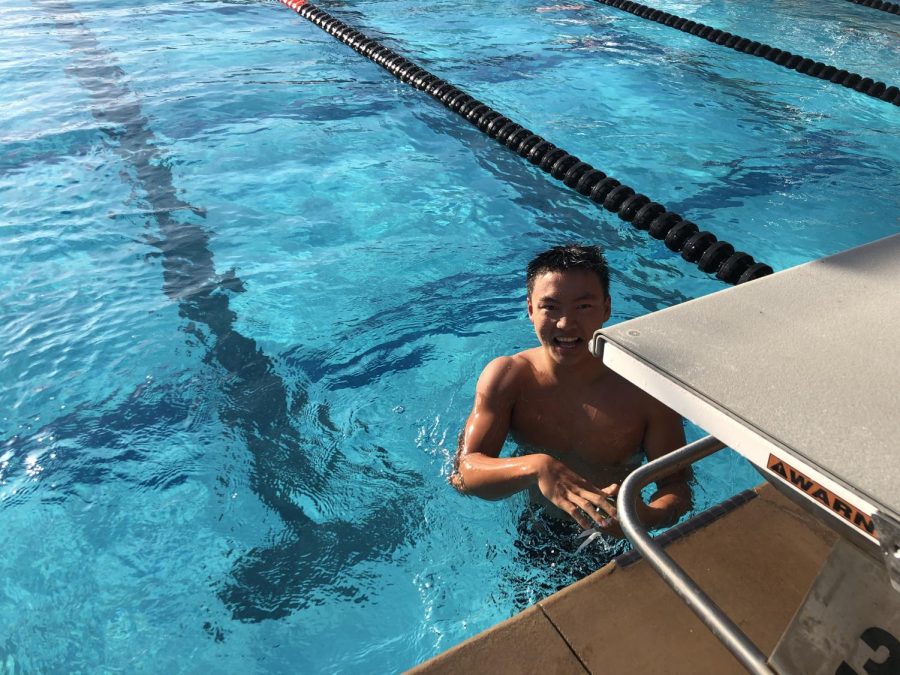 Only a freshman, fifteen-year-old Kevin Ren ('22) has already earned his name on the school record board–not once–but two times. This season, he smashed a sixteen-year old record in the 100 breaststroke with a time of 59.40 (becoming the only swimmer in Webb history to go a sub-1:00 in the event), as well as a four-year record in the 200 individual medley with a time of 2:00.60.
Kevin follows a strict training regime year-round. During his first season of afternoon activity at Webb, he joined Functional Fitness to improve strength through dryland workouts. In the winter, he petitioned for a full-season exemption to train with Bi-County Regional Elite Aquatics (BREA), where he built up his conditioning before starting his first season of high school swimming. Finally, during the summer, Kevin will train long-course at BREA to bulk up his endurance and technical work.
Kevin has been swimming for the past eight years. He started as the self-described "worst swimmer in the group who attended the lowest of the lowest meets possible." Once he hit his growth spurt at around twelve, he started climbing up the lanes to become one of the fastest swimmers on the team. Kevin's natural kick led him to discover a passion and talent for breaststroke events in particular.
After experimenting with The Claremont Club (TCC) and BREA, Kevin found a home in the BREA club team and determined that TCC was not the right fit for him. One of his favorite aspects of club swimming is carpooling and training at BREA with Webb swimmers like Kennedy Becher ('21).
Teammate Livia Hughson ('21) said, "I think Kevin probably has one of the most positive attitudes on the pool deck. Whenever someone is having a bad day, he will actually go up to you and improve your day just by saying hi. I really admire that quality about him."
Kevin's dynamic presence radiates throughout both his high school and club swimming teams.
Teammate and captain Laura Haushalter ('21) said, "Kevin is just someone who is there for you if you are sad or just want to someone to hang out with. He can eat a lot of food and is fun to have dinner with after practice. He is just someone who I am really grateful is on the team this year and I am excited for the next two years I have left with Kevin."
On the drive back from CIF SS Finals, Coach Jurczak said, "Kevin had a lifetime best in the 200 IM and a lifetime best split in the 50 freestyle in the 200 free relay. He calls that an 'epic fail' because he doesn't understand that swimming is a sport of incremental gains, that he is not going to have five-second drops every time out. The sooner he learns that, the better it is going to be for him."
Despite being one of those people who sprint during warm-up, there is no question that Kevin pours his heart out into every race. His harshest critic is himself. While he was evidently disappointed with his results in 2019's CIF Finals, Kevin has immense room for growth and to shave seconds off his best times.
Kevin said, "Next year I definitely want to go for the CIF title in the 100 breast. I want to try to win CIF and I also want to get the state cut, which I'm about one-and-a-half seconds off of. Another goal of mine is to beat Jason Schreiber's record at our home pool, which is 1:56 in the 200 IM."
Outside of Webb, Kevin competes at the national level and has ventured as far as Seattle, Washington to compete in swim meets with his club team. His biggest inspirations include star Olympic-level swimmers like Michael Phelps, Alex Peaty, and Jason Lezak. Considering the amount of work ethic and talent Kevin already possesses as a freshman, if he continues to shoot for the stars, he has an extremely high chance of landing among them.
About the Writer
Sydney Wuu, Editor-in-Chief
Imagine being Editor-in-Chief for the Webb Canyon Chronicle, VWS all-school president, co-captain of the varsity tennis and water polo teams, and a big-time...