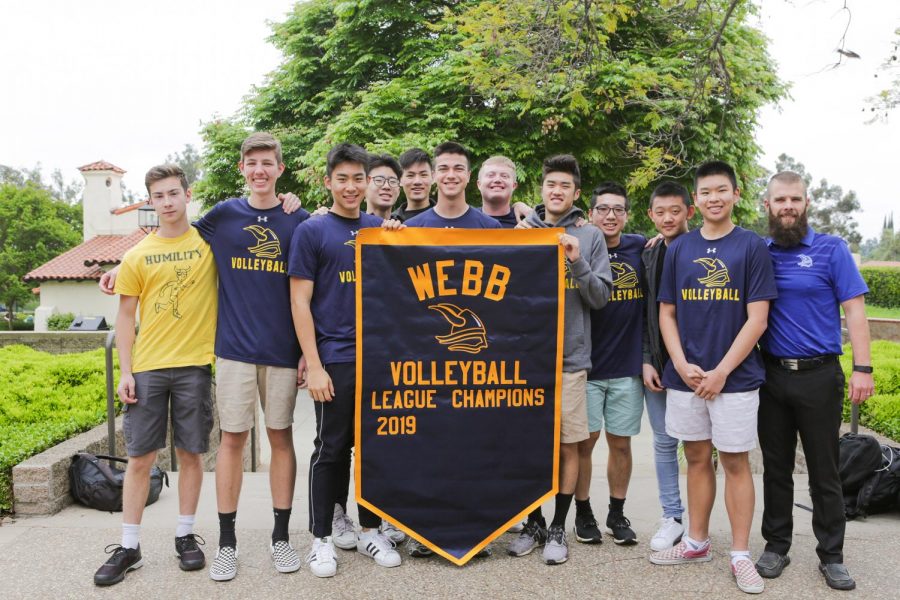 Scott Nichols
The boy's volleyball team this season was "absolutely amazing" in the words of Head Coach Caddy. The team won the first League Championship in Webb history and finished with a 14-5 record in regular season play before their third round exit in CIF.
Last year, on March 13th, 2018, the varsity boys volleyball team was defeated by Western Christian in their gym 3-1, giving the Gauls a 0-8 record. Although they had lost, the team of freshmen and juniors returned back to Webb having won their first set of the year. The team finished with a 1-18 record and 11 total sets won during the season. This season, when the Gauls hosted the 7-2 Western Christian team and destroyed them three sets to none, it was clear that this year's team was much different than the last.
Looking back on the past season, Coach Caddy said, "The boys took it on the chin last year, but through their hard work, dedication, and commitment to the team, they learned a lot. This year has been the fruit of all that hard work."
The team had no seniors last year and was able to use its established chemistry to make major improvements this season.
Willy Martinez ('19) said, "It helped a lot that all of us knew each other and were comfortable around one another when the season started."
Last year's practices included rough practices that consisted of wall sits, burpees, situps, and sprints across the gym. This year, despite their early success, the team still experienced adversity coming into their late season form.
In early-March, the team was down two sets to one against Holy Martyrs, a team they had beat 2-0 earlier in the year. In frustration, they earned three red and two yellow cards, but ultimately came back and ended up winning the match. In their last game of the season against Garey when they were down two sets to one, and on the verge of losing the match 20-15, they miraculously came back and won the fourth set, then closed out the final set for the win.
The team's head start on this year's chemistry was evident throughout the season even looking past their success on the court. They voluntarily held weekend scrimmages during open gyms. Most obviously, they got matching haircuts with coach Caddy although that was not the original plan.
Willy said, "Originally the seniors were supposed to get matching haircuts with Mr. Dahler, and only the sophomores were supposed to match with Mr. Caddy."
The team had high hopes for this year's playoffs run after a strong undefeated league showing.
Despite being satisfied with the team's first playoff win, Alex Xiao ('21) said, "I thought we had a good chance of winning it all."
Unfortunately, after a 3-2 loss to Garey in the third round of CIF, the Webb Gauls' historic volleyball season has come to an end.