Students discover their "Innovator's Edge"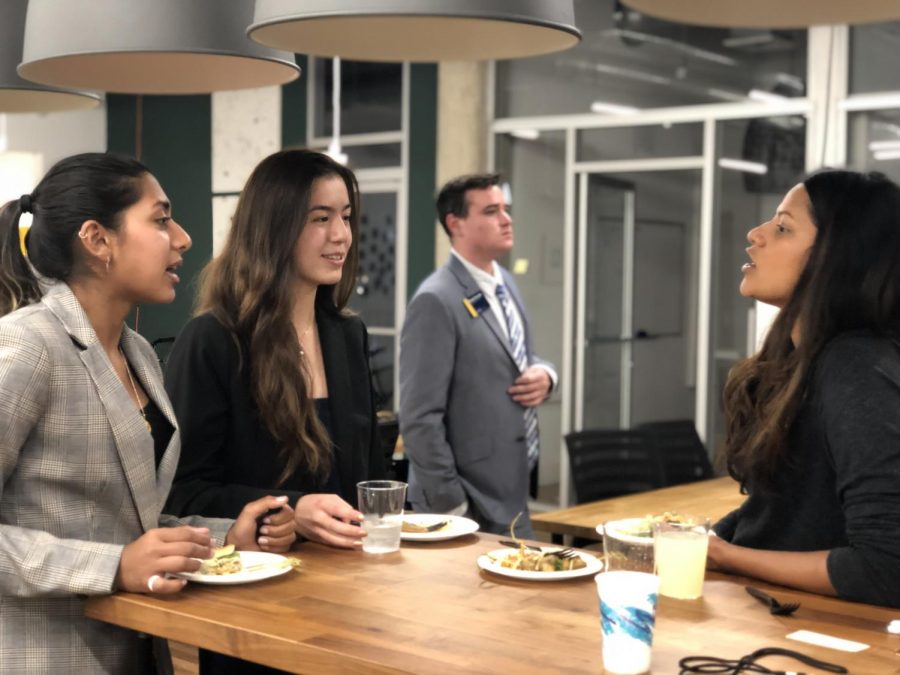 Have you ever wondered what it is like to be a game-changer in a constantly evolving industry? Or perhaps what it takes to launch your first tech startup off the ground?
On the evening of Tuesday, May 21st, 31 curious students attended the Innovators Edge: Stories from Silicon Valley and Beyond event at Techstars LA to learn more about the dynamic tech industry.
Dr. Theresa Smith, Assistant Head of Schools, said, "The event was born when an alum, Jeff Cripe ['08], one of the panelists at the event, was talking with a couple of alum trustees who live in New York. They started discussing his experience with the new business that he's launching, and he was saying, 'I wish I had more exposure to some of this world when I was in high school.' And from that, the board came up with this idea, and we went from there."
A panel discussion consisted of three alumni and three special guests. Guest speakers included Colin Carrier (Co-Founder/CEO, Stealth, Ex-CSO, Twitch), Elie Seidman (CEO, Tinder), Jeff Cripe ('08) (CEO/Founder, CARGO—Forbes 30 Under 30), WSC alum Sameer Dholakia ('91) (CEO, SendGrid), and VWS alum Samantha Ainsley ('07) (Sr. Software Engineer & Technical Lead, Google Computer Engineer & Google.org Fellow).
Each of the speakers stressed the significance of humility, building strong relationships, and connecting with other industry leaders on a human-to-human level. Panelists also discussed the differences between working for corporate and startup ventures, as well as the underestimated importance of storytelling while presenting a powerful pitch to potential investors.
One alum speaker, Sameer Dholakia ('91), shared how he builds "connective tissue" every year by paying for an all-expenses covered trip to a beautiful destination resort for all 400+ members of his staff. As the CEO of SendGrid, his philosophy for nurturing a successful company is that investments to align his team and strengthen relationships between various sectors will have a greater payout in the long-term.
Calvin Xu ('21) said, "Tonight's event let me meet the giants behind a diverse set of tech companies and become more aware of the human side of tech. Ethics, team-building, value systems and empathy are as important as technological achievements—it is people that tech ultimately serves."
Following a light, catered dinner, students were given the opportunity to network with tech tycoons and alumni in the audience at Techstars LA. Everyone spread out in the open room and connected with speakers one-on-one or in groups, asking questions tailored to their curiosities and personal career interests.
Lydia Toy ('20) said, "The Innovators Edge panel was a wonderful opportunity to better understand the tech industry because I got a bigger picture of all the other fields of business that it encompasses. Connecting with all these successful innovators let me broaden my potential interests as I move forward in the college process. I've always wanted to go into medicine, but this event has helped me keep an open mind to the endless possibilities for my future."
From computer programming to product marketing, Innovator's Edge inspired tech-savvy students to pursue their career-oriented dreams, to explore their passions while navigating high school, and most importantly, to shoot for the stars. As a student attendee, I echo that we are all grateful to connect with Webb's strong alumni network and for opportunities like Innovator's Edge to grow and explore outside the classroom.
About the Contributor
Sydney Wuu, Editor-in-Chief
Imagine being Editor-in-Chief for the Webb Canyon Chronicle, VWS all-school president, co-captain of the varsity tennis and water polo teams, and a big-time...