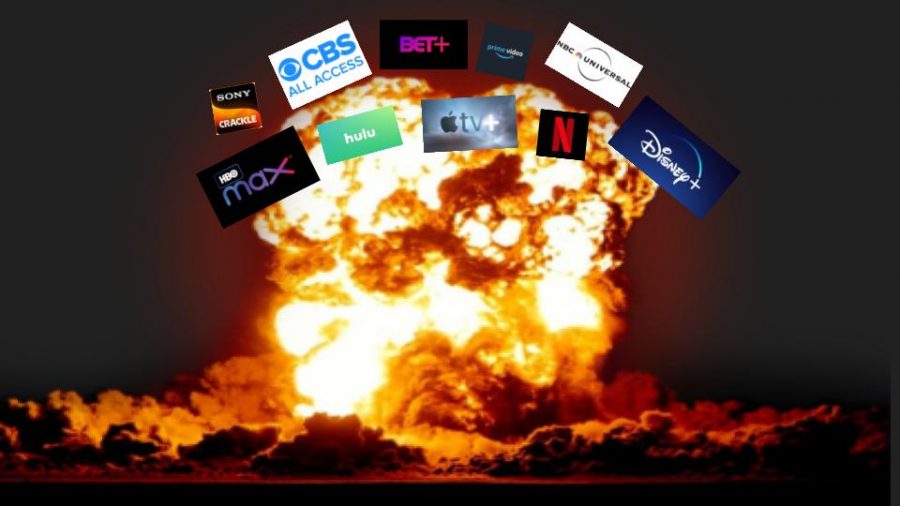 The streaming wars: The future of in-home entertainment
The battle of the century is here. However, this time, it is not a physical war: it is a virtual war fought between mass media corporations that are coming for our pockets.
Halfway into 2019, multiple mass media titans have been gearing up to launch their own streaming services to take over the entertainment industry. Media moguls such as Disney, NBC, and Warner Brothers have taken the initiative to start their own online in-demand streaming platforms that offer subscribers exclusive content, TV shows, movies, live broadcasting, and more. However, already in the field of online-streaming are companies such as Netflix and Hulu. With all the newbies coming in to challenge the veterans, the future of the in-home entertainment industry,seems uneasy. As popular culture always says, the strongest always wins. Let the battles begin.
With all the new streaming services coming in, it is definitely a dilemma to choose the perfect streaming service that offers the most content along with the most affordable price. Although the new platforms such as Disney+ seem to be offering exclusive content that is very popular worldwide, members of the Webb community still prefer to use original platforms such as Netflix and Hulu to satisfy their entertainment needs.
Deanna Oei ('20) and Elaine Shao ('21) both agree that Netflix is the best option because it offers a lot of good shows. 
Deanna said, "I like Netflix because it's affordable and has lots of shows and movies from many different channels and studios that I enjoy, especially shows such as Supergirl, the Flash, Thor Ragnarok, and To All the Boys I've Loved Before." 
Similarly, Elaine said that her favorite shows, Grey's Anatomy and The Good Place, are all available on Netflix, and also "because my friends use it." 
Jonathan Becker ('20), a Hulu enthusiast, said, "I like the interface of it. It is a lot more enjoyable to browse." 
While the future is still a long time away, the streaming wars have just begun. With an influx of online-entertainment platforms, we, as users, will have plenty of options to choose from. Right now, it is too early to predict the outcomes of which services will survive the competitive market of today's society, and which ones will sink to the bottom and never be heard from again. But for now, let us enjoy the wide variety of options available to us, and appreciate the growth of technology in the 21st century. And as a last word for the streaming companies, may the odds be ever in your favor.