Webb students vacation in Arizona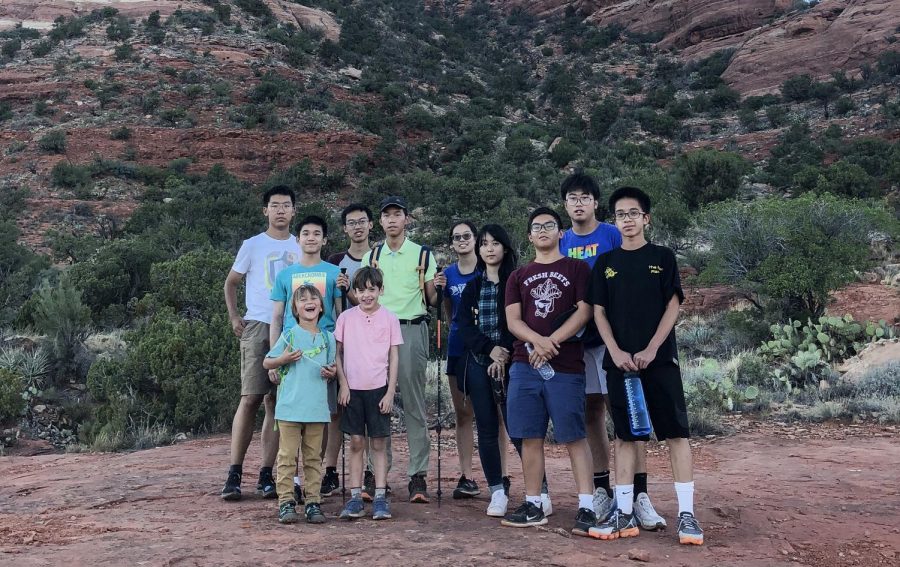 Would you be surprised to see Webb students hike up the Bell Rock trail, jump into the clear water at Slide Rock State Park, go on Jeep tours, walk around downtown Sedona, and cook themselves dinner in two-floor houses throughout the 5 days of October break? If so, you probably have not heard about the Webb trip to Sedona, Arizona.
Led by Dr. Mark Dzula, Director of Teaching and Learning Resources, and Dr. Susanna Linsley, Director of Experiential Learning, Webb students traveled from Claremont to Palm Springs, where they visited the Living Desert Zoo and Gardens. Afterwards, they drove to Phoenix to visit the Desert Botanical Gardens. On Sunday afternoon, the group arrived at its final destination: Sedona. There, students were able to go on hikes of their own choice, visit the Slide Rock State Park, and go on a Jeep tour.
Dr. Linsley said, "When I work on planning trips, I find the trips with specific goals or themes the most successful. We thought it would be great to observe the desert landscape and understand the unique ecosystem… it gave us a land to observe instead of consume."
According to the trip overview, the trip aimed to "teach students about life in the desert through direct experiences with flora and fauna in both institutional and real-world desert habitats." Students were able to spend time in the desert and consider the effects that eco-tourism has had on sustainability.
She highlights the significance of taking students on trips that are meaningful for the faculty chaperones.
Dr. Linsley said, "Dr. Dzula and Dr. [Ardina] Greco[visual arts department faculty] take this trip every New Year with their family… they really love the idea of taking students to places they love."
Participants signed up for the trip in order to have a place to stay during break, and they saw Sedona as a great opportunity to explore the desert habitat.
Stanley Jian ('23) said, "I signed up for this trip because I had nowhere else to go… I read the schedule of the trip, and I really looked forward to experiencing the wilderness because I enjoyed Peccary Trip and the freshmen retreat."
Conrad Poon ('23) said, "I did not have much to do over October break because my parents live halfway across the world. I found the Arizona trip interesting. I have never explored Arizona, except for visiting the Grand Canyon."
The exploration started before their arrival in Sedona; during the 7 hour drive, students were able to get a glimpse at the desert landscape.
In fact, the drive was a great start to the trip. Students were able to listen to radio podcasts and music of their choice in the desert habitat before arriving at Sedona.
Conrad said, "I always wanted to sit in a car and simply enjoy the view without being on my phone too often."
Everett Xu ('23) said, "The drive could not have been better."
Besides the drive, the housing provided on the trip exceeded the expectations of the students, as many expected the journey to be more of a camping trip.
Stanley, who was ready to sleep on tarps, was surprised by the resort, where students shared a two-floor house with four other people.
Instead of going out for dinner every day, students took advantage of the available kitchens in their houses to cook their own food, which included grilled chicken, fried rice, and fried vegetables.
Stanley said, "I liked cooking our own food… we don't have opportunities to cook at Webb."
Conrad said, "I definitely enjoyed cooking and eating. Cooking our own food made eating a better experience overall."
Besides providing students with opportunities to cook and relax in houses, the trip offered many hiking opportunities. Besides exploring the Slim Shady trail behind the resort, students could also go on a more challenging hike: the Bell Rock trail. There were also plenty of down time when students could simply relax in their rooms.
Everett said, "I liked the hiking that we did. I got a lot of exercise from it, and I challenged myself…I enjoyed the view very much…I knew the trip would be full of outdoor activities, which was true, but it was also very relaxing. We had down-time to relax ourselves."
Conrad, whose favorite activity was the Jeep tour, said, "We got to climb rocks and explore Sedona…The activities were a lot of fun, and they helped me stay close to nature."
Most participants were satisfied with the experience. They enjoyed spending time with faculty, faculty kids, and other students. Everett, for instance, enjoyed the trip and expressed the desire to sign up for more Webb trips.
Conrad said, "It was a very interesting experience going on a trip with people I did not know well at first and being able to know them better."
Dr. Linsley said, "It was magical to spend time with my own family and the students. It was exactly what I wanted out of a break."
The school is also excited to offer more break trips. Dr. Linsley said, "I would love to continue offering break trips like this and get students out to the world. I think that in my role of directing experiential learning, making sure that we offer short break trips is always a priority."
NOTE: Dr. Mark Dzula is the adviser of the Webb Canyon Chronicle.
About the Contributor
Sunny Yu, Staff Writer
The world may know her as SunnyWrites, but we know Sunny Yu ('22) as a new staff writer for the Webb Canyon Chronicle. She compares herself to Scrat...