BREAKING NEWS: VWS volleyball smashes ahead to CIF quarterfinals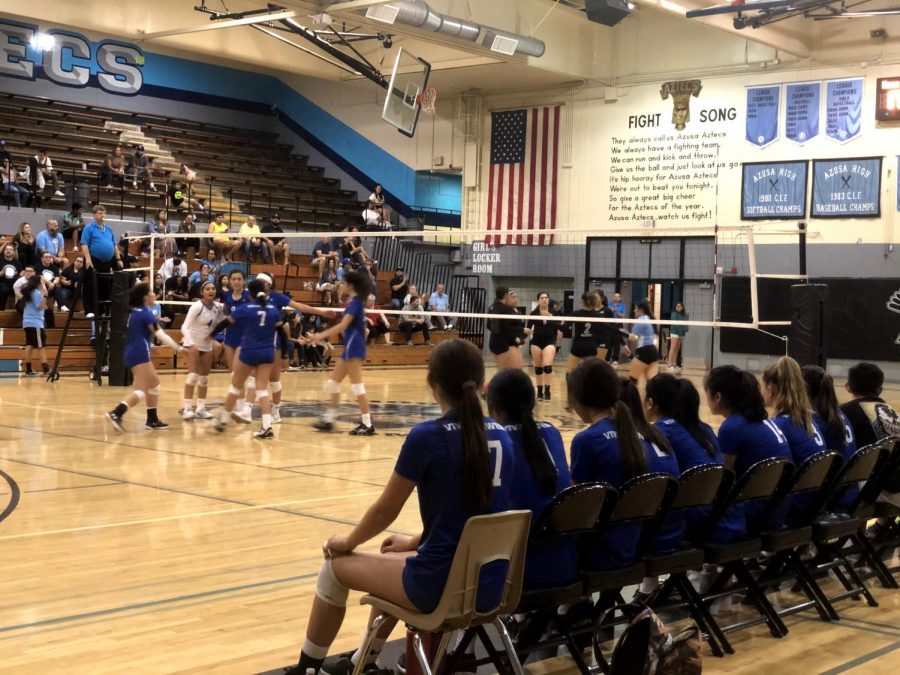 VWS varsity volleyball is a force to be reckoned with. Not only are they back-to-back undefeated league champions, but yesterday they broke an 11 year streak of silence, making it to CIF quarterfinals for the first time since 2008. 
On Saturday, October 26th, the Gauls drove 20 minutes west for an away game at Azusa High School against the Aztecs. After falling short in the second round of CIF last season, this year's team played with motivation throughout the game and will now reap the benefits by competing again later this week in a CIF quarterfinals home match. 
Megan Huang ('21), starting middle blocker for the VWS varsity volleyball squad, said, "I'm super proud of how supportive our team is. It's one of the biggest reasons why we've been able to make it this far during this season. We experienced a few dips during the game, so hopefully we can keep up the intensity and play at our maximum level at quarterfinals."
The athletes arrived at Azusa's home gym decked out in pink breast cancer awareness T-shirts, pumped to start warming up with their ritualized defense drill with Assistant Coach Jim Dahler on the glossy gym floors. 
The Gauls stormed the match in four sets: 25-22, 21-25, 25-20, and 25-14. After starting out hot, they slowed down and fell in the second set 21-25 before outplaying the home court opponents from Azusa in the second half. 
Volleyball is a sport of teamwork and communication. After Azusa captured the second set with consistent blocks and a killer spike from #4, Webb fans and bench players stomped their feet in unison to project their team spirit. Shortly after, the Gauls gained momentum with an epic comeback in the third, and sealed the deal by coming out on top in the fourth.
Two-year co-captain Lydia Toy ('20) said, "What changed between the beginning and end of our match is that we got rid of nerves and just played with heart. In our team huddle after the second set, we remembered what was at stake and why we had to win."
Coach Dahler said, "We started off slowly. We weren't passing the ball very well and we were missing some serves. But after the first two games, we started to get into a groove and Savanna actually got the other team out of system by serving really well, allowing our offense to start producing. Then, we got really confident and sort of took control in the last game."
Co-captain Savanna Cespedes ('22) served four aces and never got subbed out as she continued to provide leadership and spark to keep the Gauls on pace for the win. On several occasions, she also disguised dump sets for points in critical situations.
Other player highlights include co-captain Chiara Filart's ('21) 15 offensive kills and Josephine Burdekin's ('22) superb defensive display of three blocks.
Steve Wishek, Director of Athletics, said, "It's always really exciting when the team gets a win. They slowed down in the second set, but really finished strong in the third and fourth sets to capture the victory."
Before joining the Halloween festivities, the team grabbed a celebratory bite to eat at The Habit and Which Wich. 
The Gauls will play their next game in the D7 CIF southern section quarterfinals this Wednesday night at home in the Les Perry Gymnasium. Be there to help cheer them onto the semis as they continue their magical run to championships!
About the Contributor
Sydney Wuu, Editor-in-Chief
Imagine being Editor-in-Chief for the Webb Canyon Chronicle, VWS all-school president, co-captain of the varsity tennis and water polo teams, and a big-time...