VWS golf team finishes the season strong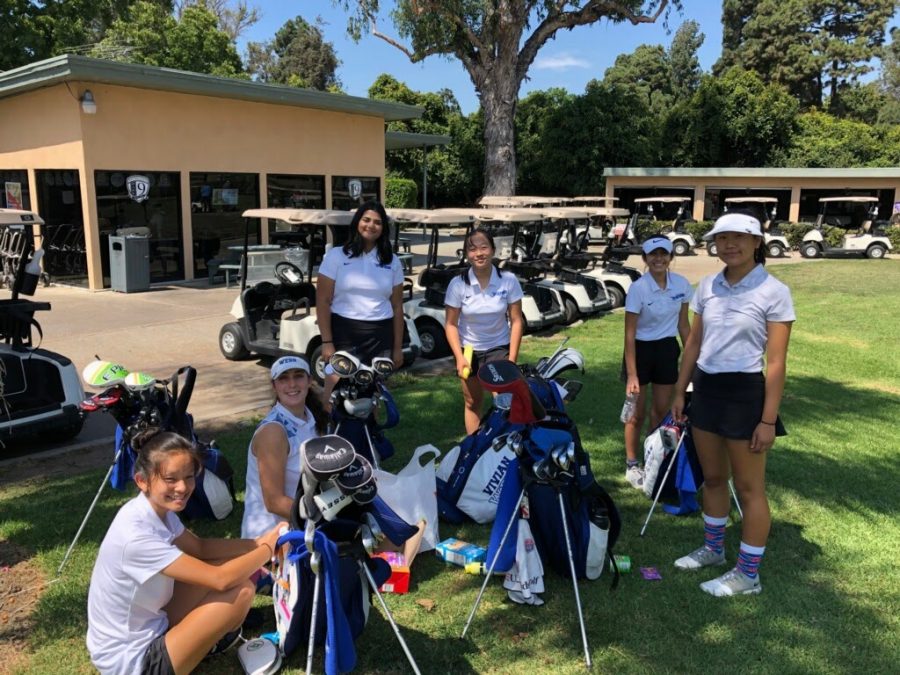 VWS golf finished the season with their best ever league ranking and an individual qualifier for the Southern Section CIF championships.  
The VWS varsity team this year consisted of Carly Granda ('21), Cheyaan Jamal ('21), Yvonne Kan ('22), Ashley Munguia ('21), Sasha Theder ('22), and Angie Zhang ('23). Sunny Marcum, a professional coach and golf instructor for Upland's Marcum Golf Academy, instructs the six VWS golfers.
Reflecting on the season, co-captain Ashley Munguia ('21) said, "The season was a success. My average score dropped which is a good thing in golf, and as a team we were much stronger than before. I am looking forward to next year to spend more time with the wonderful and fun girls on the team." 
The team practiced off campus, so their talents are not as familiar as those of athletes who are seen everyday working at Webb. They spent days playing holes at Marshall Canyon, a golf course down the street from Webb, and also paid regular visits to the driving range. In addition, they ventured to the PFA, a golf lab, to work with technology to measure shots, distance, and direction.   
Their efforts throughout the season combined with the dedicated work of their coach paid off. Out of the eleven matches the team competed in, they won seven, lost two, and tied one. In the San Joaquin League, the team received second place, as they tied with Saint Margaret's Episcopal School. The second place finish was the best finish the golf team has achieved.   
While the whole team did not qualify to advance to CIF, freshman Angie Zhang ('23) earned her spot to compete individually at the Southern Section Regional Championships. At the competition Angie tied for 43rd, placing within the top 50%. 
Angie Zhang ('23) said, "Golf is a lot of work, especially at Webb; it takes a long time and we travel a lot. Coach Sunny makes it really fun, and she is really nice and funny. I would describe my season as exciting, different, and worthwhile. Next year I am going to enjoy my team with the seniors and spend time working hard. Also it would be satisfying to get to the second round of CIF." 
The VWS golf team will not lose any seniors, so you can expect them to continue their outstanding performance and hopefully show even more improvement in the next season. 
About the Writer
Laura Haushalter, Editor of Sports
Laura Haushalter ('21) is a jack of all trades: captain of the VWS swim team, future participant of the LA marathon, lover of Spanish language and culture,...