Theater crew brings Greek tragedy "Elektra" to Webb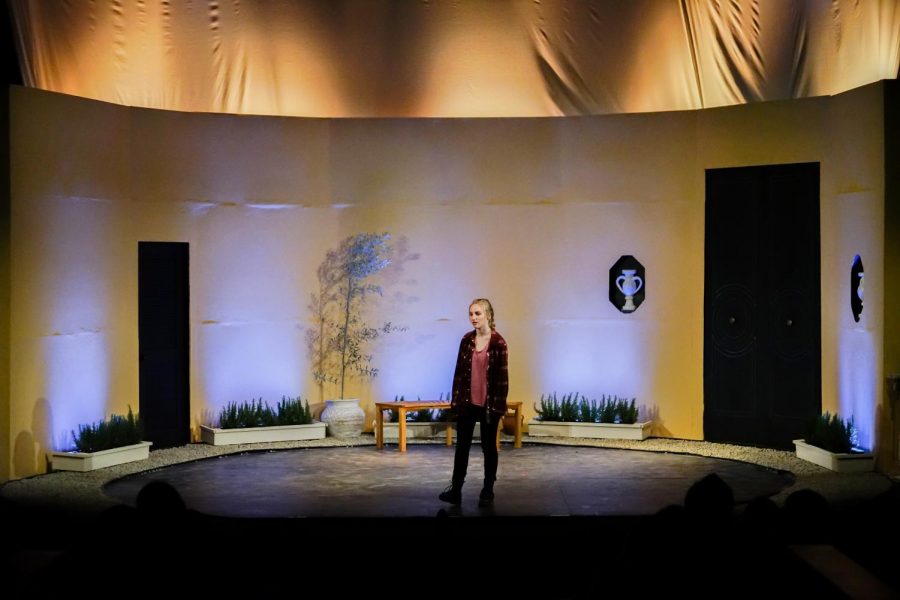 The annual fall play took place in Liu Cheng theater and ran from October 31st to November 2nd. "Elektra" tells the story of a struggling, distressed, isolated, grief-stricken girl, Electra, and her ill-fated family. The online ticket booking started a few days prior to the performance, and received a passionate response, as a considerable portion of the tickets were booked. 
Hannalise Davidson ('20) said, "It was pretty tough this year… the play was very difficult and since we have such a small crew it became even more complicated. But we were able to work together as a family and work it into the masterpiece we have now."
The cast was composed of 15 members, including the 6 leads. The main characters, Electra and Orestes, king of Mycenae, were portrayed by Molly Mitchell ('20) and Gil Dominguez-Letelier ('20), respectively. 
Justin Martin ('20), one of the actors, said, "I feel like I'm less excited about the actual performance this year because it was a lot harder in terms of acting. I still enjoyed it."
Similar to Justin, Eleanor Corbin ('20) also said, "It was definitely a lot harder this year. The play was based heavily on dialogues, especially monologues so that makes it extra hard." 
The audience gave a standing ovation after the play concluded on Saturday, the final night of the run, and highly praised the wonderful performance by the theater crew.
Jay Akpengbe ('22) said, "It was pretty good, shout out to Molly Mitchell for her fabulous performance. It was absolutely amazing." 
With a harder script and a smaller group of people, the theater crew still successfully presented the story of Elektra to the community and is already looking forward to preparing for Mamma Mia!, the spring musical. 
About the Contributor
Stephen Li, Editor of Photography
Stephen Li ('21), a boarding student from Beijing, is Editor of Photography, which is a new position at the Webb Canyon Chronicle. He loves football,...