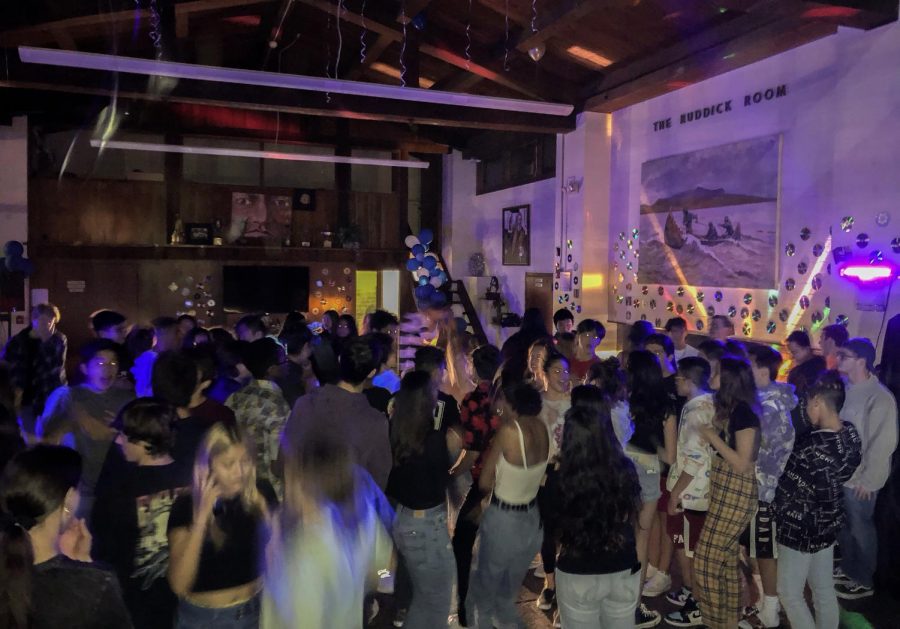 Stephen Li
Four-chord banjo music filtered out of the Ruddick room and 32 counts later, a chorus of voices joined the strum. "We were both young when I first saw you, I close my eyes and the flashback starts," the group of students sang as they revisited their 2000s childhood; it was the "Blast to the Past" sophomore dance. 
Out on the patio, Mikey Chai ('22) projected television shows from his laptop — Spongebob, Drake & Josh, and iCarly — for a small crowd of viewers, going back and forth between dancing and watching. 
The sophomore dance, also known as Sadie's in previous years, took place on Saturday, February 15th. It was a small dance similar to the student government Welcome Back Dance planned by the sophomore class. This year, inspired by the beginning of a new decade, the class of '22 decided to host a "Blast to the Past" themed dance to recap the past two decades of the 21st century. They hoped their 2000's music and TV shows would encourage students to attend the dance.
"I came to the sophomore dance mainly because of food, but also there are people here, and my friends," Conrad Poon ('23) said.
"I was on the committee to plan it, so I was kind of forced to come, but I was also excited for it," Gaby Trauttmansdorff-Weinsberg ('22) said. 
Although not all the attendees came for the same reasons, they all had fun participating in the throw-backs.
"It's fun, I like the decorations. I also like the TV shows playing. I remember watching Suite Life on Deck when I was little," Joey Silva ('21) said.
"I think we chose a good theme that everyone can relate to. It is 'Blast from the Past' so the music is all from our childhood, and I am having fun because I like the music," Gaby said.
The planning began very early on. "We gathered a committee in the fall to start gathering ideas," Joanna Yap ('22) said. 
But their dedication paid off, as everyone participated in at least one of the provided activities: dancing, watching TV, snacking, or taking pictures at the photo booth. The sophomore class officers even made a Snapchat filter that said, "Blast to the Past – WEBB 2020" for people to use.
"I saw like five stories from people who used the filter," Jessica Huang ('22) said.
Most people stayed until 10 p.m. when the event ended, walked down gym hill or towards Jameson afterward, chatting tiredly amongst themselves.
The sophomore dance of 2020 was a successful blast to the past, leaving attendees with a satisfying dose of childhood nostalgia.