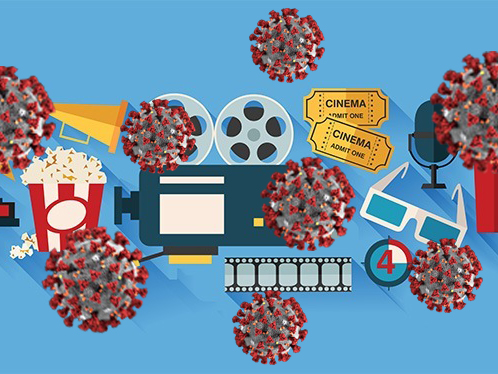 Covid-19 wreaks havoc on the entertainment industry
Many people anticipated the release of major blockbuster movies within the coming weeks only to have their excitement diminished with the unforeseen outbreak of Covid-19. The virus originated in Wuhan, China, and has now been named a global pandemic infecting 577,000 and claiming the lives of 26,000 as of March 27th. 
In the United States, 94,000 were infected as of March 27th. In order to flatten the curve of the virus, government officials in the United States have implemented lockdowns and curfews. With movie theaters closed, major studios have decided to postpone the showing of movies until later this year or even until 2021. 
Walt Disney Studios pushed the live-action Mulan release, which was scheduled for March 27th, to an unknown date. Black Widow was scheduled for May 5th, but Disney has yet to announce a later date. Other movies like Wonder Woman 84 and Bond: No Time to Die have been pushed to premiere later this year. Only two movies as of right now have been pushed to 2021: Fast and Furious 9 and A Quiet Place 2. 
"I mean, it sucks that we won't be able to see [the movies], but the global situation is bad enough that it's for the better and it'll mean less people getting out of the house," said David Hastings ('22). 
Some movie studios have opted to have their movies released via on-demand and streaming services to try and make up for the lack of revenue they would have made in theaters. For example, Trolls 2: World Tour, a movie set for April 10th, is getting an early video on-demand release, so families can watch from home. It has started a little bit of controversy because Universal is still advertising for a theater release knowing theaters will still be closed in April. 
The movie industry is not the only piece of the entertainment industry that has taken a heavy hit from the virus. Coachella and Stagecoach, two annual music festivals, were both pushed from their April weekends to October. Fans will receive refunds if they want, but their tickets will also be valid during the October events. 
"I had a feeling from the start that [Stagecoach] would be cancelled, but I didn't think it was going to be until October…it might be cold and it has a different vibe when it's cold," said Shane Albert ('21). 
With more news still being released every hour, the future is uncertain for the entertainment industry. Companies have definitely taken huge financial losses by postponing and canceling events, and if the spread of the virus doesn't stop soon then it will go on for even longer. 
The good news is some people expect everything to die down by Easter. Until then, you can enjoy watching movies at home or trying new activities.