Chamber singers' pop concert rocks Webb campus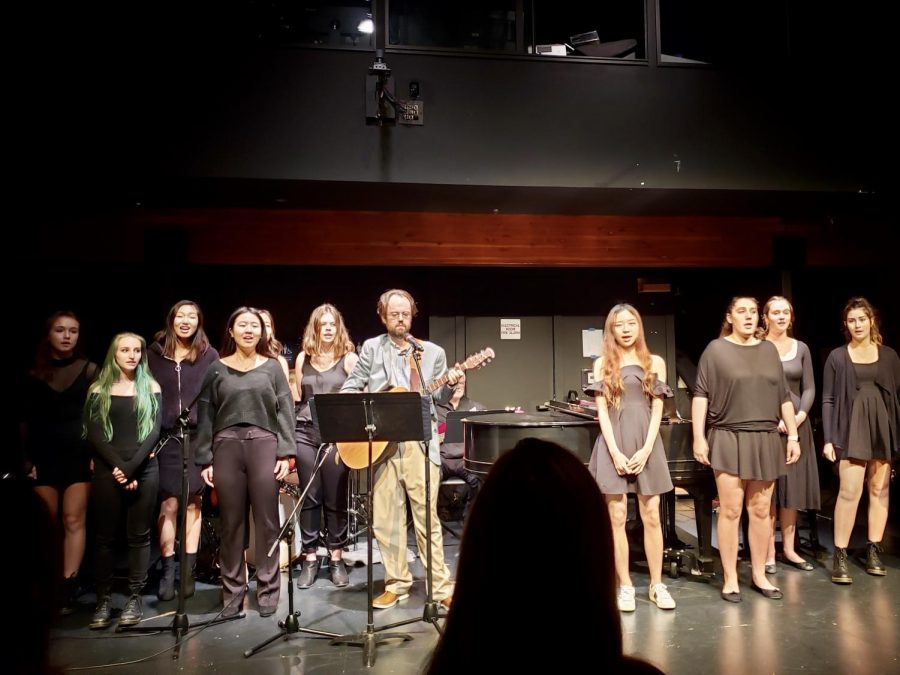 It was a casual Friday night on Webb's campus, and I was checking my Snapchat feed when I saw "pop concert in Copeland Donahue theater at 7" on Jenna Zhao's ('20) Snapchat. I was surprised to not have heard about this earlier. Nonetheless, I texted two of my friends wondering if they wanted to go to the concert and they said, "Yes." 
When we entered the room, we were not expecting much because it was such a last-minute plan but the set-up was stunning. Lights hung from the ceiling, illuminating the room in a beautiful array of colors. Musicians from off-campus were set up in the back of the theater with their guitars and drums. The chamber singers were lined up against the walls on both sides of the theater, waiting patiently for the show to start. Once everyone sat down, Sean Burns, fine arts department faculty, walked up to the podium. All eyes were on him. Mr. Burns thanked everyone for coming and asked them to enjoy the show.
Several chamber singers started the night with a beautiful rendition of "Cherry Wine" by Hozier. It was the perfect song to match the show's theme of "Roots of Change." The program continued as people either sang solos or duets of their favorite songs. Some people even sang a couple of songs they wrote. Molly Mitchell ('20) and Akira Hori ('20) both rocked the house with their original songs. 
"I really enjoyed the addition of country music that was there," Hunter Lange ('22) said. 
"Molly was absolutely amazing. She really popped off and showed her true talent with her original song," Aliza Tyndale ('21) said. 
I loved how the chamber singers used the lighting to benefit their performances. If I am not mistaken, I realized that depending on the song and who was singing the lights would either flash different colors or stay a monotone color. Some people even have specific lights flash for the songs they wrote. For example, during Molly's performance, the lights flashed and shined like lasers all around the room, making the experience even greater.
The night concluded with Ashley Fu ('20)'s amazing take on "Feeling Good" by Nina Simone. Everyone was clapping and rocking in their seats as she sang the popular song. What better way to wrap up the night than to talk about accepting yourself for who you are? 
After the performance, everyone was happy and excited for the students who performed. Snacks and beverages were also provided for the people who attended. Jenna Zhao ('20) even hinted at there being another chamber singer performance later this year. So do not worry if you missed this performance, there will be one more before the end of the school year. 
About the Contributor
Christopher Haliburton, Co-Editor of Opinion
Christopher Haliburton ('20) is enthusiastic about his new position as Co-Editor of Opinion for the Webb Canyon Chronicle. This year, Christopher decided...