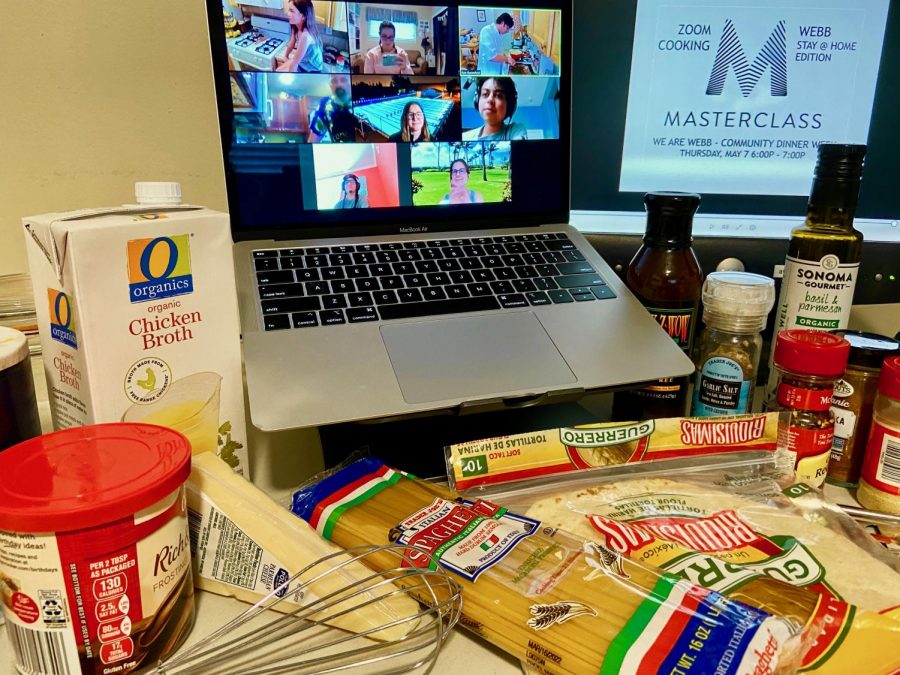 Laura Haushalter
If you have been missing Price Dining Hall's delicious food in these hard times, then you will be glad to hear that Webb hosted a virtual "community dinner" week! Throughout these past few weeks, many Webbies have become worn out and tired from ordering online or eating at home. 
From May 4th to May 10th, there was an array of activities for students and faculty, including: naming the future Hooper Student Center Café, submitting your own creative recipes you have been enjoying while at home, and interacting with members of the community as they recreate special treats in their own kitchens. 
"It is my hope that [with] this week we were able to re-brand and redefine what community dinner means and carry this positive sentiment into our first meal we are able to share once again when we can reopen in the future," said Ken Rosenfeld, Dean of Campus Life. "While this was only a week of activities, it is my hope that we can continue and revisit what we have done in the coming weeks and months. I think this week became a perfect symbol for what it takes to put the 'We' in 'We are Webb.'"
Although there has been a halt to many Webb activities, the construction of Hooper is continuing and making progress. One of the newest additions students should expect in Hooper, is a café where Webbies can enjoy a nice snack or drink, including Boba.
Members of the Webb community had the opportunity to enter a contest to name and design a logo for the newest addition to campus. After all submissions are finalized, the Hooper Planning Committee will select the top five names that stand out among the rest. After a popular vote, the name and logo of the new café will be revealed some day after May 10th, and the winner will receive a $100 cafe credit to use once it is ready to open.
If you are not interested in this artistic challenge, then maybe sharing some of your favorite food recipes with the community is more appealing. With everyone stuck at home in quarantine, many have developed a new passion for baking or cooking. By having more time to spare than before, many are getting creative in the kitchen and developing mind-blowing recipes that are a must-try. 
On Thursday May 7, many students enjoyed interacting with faculty members and fellow Webbies as they watched Webb members cook their ideal snack or meal. If you were interested in a light snack, you could learn to make Nika Haleftiras' oatmeal chocolate chip cookies or Armando's famous salsa. However, if you were craving a large meal, then you should check out Rick Duque's New Mexico red chili, Kevin Quick's beef bulgogi tacos with avocado and spicy mayo, and more. 
"I loved baking cookies with everyone on Zoom on Thursday," said Nika Haleftiras, science department faculty. "I got to see new faces and interact with people in different ways. I hope students are getting out from behind their computer screens, phones, TVs, and enjoying themselves. We at Webb always have unique opportunities, and I bet everyone is missing those just a bit."
These three events bring our community together although we cannot see each other in person. Small events like this "lettuce" get a taste of home, and allow Webbies to remember everything that makes Webb special. 
"It is inspiring to see my teachers and coaches in a different environment — a look into the lives of our fellow Webbies as master chefs," said Kennedy Becher ('21). 
Throughout this week of May, bakers will not only be saying, "May the 4th be with you", but rather, "May the fork be with you!" Bon appetit!