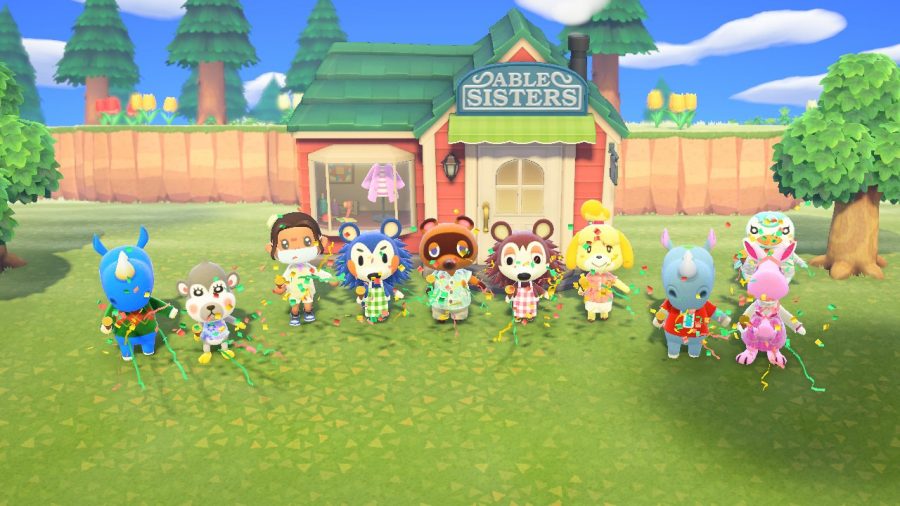 Imagine waiting eight years for a video game with an objective that is always changing depending on the player. Introducing Animal Crossing: New Horizons, a game that Nintendo has released. All Switch lovers are excited for the continuation of this series, as Animal Crossing: New Leaf, Animal Crossing: Pocket Camp, and Animal Crossing: Happy Home Designer all were previously released on both Nintendo 3DS and the iOS/Android. However, this endearing, child-like game seems to be more than a video game for others, bringing a sense of nostalgia.
The game-play of Animal Crossing is simple. The goal of the game is to create the best island so that a virtual celebrity named K.K. can perform there. First, you are introduced to a new island. In this virtual game world, you can choose from endless amounts of possibilities ranging from what kind of house you want, to even what townspeople you want. More than eight players can play this game at the same time, which means together, you and your friends can create a lovable and fun town.
Animal Crossing: New Horizons contains classic characters of the series that fans love. Some of the characters include: Isabelle, an adorable Shih Tzu who will help guide your responsibilities as a citizen, and Tom Nook, a chirpy raccoon who will help you build whatever house you want. However, there are also new characters such as Orville, who manages transportation and mail. These simple customizations make fans fall in love with Animal Crossing even more.
As the game's popularity rose during times of coronavirus quarantine, many Animal Crossing enthusiasts shared their different reasons on why they love the game.
"Animal Crossing: New Horizons creates a wondrous world full of life and flavor and puts it all into an incredibly relaxing game," said Kush Arya ('20). "This requires for players to wait actual real life time to complete as it is extremely soothing. The game isn't built for speed runners, it isn't built for e-sport athletes, it's built for parents who come back from work during COVID-19 to wind down and relax. After a stressful day, this is exactly what is needed to take a break. It has this Minecraft-esque quality where it is incredibly enjoyable to non 'gamers.'"
Like Kush, many Animal Crossing players believe that this version of the game has so much more to offer than before. Compared to other Animal Crossing games, New Horizons allows players more freedom to customize their game settings. Instead of just customizing houses and furniture, players can now customize their own personal avatars as well.
Animal Crossing: New Horizons also includes an incredible amount of events such as fishing tournaments, celebrations of villagers' birthdays, Bunny Day (which replaces Easter), and a lot more! This interactive and creative game allows those trapped in quarantine to take simple joys by celebrating these small events. However, at the end of the day, no matter what kind of Nintendo Switch game you have, it is hard to compete with this adorable game, because clearly, Animal Crossing: New Horizons is the most popular game in the market right now and it is there to stay.