Webb students mourn Justice Ruth Bader Ginsburg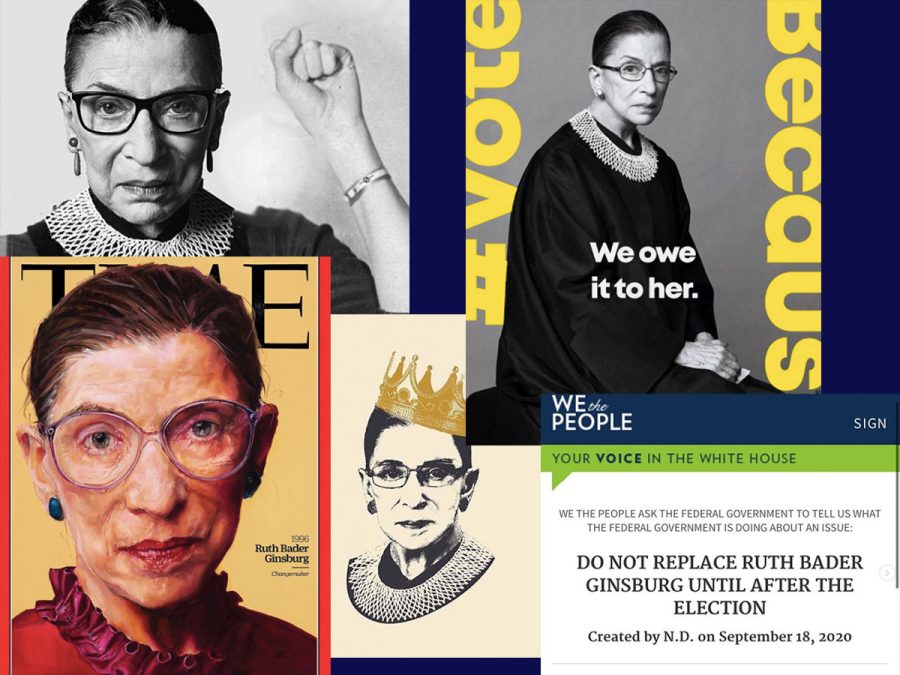 Millions around the world were shocked to find out that Supreme Court Justice Ruth Bader Ginsburg had died at the age of 87 due to complications of metastatic pancreatic cancer on Friday, September 18th. 
After the news broke, many Webb students took to social media to express their grief over the loss and their gratitude to Justice Ginsburg and her 27 years of service on the Court. Eventually, it became impossible to scroll through Instagram or Twitter without seeing a tribute to the Justice, often accompanied by urging the audience to vote in November.  
"I think many young people are taking to social media and encouraging others to vote because they do not have the ability to yet," said Marina Saeger ('23). "We are definitely all scared now, as well, and are unsure of our future, which is why this election year is so important." 
In addition to the calls to go to the polls, some students have circulated petitions to encourage elected officials not to replace Justice Ginsburg on the Court until after the election is called. Though these petitions are not legally binding and would not necessarily prevent the President from filling the seat, some see it as a way of doing what they can to honor Justice Ginsburg's legacy and wishes. 
"I wanted to post about RBG to honor her memory by encouraging others to sign a petition that would prevent her spot from being filled until after the election," said Gaby Trauttmansdorff ('22).  
The morning of Saturday, September 19th, Dr. Theresa Smith, Associate Head of Schools, sent an email to the entire community announcing that the flag on campus would be flown at half-mast to honor the memory of Justice Ginsburg. Dr. Smith, in her email, also urged the community to "learn about Ginsburg and her commitment to this nation." 
Justice Ginsburg is a feminist icon, having spent much of her career both on and off the Bench fighting for gender equality and civil rights. Her progressive record and countless career accomplishments have made her a role model for many generations after her.  
"I first learned about Ruth Bader Ginsburg when I was in seventh grade," said Elena Tiedens ('21). "Immediately, I loved her. I was amazed by how she fought for women's rights and lived a life independent from men when so many women didn't and couldn't... Her loss is a major loss for this country and those of us who looked up to her." 
"RBG was very important to me because of the ways in which she consistently fought for equality in all forms," said Hunter Lange ('22). "One of the biggest ways she impacted me was in her decision this year, Bostock v. Clayton County, which declared that people can't be discriminated against on the basis of gender and sexuality." 
Ginsburg has, in recent years, received more attention from the public than some of her colleagues. Her record of consistently handing down progressive decisions and, when necessary, scathing descents, earned her the nickname "Notorious RBG". She has been the subject of both a documentary, entitled RBG, and a feature film, On the Basis of Sex, which chronicled her time at Harvard Law School and a law suit she argued that eventually became foundational for the legal prohibition of gender discrimination. 
Just hours before her death, Justice Ginsburg did communicate to her granddaughter that it is her "most fervent wish" that her seat on the Court would not be filled until after the upcoming election. Another Trump appointee would likely leave the Court heavily favoring conservative justices over liberal ones, like Ginsburg. 
"The timing of her death makes it difficult to gauge what should be done," said Gaby. "But I believe that it is fair to allow the next President to appoint the next justice." 
Though no one knows how long it will be until her coveted seat is filled, it is clear that many in the Webb community and across the country are grieving the loss of such an iconic figure.  
About the Contributor
Keigan McCullagh, Editor of News
After using her summer to create a small business selling custom embroidery, Keigan McCullagh ('21) is coming back to school as a senior. Keigan has...