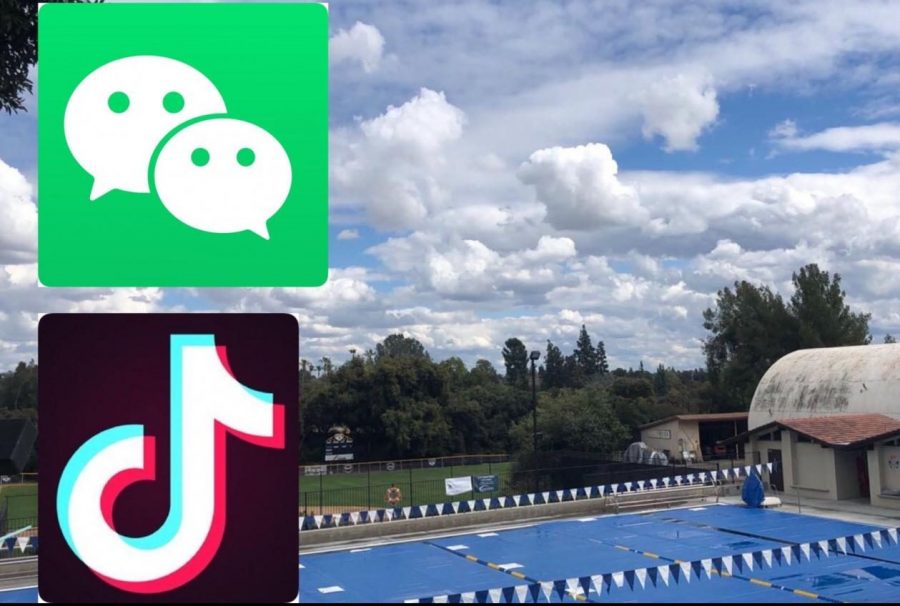 There are two very common applications: WeChat and TikTok. At home, many students communicate with their friends and families via WeChat, one of the most popular apps in China and the major communication channel for Chinese Americans. Together with TikTok, there are about 100 million users in the United States using these apps. 
However, under the International Emergency Economic Powers Act, which grants the president the power over emergencies between the United States and foreign entities, Trump has ordered a ban on WeChat and TikTok downloads, updates, and transactions within the United States. He claims that the ban would help protect the United States from "unusual and extraordinary threats" and ensure national security.  
Although the U.S. judge Laurel Beeler has temporarily halted the ban, the order still demonstrated the growing tensions between China and the United States. It is another example of Trump using his executive power to make clear his anti-China attitude before the 2020 election. The ban on WeChat is a logical extension of the trade war and restrictions on Huawei, mirroring similar anti-China policies that target Chinese companies and corporations. Like in the past, the ban has again incited controversies. 
"I do not believe the executive order is valid," said Liz Bowman ('22). "I think that the decision was made rashly and does not have significant and reliable evidence to back it up." 
Many WeChat users doubt the validity of the ban and express that the threat to "national security" needs to be backed up by more concrete evidence before putting into actions. 
"I think there needs to be more evidence to prove the validity of the executive order," said Bill Zheng ('21). "I don't think banning WeChat because of pure speculation will garner much approval, especially when many Americans and Chinese expats are using it as a lifeline between themselves and their family." 
Indeed, the ban also has many implications on Sino-American relationships. Ever since the Obama administration's last few years in office, Washington and Beijing have not been on good terms. The trade war is a key example of the growing distrust between China and the US, and the WeChat ban only worsens the situation. 
"The ban reflects the deteriorating relationship between China and America," said Victor Zhang ('22). "It was announced because WeChat collects extensive data from its users, which can lead to a possibility of this app being used to conduct espionage or data transfer. While the reasons are not completely unreasonable, most WeChat users only use WeChat as a tool to contact with their families in China and the ban seems like an overreaction." 
America has never banned an application before, and banning WeChat is an international statement of distrust.  
"The decision will escalate the tensions between the United States and China," said Jojo Jiang ('22). 
In fact, these unprecedented actions taken by the United States also impact US and Chinese citizens. At Webb, the ban can affect everyday communication between students and their friends and families. If put into effect, it will not only hurt international students, but also domestic ones.  
"The contact I have with people [on WeChat] is very important to me and I would be very sad if I cannot continue regular contact with them in the future because of this," said Liz. 
Even if users can opt for new or different communication tools, WeChat remains the most convenient and is even considered China's bridge to the world. 
"If they ban more than money, like messaging or the whole app, then it would impact me a lot more because I talk to my dad using WeChat," said Sharon Xu ('22). "It is also how I communicate with most of my close friends. Of course, I will seek new ways to communicate. My friends and I have already gotten LINE accounts and I can talk to my dad using iMessage. But WeChat is still the most convenient for me." 
"WeChat is mostly used by Chinese and Chinese Americans who have connections in China, and there has been nothing suspicious about this messaging app," said Nancy Li ('22). "If the ban  takes place, then it would cut my only way of communication to my family and friends in China. Not only would I not be able to video chat my family to wish them happy birthdays, but also I would not be able to observe any new social trends happening, therefore further separating me as well as other people living in the U.S. from China." 
While some are looking for new solutions to the ban, many believe that WeChat is irreplaceably the only way of contact between them and their families overseas. 
"WeChat is the only way I can contact many of my family members in China," said Emily Wang ('22). "I tried to seek new ways to communicate with them, but for people like my grandparents, it is really hard for them to try and learn to work with another chatting tool." 
"For an international student like me, WeChat is my primary channel of communicating with my family in China," said Victor. "This ban will bring loads of inconveniences to my life. I will not be able to text my family or call them. Aside from communication, WeChat is my primary source of knowing how my friends are doing because they can share their recent activities using a function called "Moments". The ban will cut the channel off and isolate me from China and my family." 
Since the announcement of the ban, Webb has been quick to begin coordinating a plan for communication with international families, as WeChat has been the default app for many international group chats.   
"Initially, I had a bit of panic," said Romana Quick, International Student Program Coordinator. "I sent out a message to new Webbies and their families to join our Webbies 2020 WhatsApp group. Several families and students joined." 
"I have various apps: Viber, WhatsApp, any of which I can use to correspond with families, and of course, there's always Webb email," said Mrs. Quick.  
Nonetheless, the transition to a different platform may bring difficulties: for many international parents use WeChat regularly and may rarely check their mailboxes.   
Moving forward, it's hard to say what will happen with the ban of WeChat in America as it remains a developing story. However, it is evident that even the potential ban of WeChat can pose a significant inconvenience to many Webb students, especially international students from China.  
Connecting many students to their families and friends while giving international families a convenient window into life at Webb, WeChat is a platform we hope can continue to benefit the Webb community.