Sanctuary Coffee: Goodness, Generosity and Gerali.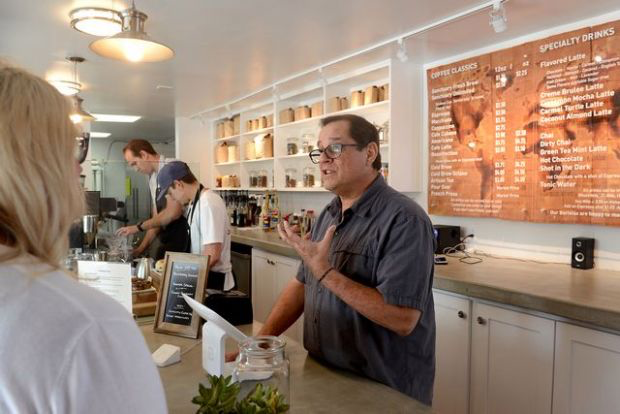 Dr. Steve Gerali, founder of Sanctuary Coffee in Claremont, spoke with Webb boarders during chapel on Sunday, October 1, 2017. The theme of his talk regarded what Sanctuary Coffee represents and how it is helping our community by giving back to the less fortunate.
Dr. Gerali founded and opened the highly successful, yet tranquil coffee shop on the basis of three principles that make Sanctuary, Sanctuary. Each one advocates for social justice in Claremont which is why all profits made from coffee sales are donated to charity.
The first principle ensures that farmers that sell the coffee to Sanctuary are paid an ethical wage to reduce human trafficking and further benefit the global market. When Dr. Gerali came to speak with Webbies, he talked about the importance of acknowledging human trafficking, especially nearby in Pomona, and was proud that Sanctuary does not contribute to this heinous act.
The second principle supports the idea that giving back is a fundamental part of why Sanctuary exists. For every pound of coffee sold, ten pounds of food are donated to local food pantries to help the less fortunate. Dr. Gerali mentioned how important this principle is because giving back to the community is the reason he founded Sanctuary.
Finally, the third principle ensures that ALL profits are donated to local charities that help fight against social injustices in Claremont and its surrounding cities. Dr. Gerali also mentioned in his talk that the money placed in the tip jar that sits by the register at Sanctuary goes to a local charity that changes every month.
Lexie Freeland ('19) said, "I really liked his Chapel talk because he wasn't afraid to talk about social issues that were right in our backyard. I was impressed by all the work he does to help people who are struggling."
His selflessness was a main topic of discussion at many dinner tables following chapel, when students and faculty reflected on his decision to quit teaching as a professor to become a barista.
The biggest takeaway from his talk was when Dr. Gerali said, "What you do is not who you are. Who you are dictates what you do. Therefore, be good."
So, if you ever want to talk to Dr. Gerali or grab an iced chai, visit 944 West Foothill Blvd in Claremont for all your coffee needs.
About the Contributor
Serena Fangary, Staff Mentor & Co-Copy Editor
Serena Fangary ('18) has been a part of the Webb Canyon Chronicle since her sophomore year when she joined the team as a staff writer. As Co-Copy editor...