Pumpkin spice makes everything nice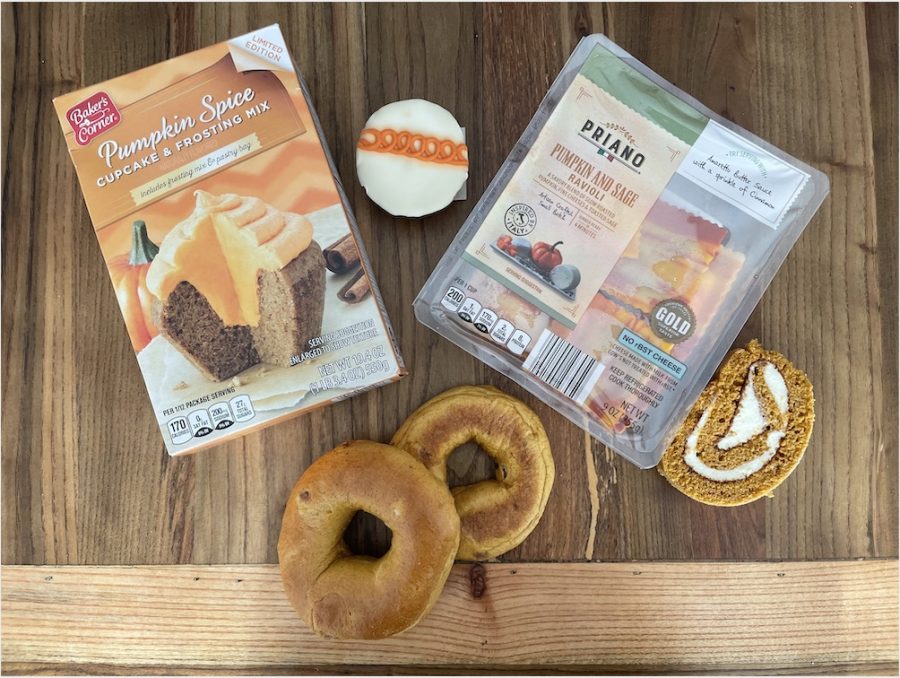 As autumn leaves turn orange, so do everyday foods. The fall season is full of cravings as pumpkin spiced dishes begin showing up everywhere. The limited-edition Pumpkin Spice Latte at Starbucks gives busy commuters a cozy feeling before a cold day of work. Pumpkin pie found at any marketplace is the perfect mixture of savory and sweet to fulfill anyone's dessert cravings. But what about the unexpected dishes, like bagels or pasta? Here are reviews of less common pumpkin spiced dishes perfect for the fall season: 
Ho-Ho's 
Seasonal treats are a must for well-known snack companies like Hostess, who sells pumpkin spiced Ho–Ho's for the fall season. A thick, sweet layer of icing covers the top of a moist, pumpkin flavored cup cake, which differs from the traditional chocolate cup cake. After just one bite, the sugary, sweet flavors continue as creamy frosting fills the center of the cupcake. Though the icing and frosting somewhat overpower the pumpkin flavors, pumpkin spiced Ho–Ho's are a nice getaway from the original chocolate flavor. 
Bagels 
Bagels are a staple breakfast item, especially in the Webb dining hall. Limited-edition pumpkin bagels can be found at any supermarket for the same price as any other bagel. The pale orange color mixed with tiny chunks of pumpkin mirrors the appearance of the beloved cinnamon raisin bagel. The pumpkin bagel is very similar in taste to a regular bagel, but with hints of cinnamon hitting the tastebuds. To step up the level of the pumpkin flavor, try adding pumpkin cream cheese. 
Cake 
Pumpkin spiced cake brings out the best combination of sweets, spice, and everything nice. Cinnamon flavor mixed with the savory pumpkin taste combined with a sweet cream cheese frosting makes a delicious fall dessert. Pumpkin spiced cake hits the right spot; it is neither too sweet, too spicy, nor too bland. Pumpkin spiced cake is a must–try in the fall season. 
Ravioli 
Ravioli is known for its creamy cheese filling and marinara sauce; mix in pumpkin and it creates a whole new meal. Pumpkin ravioli brings fall spices into the tender pasta layer for a delicious and filling meal. The pumpkin spice flavor is not very present in the ravioli, but the sweetness is what makes this pasta different. To top it off, try making a butter sauce with cinnamon for more fall flavors.  
Muffins 
For people who don't have as much of a sweet tooth, pumpkin spiced muffins may be the best option. Out of all the other foods listed here, pumpkin spiced muffins have the most pumpkin flavor in them. The taste is a mixture of whole wheat bread with pumpkin and lots of cinnamon. But if that kind of flavor isn't enticing, try pumpkin frosting on top. For pumpkin enthusiasts and bold taste testers, these muffins are perfect. 
Before winter treats storm into stores, fall delicacies must be tried, tested, and enjoyed. Pumpkin dishes are only here for so long and are often overlooked. These cozy and warm dishes are a great reward for a long day on the computer and should be eaten before fall is over. It is time to let pumpkin spice up your life.  
About the Writer
Noe Chock, Staff Writer
Noe Chock ('23) is a day student from Claremont, California who joins the Webb Canyon Chronicle as a staff writer. Her favorite class is French, and...