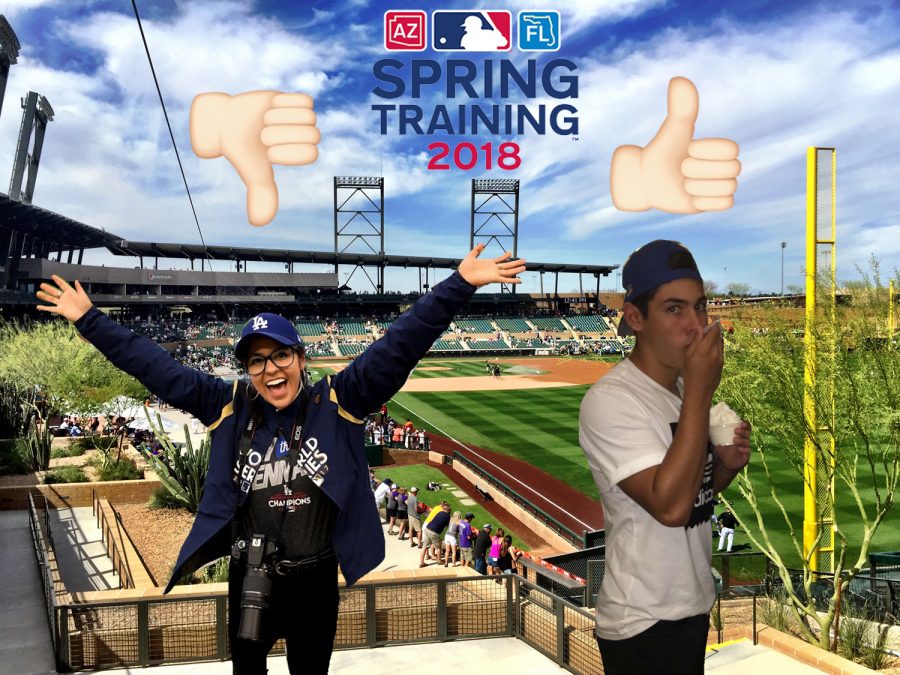 Does Spring Training matter?
March 8, 2018
Why I Watch Spring Training
 After the final drop of champagne sprays out of the bottle following a World Series win in October, baseball season disappears for a whole four months. Winter meetings, free agency, and college baseball can ease the pain of a life without Major League Baseball, but nothing is quite like the spectacle of major leaguers playing under the lights in front of capacity crowds.

  Before the gravitas of opening day, Spring Training becomes the biggest topic in baseball. Spring Training, a series of exhibition games and training sessions, marks the beginning of baseball season. The games might not count, but the experiences prepare players, coaches, and fans for the upcoming season. Here are a few reasons why I like Spring Training:

Major League Players Get Their Grooves Back
  Taking four months off of any profession is difficult, but for baseball players, getting back into game shape is a somewhat daunting task. Players go from hitting in cages and pitching in state-of-the-art indoor facilities to scrimmaging against real competition under the sun, in front of thousands of fans.
  Besides baseball skills, Spring Training allows players to acclimate to the daily rigors that come with being a baseball player. The games are fun for people to watch, but baseball is much more than entertainment; for some, it's a livelihood. Baseball players might be superheroes in some fans' eyes, but they're human.
  Spring Training gives players a proper time frame to re-adjust their bodies, schedules, and skills. Even though some players suffer injuries during Spring Training, the benefits of Spring Training outweigh its downfalls.
  Awarding baseball players time to re-awaken their love for their favorite game in the world not only benefits the product they put out on the field, but gives the league a higher entertainment value. This trickle down effect eventually reaches the fans, leading to higher revenue for teams around the league.
  For players, management, and fans, Spring Training offers a catalyst to start baseball season on the right foot.
Minor Leaguers Stealing the Show
  Rabid baseball fans recognize beauty in the MLB minor league system (MiLB). The minors give new players the opportunity to kickstart their careers and offers experienced players the chance to resurrect their once glorious images. Although MiLB isn't covered by most popular sports media outlets, the league carries a large following amongst baseball fans.
  Spring Training allows minor leaguers to step into the spotlight and display their talents on a national stage. Most minor league players never make it to the major leagues, so for minor leaguers to perform in front of America's most fanatic baseball fans on a somewhat "major league" stage is wonderful to see.
  Some minor leaguers, like Los Angeles Dodgers' First Baseman Cody Bellinger, take advantage of Spring Training to elevate their careers by performing exceptionally well during exhibition games. Spring Training also allows fans to watch some of the more unknown names in the professional baseball and gain more knowledge of the sport.
Minor leaguers don't make major league money, get major league sponsorships, or perform in major league crowds, so for minor league players to show their talents in front of major league fans, exemplifies the beauty of "the process".
It's All Entertainment
  For some baseball fans, it's a tradition to travel to Florida or Arizona to indulge in Spring Training. It's a well-known fact that Spring Training does not really "count", yet fans flock to watch it every year. Why do some many fans invest their time, money, and energy into a sporting spectacle that doesn't "count"?
  Baseball, as many Americans know, is often cited as America's Game. For over a century, fans have spent countless amount of hours cheering for their favorite teams, even when their teams aren't vying for a world series spot. The relationship fans form with their favorite teams goes further than an innocent love for a sports. Fans gravitate towards a team they can identify with.
  Now, most teams who aren't expected to make an impact during the baseball season usually possess a promising farm system that will transform a team's competitive edge. Some fans watch for the future, to get a sneak peek of the future glory the organization and its fans will bask in. The best part: the games don't count.
  There's no secret why Spring Training brings in nearly one billion dollars per year. People simply enjoy baseball, especially when the wins and losses don't matter. So why do so many fans invest their time, money, and energy into a sporting spectacle that doesn't "count"? Well, some people just love the game that much.
  The MLB regular season is a 162 game, six-month trek comprised of heartbreaking injuries, bad calls, and boring games, depending on which team you're rooting for. Spring Training's six-week, 33 game schedule (roughly 20 percent of team's regular season), allows veterans to get their legs back, newcomers to make noteworthy impacts on their teams, and fans to appreciate the innocent side of baseball.
Why I Hate Spring Training
Spring Training is the worst event in sports.
In February, all 30 Major League teams set up camp in either Arizona or Florida to play 33 games over a span of 45 days. Following four weeks of practice games, team dinners, and motivational speeches, the League enters baseball season, a 162-game competition spanning over four months.
Why does preseason exist? Football plays a four-game preseason, hockey holds a two-week preseason, and the NBA plays a lengthy three-week preseason. Spring Training is too long; to make matters worse, Major League baseball already has the longest season in comparison to all of sports.
Dodger Outfielder Matt Kemp says spring training is "necessary for teams to create championship winning bonds."
Giant's first baseball Brandon Belt disagrees, "you can't buy chemistry."
I agree that there should be some type of preseason practice and play. But really? Four weeks? 33-games?
Here are three reasons why Spring Training is the worst thing on the planet:
Spring Training gives a foothold to illness.
Take the Los Angeles Dodgers for example. The Dodgers entered spring training with 40 Major League players. Two weeks later the Dodgers sent home 25 players due to a mysterious illness that was passed around through the clubhouse. Forty guys living together, working out in the sun for hours each day is a recipe for disaster. In 2015, a similar incident happened in the Boston Red Sox clubhouse when multiple players missed Opening Week due to a flu-like illness that swept the clubhouse during Spring Training.
Spring Training is an injury magnet.
The infamous injury factor is a major component in Spring Training. Although Spring Training is a time where players are given the opportunity to work out any injuries prior to the regular season, it also opens the door for injury to occur during practice.
33 games are played (not including split-squad games) and each game lasts an average of three hours. Whip out the calculator and compute the stats. That's around 99 hours of gametime in which a player could get injured during Spring Training. It's so not cool to start the season on the disabled list. For example, a whopping SIX players from the New York Mets have unfortunately ended up on the disabled list because of Spring Training play within the last two weeks. In addition to the injured Mets, Seattle Mariners ace, Felix Hernandez, took a linedrive straight to his forearm, landing him on the disabled list as well.
Spring Training is boring.
Spring Training games are also extremely boring. None of the players perform to a Major League standard. With Opening Day over 30 days away, players are more focused on the regular season and regular season performance than a game in the desert that essentially means nothing.
I'm a fan of minor league play and I enjoy watching minor league prospects play with major league players in Spring Training, but it takes the "excitement" out of the game when you don't recognize any face or name on the field. If I wanted to watch a minor league game I would just drive to Rancho Cucamonga and watch one live.
So, why do I hate Spring Training so much?
Maybe I don't hate the idea of Spring Training, you know, practice does make perfect. Maybe I just hate the way Spring Training is conducted. Spring Training is too long, the games are boring, and I just want real baseball to start already.
Does Spring Training matter?