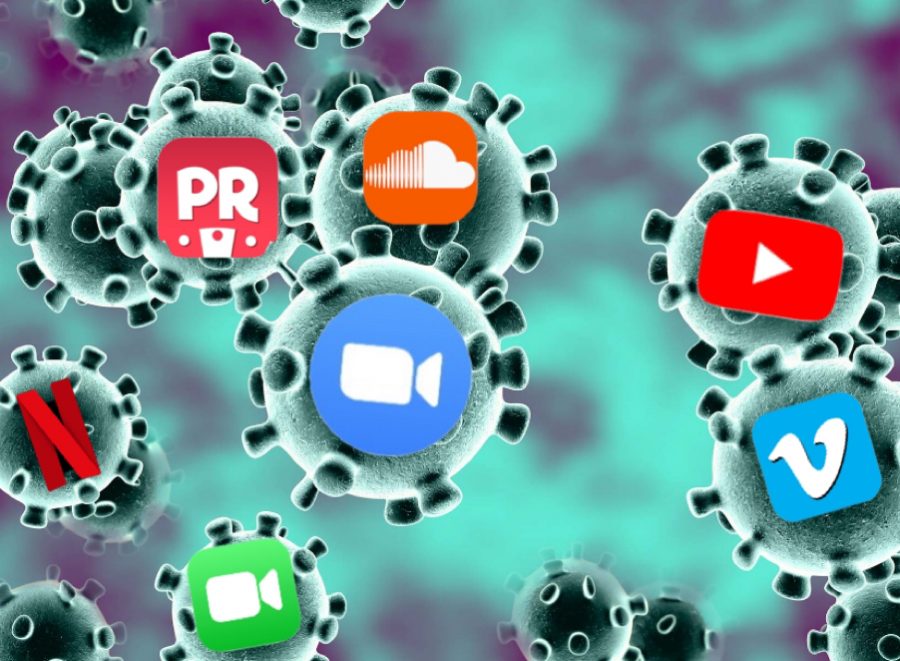 Graphic courtesy of Kaitlyn De Armas.
Games, websites, and videos, oh my!
Although hanging out and laughing with friends may seem impossible without in-person contact, the help of social media and the internet can help ease this transition. From movies to apps to online games, technology has come in handy to be one of the many ways to stay connected with people through more interactive mediums than just a phone call.
"It's been really hard to stay in contact with my friends, but I do my best in my free time to play video games online and Zoom with my friends," said Ethan Grycel ('23).
Along with traditional applications like phone calls and FaceTime, here are a few games and programs that can allow students to have fun and interact while staying safe.
Psych! Outwit Your Friends 
In this app, you can connect with your friends to play a fun and challenging trivia game. 
Players answer a series of questions with bizarre answers to try and earn points. The trick is, other players create fake answers to try to "psych" out the competition from choosing the correct answer. The more players you can get to choose your fake responses, the more points you steal. If you think you are smart enough to outwit your friends, this game is right for you. 
Photo Roulette
Another fun app, Photo Roulette takes a series of pictures from you and your friends' camera rolls and shuffles them. You then compete with other players to see who can quickly guess who the photo belongs to. Sharing old photos and hilarious videos through a game is a great way to get to know your friends and family better, even though you may be miles away.
Netflix Party
Hanging out in person and watching a movie is always a fun way to destress, and Netflix Party is the perfect way to do so. With just a simple download, you and your friends can simultaneously stream Netflix through the website, while talking through the chat room linked to the video. Although it may not be the same experience as being with other people, it is one way to keep conversations going and make memories with friends.
Watch2Gether
Similar to Netflix Party, this streaming service allows you to video chat with your friends while being on a variety of different websites and video platforms. Together, you can watch YouTube and Vimeo, listen to music on SoundCloud, make playlists, and even shop on Amazon. Watch2Gether makes keeping in touch a little more exciting, with so many options to choose from on the web.
These are just a few fun and interactive ways to stay in contact with your friends over the next few months. As of now, online connection is one of the only ways to stay in contact with most people during social distancing, so it is important to get creative and explore new mediums to interact.
"My friends and I FaceTime nightly, play Cards Against Humanity online, and do anything we can to have some sort of connection online," said Cayden Lazier ('20)
This separation due to the campus closure makes it easy to lose contact with other Webbies, but talking to other people is a great way to keep spirits high in these tough times. Webb is a very close-knit community, and just because we are not all physically on campus, does not mean anything has to change. Do homework or study with your classmates on FaceTime, or text someone you usually would not and just check in. Little actions like these will help you and your friends stay close and work through the situation at hand.
Games, websites, and videos, oh my!