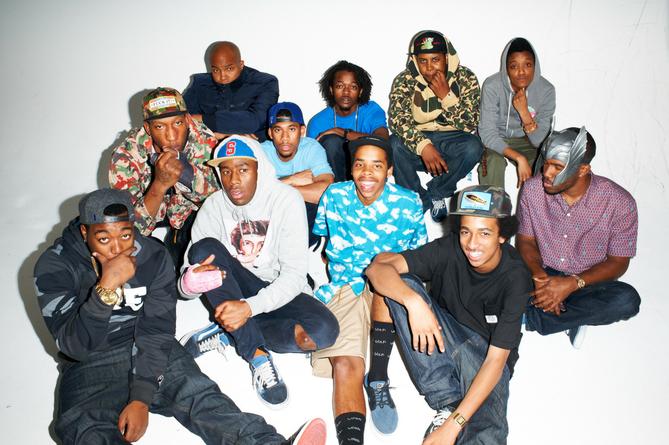 Tyler, the Creator, and Odd Future: Influencers of a new generation of hip-hop fans
May 24, 2018
Inception
Envision this: it's 2018, you're scrolling down your Twitter timeline, and your 14-year-old little cousin retweets a video from an Ariana Grande stan account captioned, "Easily Frank Ocean's best verse :))))." Attracted, your eyebrows raise into oblivion, practically finding their wings. You curiously click on the video, unaware of what will appear on your 5.5-inch screen.
 "Rent a supercar for a day, drive around with your friends, smoke a gram of that haze. Bro, easy on the ounce, that's a lot for a day, but just enough for a week, my n***a, what can I say?
I'm high and I'm bi, wait, I mean I'm straight, I'mma get you this wine, the runner just brought the grapes. My brother give it some time, Morris, and Day, course you know the vibe's just as fly as the rhymes. On the song, cut and you could sample the feel, headphone bleed, make this s**t sound real. Used to work the grill, Fatburger, and fries, then I made a mil' and them psychics was liars. Now, how many f*****g crystal balls can I buy and own? Humble old me had to flex for the folks. Down in Muscle Beach pumping iron and bone. Bumping oldies off my cellular phone. Yeah, bumping oldies off my cellular phone. Bumping oldies off my cellular phone."
 You look up from your screen, tears streaming down your face, and flashback to a simpler time– a time of listening to 12 Odd Future Songs and The OF Tape Vol. 2 with your friends on Friday nights during your middle school years. You loved Frankie Ocean, but your infatuation ran deeper than your intrigue for a bisexual R&B lyricist. Hodgy, Left Brain, Domo Genesis, Syd tha Kyd, Earl Sweatshirt, Mike G, Lionel Boyce, Jasper Dolphin, and Tyler, the Creator – a collective of Los Angeles kids rapping about donuts, erectile dysfunction, and dinosaurs, on top of beautiful snare and heavy synth drums – instantaneously captivated your attention.
 You weren't alone, though; you're still not alone. There are people just like you. People who jumped on the OF hype train in 2008 and maintained interest through their formative years. Through Odd Future Tape Vol.1, through Radicals, through the Loiter Squad years, and eventually their official split proclaimed on Tyler's 2018 single 'OKRA', Odd Future bred a new generation of hip-hop fans, and simultaneously changed the rap game.
Who Dem Boys?
When Odd Future Wolf Gang Kill Them All (O.F.W.G.K.T.A) appeared on the MySpace scene in 2006, Tyler, the Creator, and Co. were nothing more than inner-city Los Angeles kids with heterogenous visions. Odd Future spent the majority of its early career in Syd tha Kyd's South Central Los Angeles home recording music while creating the colorful lyrics and visuals that made them popular amongst a younger generation of hip-hop fans.
 As a collective, Odd Future produced scintillating sounds for the masses, receiving critical acclaim in the process. However, Odd Future's impact on society developed from individual talents shining in their own way. Left Brain, Hodgy Beats, Frank Ocean, Earl Sweatshirt, Syd, Domo Genesis, Mike G, and of course, Tyler, the Creator, found even greater success in projects outside of Odd Future.
 Frank Ocean stole the hearts of suburban white girls everywhere when he released his debut studio album Channel Orange in 2011. Frank's image transitioned from Odd Future's most talented vocalist to society's favorite sad boy (sorry Rex Orange County), as he released several mixtapes and his second album Blonde in 2016. Earl Sweatshirt found success with his first album Doris, which he released at 19 years-old. After Doris, Earl released I Don't Like Sh*t, I Don't Go Outside, which solidified his spot as one of rap's most talented young rappers. Syd left Odd Future to create her own band, The Internet. Domo Genesis found his biggest success with his album, Genesis, which featured, Tyler, Wiz Khalifa, and Anderson Paak. Mike G, Left Brain, and Hodgy still make music to this day but haven't found the success they once had with Odd Future.
  It's no secret Tyler, the Creator will always be the leader of Odd Future. Tyler's cartoonish personality and compelling outlook on the world created an enigma that the rap industry hadn't come across since RZA and ODB. The clothes he wore, the lyrics he belted, and the influences he made, provided Tyler with a cult-like following that, to this very day, has yet to dissolve.
 At one time, rap represented a struggle, a cry for help that resonated with people who carried burdens of their own. In today's rap game, or more specifically, the post-SoundCloud era of rap,  it's rare to find a rapper who are both storytellers of their own lives and speak about issues plaguing the public. Tyler raps about the crazy inner-mechanisms of his mind while telling a broader story throughout all his albums.
 In combination with skating, fashion, television, carnivals, and music, Tyler's influence sculpts a persona in the rap industry both celebrates and criticizes at never-before-seen levels.
 Odd Future's influence began on the internet, leading journalists from underground blogs and forums to shift their focus onto the up-and-coming Los Angeles-based rap collective. As the inner-city faction grew into an international sensation in 2010, larger media outlets took notice of the group's popularity. Randall Roberts, a former writer at the LA Times, wrote an online review of Odd Future's 2011 Hard Summer performance, summarizing Odd Future's message that "words are just words." Most of the attention Odd Future received after their third album 12 Odd Future Songs split between angry moms yelling about the group's demonic antics and young kids using the faction's activities as examples of what living a good life looked like (watch Day in Ladera on YouTube and you'll understand). Since nobody had seen heir graphic lyrics and rowdy shows from a rap faction The Wu-Tang Clan, authors and writers reluctantly categorized Odd Future as more vulgar, rebellious, and misogynistic version of the 1990s.
 The rebellious, misogynist actions fell mostly on Tyler, as he was the group's leader and poster boy. Worldwide criticism followed Tyler during the formative years of his career, being called out for his "misogynist anxieties" by Penelope Eate, professor and author of Scribblin' Sinnin' Sh*t: Narratives of Rape as Masculine Therapeutic Performance in the Strange Case For and Against Tyler, The Creator.
 Tyler's premature condemnation didn't end there, however. Eric Harvey wrote an article titled for Village Voice titled, Tyler, the Creator Boys' Club, where he discusses his concerns with Tyler's second album, Goblin. Harvey loathes Tyler for his tendency of "Hating girls because they don't like you because you're a weirdo, hating any and all authority figures because they try to tell you how not to be such a weirdo."
 As much as people criticized Tyler for his outlandish comments on women, the LGBTQ community, and white America, people came to the aid of Tyler, praising him for his ability to differentiate words from reality. Today, in studies, academic journals, videos, and articles, people resonate with Tyler's creativity. People like Gustavo Souza Marques, who wrote Beyond Gangsta: Hip-Hop, Skate Culture and Web Culture in the Music, understand Tyler's unorthodox upbringing and use it to empower the artist, rather than destroy him for not being raised in a "traditional" manner.
 Tyler's emotional transparency allows his listeners to connect with him on a personal level. Since Bastard, Tyler's openness and outspokenness sprung him into the headlines of several major news outlets around the world. However, for anybody that disagreed with Tyler's actions, exclusion defined their opinion of Tyler. Living without a father, getting banned from several countries around the globe for "profane" lyrics, and being too weird to win a Grammy, Tyler's no stranger to being an outsider. Sophie Falcon of Highsnobiety credits Odd Future for their ambition to become the group that changed Hip-Hop. Falcon cites the group's new flavor, organic climb to the top, carefree attitude, relentless determination, and independence, as the catalyst for their journey to superstardom. Pranav Trewn of Stereogum likens Tyler's influence to Eminem's tirade during the 1990s. With an original look, unconventional flow, and tendency to push boundaries, the Tyler and Eminem comparison isn't too far off. Other articles like Drew Tewksbury piece for LA Magazine titled, The Strange But True Story of How the Hip-Hop Collective Odd Future Hit the Big Time and Harry Butt's, Donuts and Demonism: Tracking the Influence of Odd Future, pinpoint the cause and effects of Tyler and Odd Future's meteoric rise to the top of popular culture.
 When Flower Boy released in the summer of 2017, Tyler displayed another side of himself that his fans never saw before. Since the rap industry began, the celebration of homosexuality never materialized. Tyler's homosexual innuendos on Flower Boy arose as a hot topic of discussion when music critics reviewed his latest album. Although Tyler's sexuality is ambiguous today, his ability to reveal a highly controversial topic in a huge project shows Tyler's carefree dispositions. "CONSIDER FOR A MOMENT that Odd Future—those SoCal skate rats and potheads who were taken to task for homophobia six years ago—have secretly been the queerest uprising in the history of mainstream hip-hop," wrote Craig Jenkins of Magzter, in his review of Flower Boy.
 Tyler's carefree demeanor allows him to flirt with risk in the business world. Tyler's projects – Golf Media, Golf Wang Clothing, and Camp Flog Gnaw – are all successes in their own ways. Tyler's relentless work ethic separates him from the other rappers who focus solely on their music. In an interview with Sonaiya Kelley Tyler states, "I'm just doing what feels right at the moment. People ask me [how I can jump from medium to medium] and I think I lied once or twice, like, 'Oh, my attention span.' But I don't know. I guess that's just how I'm wired."
OF's Influencers and Influences
 Odd Future's process set the groundwork for future rap collectives like Brockhampton to experience similar success. However, Odd Future connection to the other popular rap collectives like N.W.A, Public Enemy, Cypress Hill, and Wu-Tang goes deeper than people think.
 According to Raphael Travis, the mission for rap collectives is to "include goals of empowerment for individuals and communities, moving from an emphasis on ''me'' to a simultaneous emphasis on the collective ''we". N.W.A, led by Ice Cube, Dr. Dre, and Eazy-E, specialized in political rap, challenging higher powers that restrict the black community from advancing in society. Although N.W.A's following is still alive today, Odd Future's influence is much different from the political changes N.W.A. forced on society. In an academic journal titled, Political Rap: The Music of Oppositional Resistance, Catherine Beighey, and N. Prabha Unnithan, investigate the reason political rap is so prominent in the rap game.
 "Most of the content of new black cultural expressions are directly or indirectly political, demanding and justifying the legitimacy in order to establish a cultural basis for racial inequality."
 During the rise of political rap, the black community desperately needed somebody to fuel a change for brighter future, leading groups like Cypress Hill and N.W.A to take it upon themselves and speak about a topic everybody wanted to ignore.
 Then there's The Wu-Tang Clan, a pseudo-Odd Future doppelganger. Wu-Tang was doing Odd Future before Odd Future was Odd Future. Led by their beloved leader, RZA, the group charmed the world with their refreshing lyrics and stances against 'the man'. In The B-Boy's Guide to the Galaxy, Rachel Kaadzi Ghansah explores the beauty of RZA's "sloppier, tougher, and boundlessly more inventive" manner that captivated an audience.
 As rap factions, N.W.A. and Wu-Tang have influenced the masses in a variety of ways. Jonah Weiner, a freelance writer for internet publications and author of N.W.A vs. Wu-Tang Clan once said, "Today N.W.A are venerated in hip-hop as the gold standard of sawed-off, street-certified rage, and one thing they have over the Wu-Tang in buckets is an influence." Most of the factions' criticisms stem from protest involving violence. In Julian Tanner's Listening to Rap: Cultures of Crime, Cultures of Resistance, Tanner explains why many of rap's best artists and factions are punished for inciting violence in their music, but people turn a blind eye to heavy metal bands when they do it. Tanner writes, "Although rap has been framed negatively as a contributor to an array of social problems, crime, and delinquency, in particular, it has also been celebrated and championed as an authentic expression of cultural resistance by underdogs against racial exploitation and disadvantage."
 In a separate article written by Weiner, The New Wu-Tang Clan: Odd Future, Tyler and RZA's similarities as leaders are established. As leaders, Tyler and RZA share more similarities than differences, one being able to captivate an audience with their personality alone. The Odd Future cult fan base, racy lyrics, and god-like persona explain why the group is compared to Wu-Tang so often. Each leader turned their personality into a brand; a brand that strayed away from this status quo and into the hearts into millions who'd already put the status quo in their rear-view mirror.
Tyler's Lyrical Evolution
As Tyler's matured throughout his career, so have his lyrics. Here's an example of Tyler's change in style from the OF Tape Vol. 1 song 'Odd Toddlers from 2008 to Rose Tinted Cheeks, a single that Tyler left off Flower Boy.
Odd Toddlers  (The OF Tape Vol. 1, 2008)
Hello, the hype is so mellow
Bi**h I'm dope but my pipe is so yellow
The blue polka dots, pink stripes and it's pink on the title
Ni**a, f**k your role model, bi**h, I'm my own idol and
If you can't face it, my ni**a, you can a** it
My accessorized accessories bring out my assets
Ni**a they sound on acid, tablets
Stussy G-Shock with my custom pair of 3D glasses
I suffer from ADHD
I should win a f*****g award for being me
Beat banging the tom-toms
My producer selection is fresh ni**a, f**k Vons
Ace the underdog, thrown them on the back bender
Cause I change my outfit more than transsexuals change gender
Eating Belgian waffles with Italian biscuits
I sold my soul to the devil for thirty percent off
And to you emo kids who walk around pissed off
Step one: pull your panties down and start to piss off
Step two: run to your radio, turn this s**t off
Ni**a didn't bother, so my father didn't help
So when my mom would beat my a**, she would always hit me
With Gucci belts, Gucci imprint from leather welts
  On Odd Toddlers, Tyler and former Odd Future member Casey Veggies, rap about their meteoric rise through the ranks of the rap industry. Tyler emphatically states he's ([his] own idol) because he'd finally reached a point where you couldn't ignore him anymore. He goes on to rap about his new accessories, including a "Stussy G-shock", a watch that was the rave back in 2008. Tyler, who's original rap name was  Ace the Creator, states that he throws his hater "on the back bender". The narrative of the verse then shifts to a tirade against the people who hate his music, including emo kids who "walk around pissed off". To end his verse, Tyler belts, "So when my mom would beat my a**, she would always hit me with Gucci belts, Gucci imprints from leather welts. Tyler's clear that negativity can't phase him because all the hits from his mom gave him a stronger mentality.
Rose Tinted Cheeks (2016 rough draft)
I never had the courage to tell you I adore you
I did it in a song I was too afraid to call you
I'm sorry I know I'm annoying
I just want your attention
Ever since I saw you knew nothing was important
Your gravity is too strong it's f*****g up my orbit
Contact avoided by the time I record this
I just want you to listen
Every time I see you, you brighten up my day
You're cashmere to my cotton and I wished you felt the same
More options in the alphabet I know ill be OK
No, I won't
'Cause it's them rose tinted cheeks (cheeks, cheeks)
It's them rose tinted cheeks (cheeks, cheeks, cheeks, cheeks)
And it's them rose tinted cheeks (cheeks, cheeks, cheeks, cheeks)
It's them rose tinted cheeks (cheeks, cheeks, cheeks, cheeks)
It's them rose tinted cheeks
They black flag we AF
We BF as AF
But they won't get that
That's that 20-century women reference
You so hard to get like intricate metaphors
Companies? I own four
But all I want is yours
Hit the plex and catch a band or sushi spot I recommend
Float around hitting wheelies leg or engine based it all depends
either one is cool to me
and you're way too cool for me
ima freeze to death tryna keep up
thirsty I am I may need three cups
  'Odd Toddler' demonstrated Tyler's hunger to reach the pinnacle of the rap industry, but 'Rose Tinted Cheeks' proves that Tyler can now open about his personal life because he's exactly where he thought he'd be at this point of his career. Unlike 'Odd Toddler', Tyler opens up about a love interest and his desperation to tell his lover how he feels.
  In the first verse, Tyler demonstrates his self-awareness, as he recognizes his struggles with showing his feelings up-front. This person is the only person Tyler thinks about, as he references in his lyrics, "Ever since I saw you knew nothing was important, your gravity is too strong it's f*****g up my orbit. Part of Tyler thinks he can live without his lover, but another part knows, he'll be missing out on too much.
  In the chorus, Tyler's lover's rose-tinted cheeks attract Tyler, keeping him infatuated and longing for love.
  Many people believe this song is about a boy named Wyatt, Tyler's friend who people believe Tyler's been dating since the release of Flower Boy. In the second verse, Tyler raps "They black flag we AF, We BF as AF" as a reference to the level of love that surrounds Tyler and Wyatt. The lines "You so hard to get like intricate metaphors. Companies? I own four, but all I want is yours", references Golf Media, Golf Clothing, Camp Flog Gnaw, and the Jellies, and their inability to compensate for the time he wants with Wyatt. Tyler doesn't ask for much according to the next few lines. "Hit the plex and catch a band or sushi spot I recommend. Float around hitting wheelies leg or engine based it all depends. Either one is cool to me
and you're way too cool for me." Again Tyler opens up and displays his different emotions, such as neediness and insecurity.
  Tyler's always been a been open to sharing his thoughts on society, unafraid of what his naysayers might respond with. However, Tyler's evolution from emo, satan-worshipping sad boy to an artist comfortable enough to rap about touchy topics like sexuality, validates the maturation of one of rap's best lyricists.
Enjoy Right Now, Today
  Odd Future opened society's eyes to a brand new breed of success fueled by passion. Starting in 2007, Odd Future graced the world with their witty nature and fearless motivations. There will always be successful rap factions, showstopping leaders, and good music, but Odd Future proved that doing something in your own unique style is the greatest gift you can offer the world.
 Each member of Odd Future still holds a place in modern-day hip-hop, which is a testament to how memorable Odd Future really is. While some members might be more popular (or successful, depending on how you value success), they will always be associated with O.F.W.G.K.T.A.