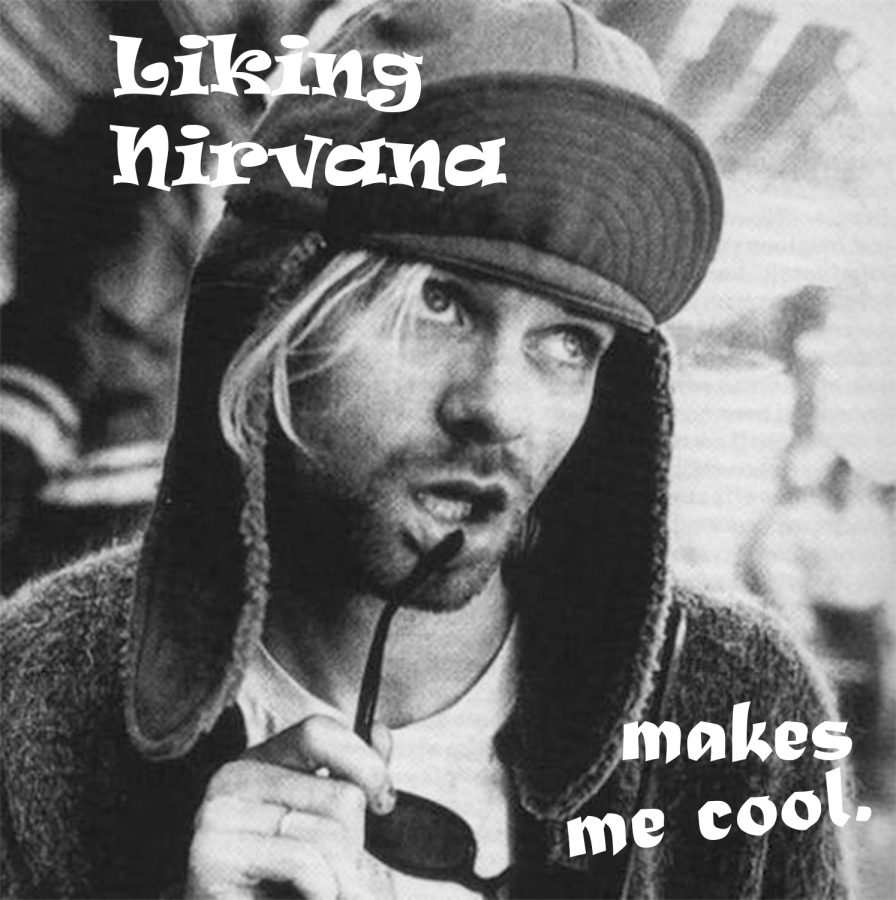 In Utero's silver year…
October 15, 2018
In Aberdeen, Washington back in 1987, 20-year-old Kurt Cobain got together with his friends Dave Grohl and Krist Novoselic to form their new band Nirvana. The band quickly broke up following Cobain's suicide in 1994 and has since then been remembered as one of the most important rock/alternative bands of the century.
This September marked the 25th anniversary of the release of In Utero, Nirvana's seminal release. In Utero was the band's heaviest, most emotional album; It was so different, that their label believed it would only sell half as many copies as their previous album, Nevermind. Instead, it debuted at the number one spot on the billboard 200 in its first week.
In Utero was an attempt by frontman Kurt Cobain to go back to his hardcore, punk roots. In order to ensure he achieved the sound he wanted, Cobain enlisted the help of legendary Chicago producer Steve Albini. It is heavily distinctive from the heavily edited, radio-friendly alternative rock on Nevermind, and is what most fans consider to be the band's greatest achievement.
In celebration of this legendary release, the Webb Canyon Chronicle has compiled and ranked every song in Nirvana's brief discography, from demos to B-sides to greatest hits. 
Ranking of Nirvana's recorded works (not so best to best)
70. "Spectre"
69. "Paper Cuts"
68. "Do You Love Me"
67. "Stain"
66. "Mexican Seafood"
65. "New Wave Polly"
64. "Hairspray Queen"
63. "In His Room"
62. "Son of a Gun"
61. "Tourettes"
60. "Turnaround"
59. "Big Long Now"
58. "Curmudgeon"
57. "The Money Will Roll Right In"
56. "Endless Nameless"
55. "Molly's Lips"
54. "Been a Son"
53. "Spank Thru"- Fun Fact: This is what most consider to be the first Nirvana song, it was what convinced Krist Novoselic to form a band with Kurt Cobain.
52. "Gallons of Rubbing Alcohol Flow Through the Strip"
51. "Swap Meet"
50. "Return of the Rat"
49. "Aneurysm"
48. "Big Cheese"
47. "Dive"
46. "Floyd the Barber"- Fact about this song: The lyrics to this song are about a character on the Andy Griffith Show raping someone, with the intention of satirizing the source material in a dark manner.
45. "Opinion"
44. "Talk to Me"
43. "Aero-Zeppelin"- Fun Fact: This song's title is a combination of the classic rock bands Aerosmith and Led Zeppelin, and is a critique of pop music culture.
42. "D-7"
41. "Scoff"
40. "School"
39. "Radio Friendly Unit Shifter"
38. "Sifting"
37. "Something in the Way"
36. "Where Did You Sleep Last Night"
35. "Very Ape"
34. "Jesus Doesn't Want Me for a Sunbeam"
33. "Verse Chorus Verse"
32. "Love Buzz"- This was Nirvana's first hit, despite being a cover of Dutch band Shocking Blue. Kurt Cobain publicly claimed to hate the song after it became popular.
31. "Lake of Fire"
30. "Negative Creep"
29. "Even in His Youth"
28. "Sliver"- Fun Fact: Courtney Love claimed this non-album single was what got her interested in Nirvana and Kurt Cobain.
27. "On a Plain"
26. "Serve the Servants"
25. "Marigold"- Fun Fact: A Dave Grohl composition, this became one of the first Foo Fighters songs.
24. "Here She Comes Now"
23. "Plateau"
22. "Token Eastern Song"
21." Milk It"
20. "Frances Farmer Will Have Her Revenge on Seattle"
19. "About a Girl"- Fun Fact: This is the only song Cobain admitted to being about longtime girlfriend Tracy Marander.
18. "Oh Me"
17. "Oh the Guilt"
16. "Stay Away"
15. "Dumb"
14 ."Rape Me"- Fun Fact: Despite its screamed chorus (Rape me!), Cobain claimed this was an anti-rape song and performed it at numerous pro-choice and feminist benefits.
13. "Territorial Pissings"
12. "Lithium"
11. "Pay to Play"
Uh oh, it is time for the TOP TEN:
10. "The Man Who Sold the World" 
A haunting rendition of David Bowie's 1970 release, "The Man Who Sold the World" is a fantastic choice for a Nirvana cover. Kurt Cobain's devastating vocal performance on the MTV Unplugged recording is incredible, and the lyrics shyly hint to his mindset at the height of his heroin addiction
9. "Lounge Act"
The only song Cobain admitted was about his ex-girlfriend Tobi Vail, with several personal references. The name comes from the opening bass line, which is killer by the way, because the band thought it sounded like something a lounge band would play. Fun facts aside, this song bops.
8. "Polly"
"Polly" is a quietly horrifying song about a kidnapping and rape, Polly showcases Cobain's lyricism in a way that many people had not heard from Nirvana's discography up to that point. The main guitar riff is instantly recognizable, and the instrumental almost masks the darkness in the lyrics.
7. "Smells Like Teen Spirit"
Possibly the most well known Nirvana song, it is what initially attracted so many people to listen to their music. Its anger and angst were attractive to many hormonal teens and young adults.
6. "I Hate Myself and Want to Die"
After Kurt Cobain's death, this song was labeled as a cry for help despite Cobain insisting on it being a joke. Everything from the guitar riff, to the bassline, to the drums are a marvel from start to finish. Many consider this song to be a "hidden gem" among the rest of Nirvana's songs.
5. "In Bloom"
One of the band's most well-known songs, "In Bloom" deserves a Top 10 spot simply because of its legacy. The powerful guitar and bass and Cobain's fantastic vocals make it truly iconic.
4. "Breed"
A quintessential Kurt Cobain composition, Breed features fast, aggressive instrumentation and Cobain's signature open-to-interpretation lyrics. Often overlooked because of its proximity to the band's biggest hit, Smells Like Teen Spirit, Breed is a legitimate classic.
3. "Heart Shaped Box"
"Heart Shaped Box" is one of Cobain's more personal songs. He sings about his current relationship with Courtney Love and points to his insecurities about the two of them together. Cobain's use of lyricism is often praised in this song especially, making it a memorable tune, and a popular one for people going through a rough patch.
2. "Pennyroyal Tea"
Kurt Cobain's MTV Unplugged performance of this incredibly well-written classic is perhaps his most moving and emotional songs. The track features haunting lyrics, so much so that the single was recalled after the singer's death to avoid the perception that the label was profiting off his suicide. Pennyroyal Tea is a true masterpiece, and one of the best songs the band has to offer.
1. "All Apologies"
This song is about how Cobain feels about his expectations from the public and media. He alludes to other themes of sadness, depression, family, and ends with stating that none of it matters anyway since we are not that important. We chose it for our number one spot because ultimately, it is a beautiful reflection of Cobain and the band as a whole.