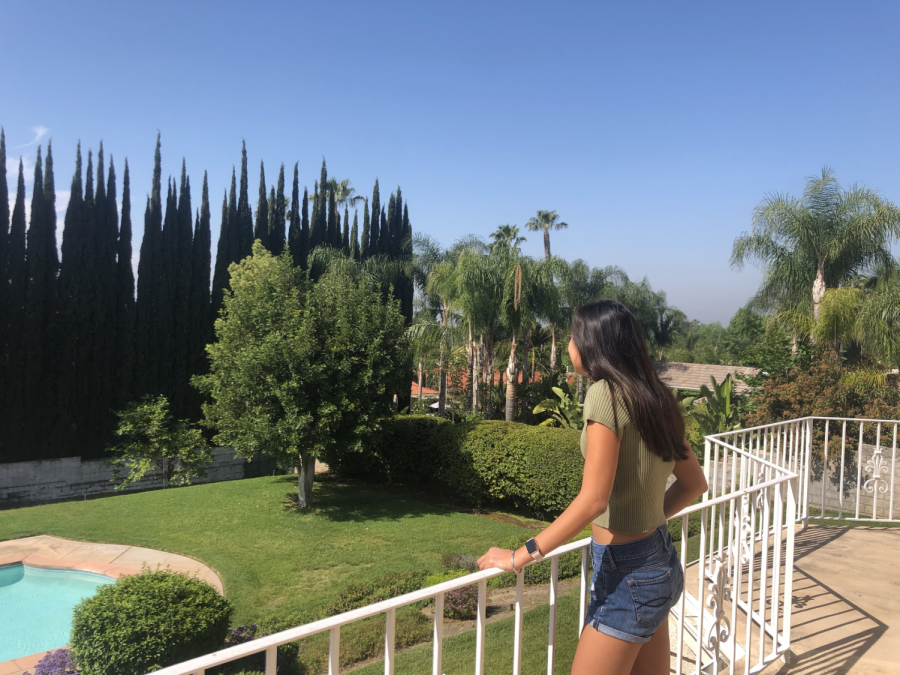 Why Webbies should go outside
As the sun sneaks in through your curtain, you come face-to-face with your daily COVID-19 dilemma. Binge-watch the latest season of Money Heist with a party-sized bag of Flamin' Hot Cheetos? Or get dressed, grab a nutritious breakfast, and go outside for a morning jog? 
Nature is a free, organic remedy to cabin fever. Instead of contributing to their growing screen times, Webbies around the world should embrace the seasonal transition from spring to summer and take advantage of the great outdoors.
You may believe that you must hunker down completely indoors until quarantine ends, but you can still do your part to help flatten the curve while enjoying time outside. Streets throughout my suburban neighborhood are lined with masked bikers, dog-walkers, and skateboarders of all ages. With May right around the corner, it is the perfect time to enjoy the chirping birds, blooming flowers, swaying palm trees, and climbing SoCal temperatures.
During this pandemic, consciously strengthening our immune systems should be one of our main concerns. Spending time in the sun can increase our levels of Vitamin D, a nutrient that helps optimize immune function when we begin to feel ill. Walking outdoors for as short as 20 minutes can lower cortisol levels, thereby reducing stress and stabilizing blood pressure.
However, when venturing outside, it is vital to practice social distancing by staying six feet apart from others at all times. The CDC also recommends wearing a mask in public places to blunt the spread of the virus.
"Even just taking time to walk outside in the sun has tremendous benefits to overall mood and well-being relative to being cooped up indoors all day," said Steve Wishek, Athletic Director. "So I would just encourage everyone to explore what works for them. Through our Webb Well Rounded program, we are trying to introduce different ways of working out like yoga and dance, but the key is to find something that motivates you to start and then a program that motivates you to keep going… Find what works for you and just do it!"
Beyond reaping the numerous health benefits, some Webbies are finding new enjoyment in grounding themselves in the simple activities and natural settings they once took for granted.
"A part of the outdoors that is so important right now, is our sense of wonder or awe," said Melanie Bauman, Director of Counseling and Health Education. "As our lives have contracted to fit the new norm of COVID-19, we are left with fewer opportunities to encourage this sense of wonder. A study at UC Irvine found that even looking at a tall tree for 60 seconds led to people reporting a sense of awe, and this group was more likely to help others than a group that looked at a tall building. This altruistic spike leads to people feeling more connected, more empowered, gives meaning to their lives — so the benefit extends beyond the sensation of awe."
"I never really appreciated the fact that I lived by the beach before this whole situation," said Nancy Lin ('23), an international boarding student. "Ever since my 14-day self-quarantine ended in Vancouver, I've been going on runs and walks at the beach. I'm pretty grateful I get to take walks with the ocean breeze blowing on my face which is a nice change from being inside all day."
"The one thing I have noticed when going out is how much more I value that time," said Santiago Noblin ('21), a local day student. "Being able to go to the Village or for walks at the Colleges are now more of a rarity because of everything that is going on. I value being able to go to those places and spend time there more now than before."
Other Webbies are noticing improved productivity and restored ability to focus when spending time on Zoom outside. Setting up your Zoom station somewhere rich in natural light or bringing your computer to work in the quiet shade of a tree can definitely boost your mood as opposed to working from your bed. 
"I am definitely appreciating the outdoors more, now that being online and staring at a screen for long periods of time is no longer something I choose to do," said head peer advisor Michelle Munguia ('20). "Studying outside helps me not only take a breath of fresh air, but also get away from the cramped indoors where it's always chaotic. Now, being outside is somewhere I can focus and decompress; it's probably the highlight of my day."
The next time you find yourself contemplating whether or not you should hit the Next Episode button on Netflix, I highly encourage you to close your laptop, grab a bottle of sunscreen and tennis shoes, and go for a walk outside. If you have a pool, go for a swim. If you live near a mountain, go for a hike. If you are near the beach, go for a stroll. What matters most is that you continue to maintain your mental wellbeing and physical health through these tough times.