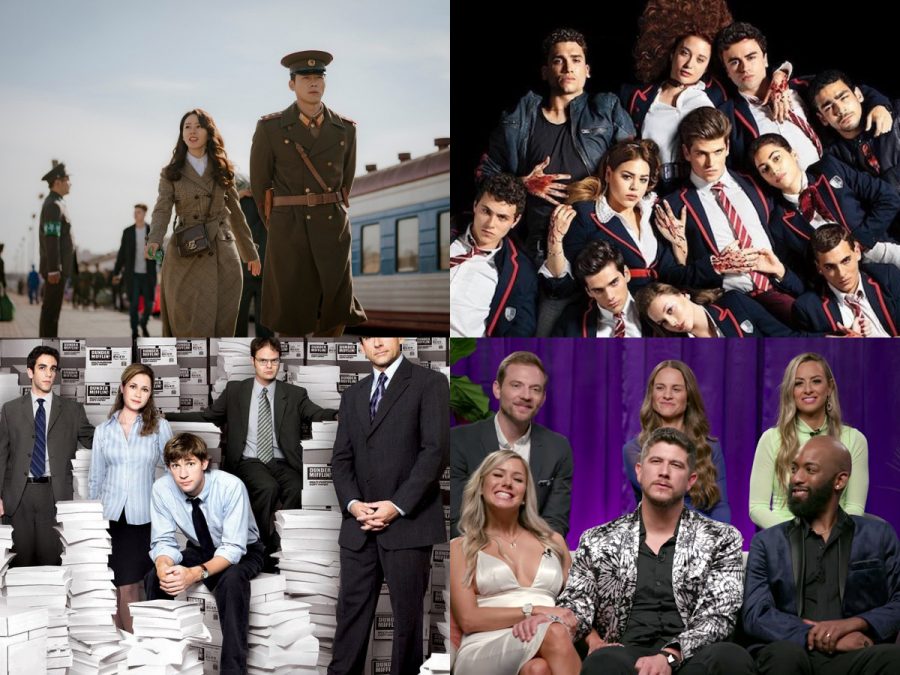 How to combat quarantine with movies and shows!
Millions of families around the world have been under quarantine or "safer at home" orders. As fun as it may be to have family bonding time, sometimes people just need a binge-worthy show or movie to watch. Whether you choose a fun British cooking show or an action-packed movie, there are unlimited shows at the push of a button, waiting to be watched.
"I love watching movies on the weekend and sometimes between breaks," said Rebeca Castro ('20). "I am always looking forward to it, and am always pumped at the variety of genres websites have to offer."
Since streaming platforms like Netflix and Hulu offer these endless movie/TV show selections, take note of these amazing options.
Taking place in Spain, a group of teenagers enter a prestigious school named Élite. Despite the amazing scholarships and great opportunities Élite offers, there is a strong prejudice between economic classes. Samuel, a rebellious protagonist who lives with his brother Nano, transitions into the school without giving it too much thought. Little does he know, his entire life will change after discovering the murder of his friend. 
They say "love is blind" but is it actually? This humorous and heartfelt reality TV show uses contestants all around the U.S. to test this phrase. The contestants come from different economic and social backgrounds, and they are put in boxes in the beginning of the experiment so that they cannot see the person they are talking to. The contestants had a various amount of days to propose and get engaged, and a countdown to their respective weddings framed the show.
Welcome to Scranton, Pennsylvania, where Dunder Mifflin is the best paper company in town. Michael Scott, played by Steve Carrell, a manager at Dunder Mifflin, throws sarcastic comments and jokes at his co-workers, all with the best intentions. As a group of cameramen follow this paper company around, they discover there is much more to them than just their job.  
If you like sappy Korean dramas, then this show is for you! After inheriting her father's company, Yun Se-ri goes paragliding and accidentally ends up in North Korea. She meets Ri Jeong Hyeok, a man who works for the military, and tries to find an escape route to go back to South Korea. 
This list of movies and shows will have you laughing, crying, and even frustrated at the protagonist's actions and choices. As quarantine has made a lot of free time available, it is important to not only watch these shows by yourself but with your family. Services like Netflix Party allow you and your friends to watch the same show at the same time.
"I have been watching a lot of Netflix, but I also find the time to bond with my family," said Iris Chiu ('21).
Although social-distancing can be tough, there are still other forms of entertainment that allow us to reconnect and still have a fun time. So please, look at this list of movies/shows, grab a soda and popcorn, and enjoy watching!