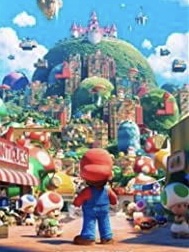 https://www.imdb.com/title/tt6718170/
The Super Mario Bros. Movie:
Based on the classic video games, the Super Mario Bros. Movie, is an animated adventure following a Brookyln plumber, Mario, and his search to find his brother. On his adventure he is accompanied by a princess named Peach and a mushroom named Toad, two characters that many will recognize from the games. We can expect this movie to dig deeper into the personalities of the characters, especially Peach, and show the fantasy world of Super Mario in a way that the games didn't. We also get to learn more about the villain of all the games, Bowser, a fire breathing Koopa that wants to take over Mushroom Kingdom. To see the video game reimagined with more detail and to learn more about the characters played while using a Wii or Nintendo switch will be an incredible experience.  
Fans of the game also look forward to the new section of Universal dedicated to Nintendo also opening in 2023.  
"I'm really looking forward to the new Super Mario movie and world opening in Universal because it was a huge part of my childhood," said Lauren Duffy ('25). "It's really cool to get to experience that world in these ways."  
It's obviously a big year for Mario! However, the movie releases in spring and there is a wait to experience this reimagined world but take it as a sign to pull out that old Wii console and play for a while!